It's hard to imagine David Beckham actually doing things like burping new baby Harper Seven -- what are English nannies for, after all? -- but let's pretend he drapes his new daughter over his shoulder and gently rubs her back until she spews all over his shirt. A charming vision, for sure.
Then, imagine him deciding that, baby successfully coaxed into gastric relief, it's time to slip into something more glamorous. And then getting into his customized time machine -- provided by friend Tom Cruise -- and zooming back to the early 1960s, when men were men (with latent alcohol dependency). There, he meets his buddy Don Draper and heads back to his apartment in the Village, where he selects one of his more casual suits.
This is all a creative way of saying that the soccer superstar looks early 60s chic in the new issue of WSJ Magazine, in which he discusses his new child, meeting his wife, playing in the World Cup and his new line for H&M, amongst other fashion endorsements.
"I'm totally involved in everything that goes out there in stores," Beckham he says of his deals, which also include a spokesmanship for Adidas. "I don't just sign with a company and give my name to do whatever they want. Everything that goes out there is something I would wear."
Well, perhaps less expensive versions; in the photo below, he's draped in a $1,125 Dolce & Gabbana jacket.
Click over to WSJ Magazine for more.
PHOTO: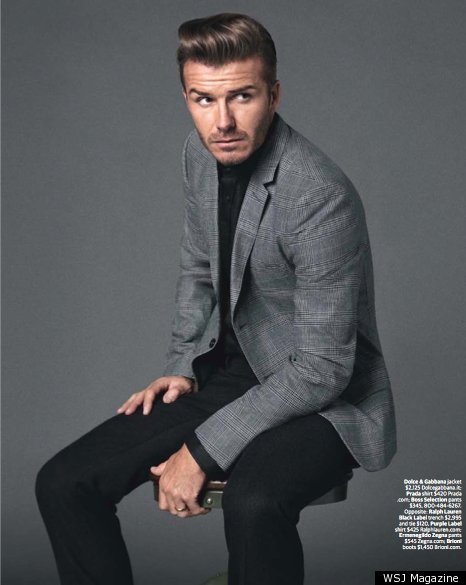 SUBSCRIBE TO & FOLLOW LIFESTYLE
We're basically your best friend… with better taste. Learn more