Here's a story that a whole lot of you just might--well--dislike.
The blog All Facebook has discovered that the new Facebook, which was supposed to let users express themselves using any verb and any noun they wanted, will not allow developers to make "dislike" apps or a "dislike" button. Facebook members can currently "Like" status updates, photos and other activity, but "dislike" is not an option.
At the f8 Facebook Developer's Conference in mid September, Facebook CEO Mark Zuckerberg boasted that the new Facebook and its Open Graph would provide users with a whole new range of freedom to express themselves; whereas before Facebook members could only "Like" an activity, now they could combine any verb with any noun.
Apparently, there are limitations. When logging into the Facebook developer's page in order to create a new app, you are first taken to a page asking for the "action" (the verb) and the "object" (the noun) that will define what users will be able to do with their new app, how they will be able to express themselves:

Hypothetically, and according to Zuckerberg at f8, "any verb and any noun" could be entered into these boxes. However, if you try to enter "dislike" into the "action" field, here's what you get: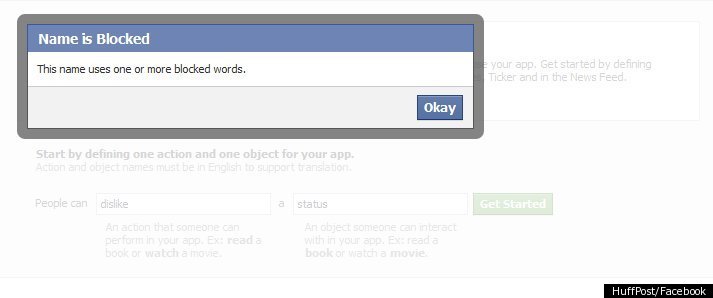 Outrage! If only there were some verb I could use to express my feelings for this decision to ban certain words from Facebook's new apps!
Now, "dislike" is not the only word that is blocked from the new Open Graph: All of the major curse words and slurs bring up the same dialog box of doom. And yet "dislike," which only the most puritanical English speakers would consider profane, is grouped in with George Carlin's 7 Words You Can Never Say on Television.
Though the new Facebook will not allow "dislike," it will let you show your dislike through any number of other words: "hate," "abhor," "despise," "reject," "poop on," "not like," "loathe," "vomit because of" are all fair game for Facebook app developers. "Dislike," however, has been blacklisted and will not be a part of Facebook 3.0.
Facebookers have been clamoring for a "Dislike" button for a few years now, practically ever since the social networking site introduced the Like button in February 2009. A popular Facebook group called "Facebook, give us a dislike button" sprung up days after that introduction in February 2009, and it currently boasts over 400,000 members; a "Dislike Button" Product/Service page on Facebook, with company info listed simply as "LET'S GET IT," is sitting just south of three and a half million fans. Several developers for the Chrome and Firefox browsers have written clever browser apps and add-ons for Facebook "dislike" options, but nothing that truly integrates with the website.
In a July 2010 interview, Zuckerberg said he would "definitely think about" adding a dislike button to Facebook, though after a 15 months of thinking, it appears he has ruled against our quixotic dream of disliking.
We have reached out to Facebook for comment and will update when we receive word. Below, check out all of the other new features from the f8 Conference, where this new class of verb+noun apps was first announced.
Biggest Announcements From F8 2011
The revamped profile, called Timeline, will look completely different, with a new focus on photos and events. The user chooses what activities they'd like to share in their continuous stream, highlighting moments from his or her life--from present day, back to the first day he or she was on on Facebook and before.

Users can now interact in new ways with content posted on Facebook. In addition to "Liking" videos, articles and posts about what your friends enjoy, you can now take part in these activities with your friends in real-time. These changes are made possible through Facebook's major update to its Open Graph platform.

Facebook is partnering up with a whole bunch of websites and app-makers to bring content that can be shared and consumed on the Facebook platform. Notable app genres include music apps like Spotify and Rhapsody, streaming video apps for Netflix and Hulu and news apps for the New York Times and--you guessed it--The Huffington Post. Facebook's "new class of social apps" can post updates to your Timeline automatically. In addition Mashable reports Apps no longer have to ask for permission to post content to Facebook over and over again. Instead, a new Facebook permissions screen explains exactly what type of stories will be shared the first time you give an app permission to post to your Facebook. Once completed, it will no longer have to ask for permission (Pictured above, a user's timeline with updates from his apps on display.)

The new Open Graph brings deeper video integration to the Facebook platform. For example, Netflix CEO Reed Hastings explained at f8 (and in a subsequent blog post) that users will be able to watch movies together--right from Facebook--with the Netflix movie streaming in a separate window. Though Hastings noted that this concurrent watching isn't allowed in the United States, he said that a bill is currently in Congress to legalize it. Other streaming sites like Hulu, YouTube, Daily Motion, VEVO and more will all allow for concurrent watching with Facebook friends. (Pictured above: Watching "Glee" on Hulu via Facebook.)

Facebook's new revamp aims to help users discover new music. "As part of its larger entertainment initiative, Facebook will launch a music dashboard, which will display music-specific notifications and updates, and also show which songs are currently popular within one's network of friends," according to Read Write Web. For example, a partnership with Spotify will let you see what music your friends are listening to in real-time. When a friend starts listening to a new song, an update will appear in your Facebook Ticker. Clicking on that update will let you stream the song in a music player. Other music partners include Rhapsody, turntable, Songza, mixcloud, Slacker Radio, Rdio, Deezer, Mog, tunein, iHeartRadio, earbits and Soundcloud.

Now, when a friend posts a news article or story they've enjoyed, you can read it within Facebook. A few of the participating publications include Digg, Fipboard, Gawker, The Washington Post, USA Today and others. According to TechCrunch, Yahoo will play an integral part in curating the stories that your friends are reading and sharing. "Yahoo has formed integrations with the social network in the past with its products, but we're told this is one of the most in-depth implementations to date," writes TechCrunch. (Pictured above, a screenshot of what it looks like to read a newspaper article in Facebook via The Washington Post.)

Many apps will be available starting today, though the new Timeline profile will not come out for "a few weeks," according to an official Facebook blog post.