WASHINGTON -- A new UMass-Lowell/Boston Herald poll in Massachusetts yields a lot of good news for Democratic Senate candidate Elizabeth Warren. She holds a wide lead in the primary and runs nearly even against Republican incumbent Scott Brown. The Warren candidacy also may be contributing to another phenomenon that should give hope to Bay State Democrats: For the moment, Democrats are following the Senate campaign about as closely as Republicans are, a big difference from the national pattern.
For nearly three years, Republicans have enjoyed big leads in voter enthusiasm on various measures, something that usually signals a coming voter turnout advantage. In January 2010, for example, according to a University of New Hampshire survey, Massachusetts Republicans were more likely to express interest in the election (75 percent) than Democrats (67 percent). Republicans were even more likely to say they were "extremely interested" in the election (36 percent) than Democrats (23 percent).
In early September, a CBS News/New York Times poll found the same pattern. Republicans nationwide say they are more attentive to the 2012 campaign (77 percent are pay at least some attention) than Democrats (61 percent). A recent Gallup survey shows a similar Republican attention intensity advantage.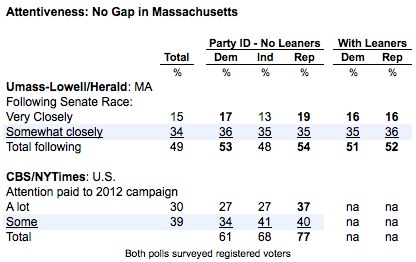 In Massachusetts, however, the UMass pollsters found almost no difference in attention paid to the coming 2012 Senate race. Democrats are about as likely to say they are following the Senate race (51 percent at least somewhat likely) as Republicans (52 percent).
This finding is based on just one question and may reflect nothing more than heavy initial coverage of Warren's entry into the race, which Democrats are likely watching with more interest than Republicans. Overall, the interest in the Senate election is relatively low -- only a small handful of voters in either party (15 percent overall) say they are now following the race "very closely." But raising enthusiasm among Democrats is critical for those who hope Warren can retake the Senate seat that Brown won narrowly in a January 2010 special election to fill the vacancy created by the death of Democratic Sen. Edward Kennedy.
The UMass-Lowell/Herald survey is the second to test Warren's standing since she launched her campaign in early September. The survey, conducted with live interviewers and sampling registered voters over both mobile and landline phones, gives Brown the slight advantage (41 to 38 percent). A poll conducted in September by the Democratic firm Public Policy Polling (PPP) immediately after Warren's announcement used an automated methodology to contact likely voters and gave Warren a two-point edge over Brown (46 to 44 percent). Neither margin is large enough to be statistically significant.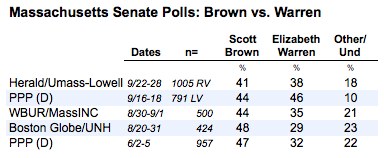 The new survey also shows Warren with 36 percent in a Democratic primary contest against six other potential opponents, none of whom currently receives more than 5 percent of the vote. But nearly half of those who describe themselves as potential primary voters (44 percent) say they are either completely undecided or are hoping for another candidate to enter the race.
Warren's early primary lead is based mostly on an advantage in name recognition. Nearly two-thirds of Massachusetts adults (63 percent) say they recognize Warren's name, a far greater share than that of any of her primary opponents, whose name identification ranges from 27 to 40 percent.
Turnout patterns could be critical in the 2012 Senate race in Massachusetts given the way the current vote preference breaks down by party and how those patterns compare to support for Brown and Democrat Martha Coakley in the 2010 special election. That was a relatively close race, and much of Brown's five-point margin of victory came from disproportionately heavier turnout among voters who identified as Republican or independent rather than Democratic.
Compare the percentages for Brown and Warren to those won by Brown and Coakley in 2010 as estimated by a post-election survey conducted by the Washington Post, Kaiser Family Foundation and Harvard School of Public Health.
Brown won 17 percent of Democrats in 2010, and he is winning 16 percent of Democrats against Warren. In 2010, Martha Coakley won 5 percent of Republicans. Warren is currently winning just 6 percent of Republicans. If partisans ultimately vote for their party's nominee, the totals by party will be identical, so a combination of turnout and the vote among independents will be critical.
Like Coakley did in 2010, Warren trails Brown by a large margin among independents. She remains close overall, but mostly because Massachusetts has so many more Democratic than Republican voters.
Can Warren or any of the other prospective Democratic candidates narrow Brown's margin among independents? As other results of the survey show, it will not be easy. Brown has a strong approval rating among independents (60 percent approve, 22 percent disapprove), while almost as many (56 percent) describe Brown as an independent voice for Massachusetts. Only 24 percent agree that he is "too conservative," and only 22 percent agree he has done too much to look out for "the economic interests of Wall Street financial institutions."
Still, the campaign is in its earliest stages. Few voters are paying close attention to it, and more than a third of the voters (37 percent) say they have never heard of Warren. There is still great potential for impressions and preferences to change, but Democrats can be encouraged at having energized elements of their base, at least for now.
Earlier on HuffPost:
PHOTO GALLERY
BEFORE YOU GO
Elizabeth Warren
PHOTO GALLERY
Elizabeth Warren