Ready for fall's crisp weather? So is the Astor Place Cube apparently!
The Alamo, or as more commonly known as the Cube, debuted a new look last night after receiving the crochet treatment by artist Olek.
Last winter, the Brooklyn-based artist crocheted the Wall Street Bull as a Christmas gift and tribute to the sculptor of the bull. Police removed her fuzzy gift within two hours.
How long will Astor Place be donning the pink and purple camouflage? That remains to be seen, but at least it's been more than two hours. We're guessing police are a bit more occupied with activities downtown.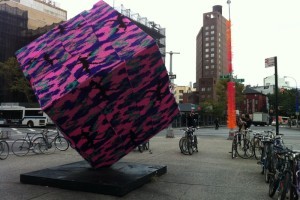 Previously in Olek news:

OLEK AND THE CHARGING BULL ON WALL STREET from olek on Vimeo.
RELATED VIDEO: