Family vacations in San Francisco can be rewarding experiences or absolute disasters -- it all depends on pre-trip homework. To make planning easier, we've done all the preparation. As part of a Huffington Post Travel series on traveling with children, here are answers to some frequently asked questions about San Francisco family vacations.
Golden Gate Bridge
The majesty of San Francisco's most famous engineering feat, the Golden Gate Bridge, is reason enough to visit, but it's also fun to walk across it and take in the action in the bay below. Head to the southeast side for some souvenir shopping.
Address: On U.S. Highway 101 headed north, take the Golden Gate Bridge "Last San Francisco" exit (just before toll plaza)
Phone: 415-455-2000
Hours: Open to pedestrians during daylight hours. The Roundhouse Gift Center is open daily from 8:30 a.m. to 6:30 p.m. during the summer months, and from 8:30 a.m. to 6:30 p.m. during the winter months.
Price: Free
Habitot Children's Museum
According to Disney Family, the award-winning Habitot Children's Museum, is non-stop crazy, goofy fun. This hands-on children's museum was created by a team of educators who know that every kid loves a good mess. With a constant stream of special exhibits and events, it is a popular year-round destination for families with young kids.
Address: 2065 Kittredge St., Berkeley, CA 94704
Phone: 510-647-1111
Hours: Open Monday through Thursday, 9:30 a.m. to 12:30 p.m.; Friday through Sunday 9:30 a.m. to 4:30 p.m.; closed on Sundays April through September and on New Year's Day, Easter, Memorial Day, Fourth of July, Labor Day, Thanksgiving, Christmas Eve and Christmas Day.
Price: General admission, $9; free for children under 12 months; seniors, $8.10
Exploratorium
Science meets fun at San Francisco's Exploratorium. A variety of interactive exhibits pique kids' senses of curiosity and explain the science behind everything from earthquakes to emotions.
Address: Pier 15 San Francisco, CA 94111

Phone: (415) 528-4444
Hours: Tuesday through Sunday 10 a.m. to 5 p.m.; closed Mondays
Price: Adults, $25; students with ID, children 4-17 and seniors (65 and up), $19; free for children three and under
Fisherman's Wharf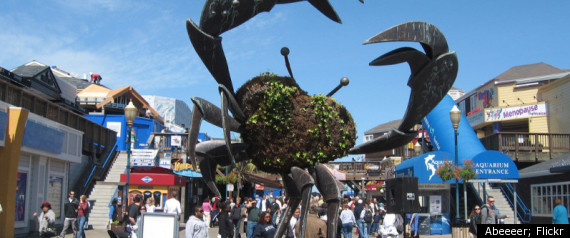 It's kitschy and sometimes crowded, but Fisherman's Wharf is as quintessential San Francisco as the Golden Gate Bridge. Kids love the wax museum and Ripley's Believe It or Not, and parents will love a meal of fresh fish at the fish market.
Address: The Embarcadero and Taylor Street
, San Francisco, CA 94133

Phone: 415-673-3530
Hours: Varies by attraction and season
Price: Free
Alcatraz
Set on an island in the middle of San Francisco Bay, Alcatraz was once renowned as one of the world's most notorious prisons. But fortunately, things are a lot more family friendly now. In addition to educational tours of "the Rock," there's ample opportunity to spot seabirds and sea lions on the ferry ride over, and the vistas also make for excellent photo opportunities. Dress warmly, bring snacks and be sure to book tours in advance.
Address: Pier 33, Alcatraz Cruises, 
San Francisco, CA 94133 

Phone: 415-981-7625
Hours: Tour departures begin at 9:10 a.m.; last departure at 6:45 p.m.
Price: Adults, from $26; children 12-17, from $26; children 5-11, from $16; seniors (62+), from $24.50; children under four, free
East Bay Vivarium
This is not your typical pet store! The East Bay Vivarium, a Disney Family-recommended Bay Area stop, has an amazing collection of reptiles and a staff that is willing to share their knowledge with visiting animal lovers. Meet oddities like the bug that smells like Caesar salad, or a frog that could kill a horse. For an unforgettable experience, visit the hatchery and talk to one of the store's breeding experts.
Address: 1827-C 5th St., 
Berkeley, CA 94710-1617

Phone: 510-841-1400
Hours: Monday through Friday 11 a.m. to 7 p.m.; Saturdays and Sundays 11 a.m. to 6 p.m.
Price: Free
Aquarium of the Bay
For a chance to learn what lurks in the waters of San Francisco Bay, don't miss the Aquarium of the Bay. Kids will be fascinated with the abundance of sea life that swims past them as they walk through the tunnels of the Under the Bay exhibit. Don't miss the chance to get up close and personal with sharks and rays in the Touch the Bay exhibit.
Address: Pier 39 
San Francisco, CA 94133
Phone: 1-800-SEA-DIVE
Hours: Summer: 9 a.m.-8 p.m. daily. Other seasons: Monday-Thursday 10 a.m.-6 p.m.; Friday-Sunday 10 a.m.-7 p.m.
Price: Adults, $16.95; children 3-11, $8; seniors (65 and up), $8
What's your favorite vacation spot in San Francisco?
Lead photo: Prayitno; Flickr; Flickr
Mid photo: zoonabar; Flickr; Flickr
Check out more FAMILY TRAVEL GUIDES.