Scott Disick Has French Fries Thrown At Him By Fans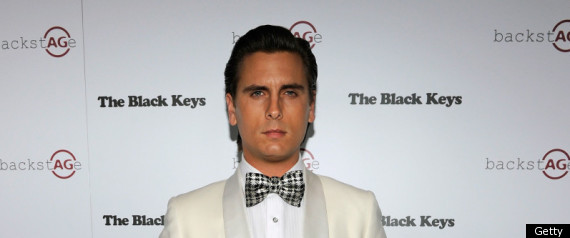 Believe it or not, Scott Disick has "fans."
And the reality TV figure, best known for his overly gelled coif and fathering Kourtney Kardashian's adorable son Mason, might want to acknowledge the few he has.
According to the New York Daily News, while brunching with Kourtney and friends at swanky restaurant and lounge Lavo in midtown, Scott was recognized by diners at a nearby table.
The fans repeatedly called out his name, but Scott just ignored them. What is a fan to do in a situation like this?
Throw a french fry of course.
The neighboring table flung a fry at Disick and it got lodged in his gelled locks. According the NYDN, Disick didn't even notice he'd been hit with the fry and left with it clinging to his hair.
Disick has been living in New York since September, filming a new season of "Kourtney and Kim Take New York," and the reality star, or rather a certain body part of his was the topic of discussion for the Kardashian sisters when they appeared on Jane Pratt's radio show last week.
The girls complained that Scott refuses to wear underwear, making his package, which Kourtney likened to "an elephant's trunk," too visible through his pants.
Another "Keeping Up With The Kardashians" cast member has one body part that no one can seem to stop talking about:
Loading Slideshow
Kim On Butt X-Ray

"I've said numerous times, 'I haven't had plastic surgery, I haven't had butt implants.' ... "Who the hell of a normal person gets butt implants?" ... "I'm so glad I did this x-ray. The whole world has been doubting me -- this is the best thing I could've done." -- Kim Kardashian on <a href="http://www.eonline.com/on/shows/kardashians/index.html" target="_hplink">"Keeping Up With The Kardashians"</a>

Khloe Kardashian-Odom

"Hey dolls. The PROOF is in the X-ray. Kim's ass is 100% real!!!" -- Khloe Kardashian on her <a href="http://khloekardashian.celebuzz.com/kim-kardashian-butt-x-ray-06-2011" target="_hplink">Celebuzz blog</a>.

Rob Talks Kim's Behind

"She hears what everyone says - even reading the smallest blogs out there - and listens. But you know what? Our family is Armenian, we all have big butts." -- Rob Kardashian to <a href="http://www.details.com/blogs/daily-details/2011/07/rob-kardashian-on-living-with-khlo-hanging-with-lamar-and-yes-kims-butt-none.html" target="_hplink">Details magazine</a>.

Anderson Cooper

"For a while now I've had this unsettling feeling... Like the universe was slightly out of whack. I couldn't pin-point the source of the feeling, but then it hit me: no one has really been saying much about Kim Kardashian's butt lately ... Unbeknownst to me, the entire world will not stop with the crack about her butt- its voracity, so to speak. Will an x-ray really help us get to the bottom of this world crisis? I'm thinking that we need some kind of control group." -- Anderson Cooper on <a href="http://ac360.blogs.cnn.com/2011/06/28/the-ridiculist-kim-kardashian-haters/" target="_hplink">CNN</a>

Kim To Cosmo UK

"I see ridiculous stories about my butt, like how it has been insured ... I feel like saying, 'Hey, everyone has a butt. It's not that big a deal!' But I suppose it's flattering. Personally, I've always loved the curvy look. Even when I was a little girl and all my friends would be like, 'Oh, my god, your butt's so big.' And I'd say, 'I love it.'" -- Kim Kardashian to <a href="http://www.cosmopolitan.co.uk/" target="_hplink">Cosmopolitan UK</a>.

Kim To Self Magazine

"Rumors don't bother me anymore ... I've read that I've had my lips done. I've always had big lips. Look at my baby pictures. It's ridiculous. Or they'll show one picture of me today and one tomorrow, and say I've had my nose done in between. When? Didn't you just see me yesterday? And how many times have I 'had my butt done'? People's logic is so weird. I don't know why they bother! You can't worry about all the gossip." -- Kim Kardashian to <a href="http://www.self.com/healthystars/2011/04/kim-kardashian-beauty-slideshow#slide=1" target="_hplink">SELF Magazine</a>

What Kris Humphries Thinks

"I think he likes my lips ... And he likes, obviously, my butt." -- Kim Kardashian on what body part her fiance Kris Humphris likes most.

Kim On Butt Obsession

"There's constant interest in my bottom! The paparazzi always want 'butt' shots, girls come up to me and grab it, and people ask to squeeze it. I sometimes think: 'Everyone's got a butt, why do you care about mine?'" -- Kim Kardashian via <a href="http://www.starpulse.com/news/index.php/2009/10/06/kim_kardashian_talks_about_how_much_atte" target="_hplink">StarPulse</a>

Kim To Harper's Bazaar

"I don't get why everyone is always going on about my butt ... I'm Armenian. It's normal. My butt is probably not as big as you might think, because I have small legs and a small waist, which makes it appear bigger." -- Kim Kardashian to <a href="http://www.harpersbazaar.com/fashion/fashion-articles/naked-celebrity-pictures-0510#fbIndex1" target="_hplink">Harper's Bazaar</a>.

Kim Kardashian On "The Wendy Williams Show"

"It's real and jiggly and I wish it was firmer." -- Kim Kardashian on <a href="http://www.wendyshow.com/" target="_hplink">"The Wendy Williams Show"</a>