Let's get the obvious out of the way first: nobody likes getting tickets from red light cameras. While cities such as Houston, which voted to turn them off only to turn them on and off again, and Phoenix, where a camera operator was shot and killed, take the cake for knee-jerk reactions, Denver has had some drama as well.
This in itself is unremarkable -- the media cover similar stories all the time. What sets this apart is the response to both stories from the Denver Police Department. A recent tweet from the Denver Police account after both stories aired reads:
The link in the tweet leads to a poll: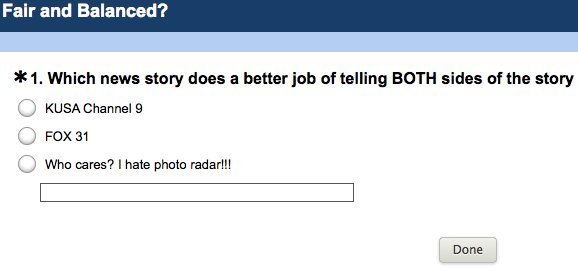 The Denver Post reached out for response to the Denver Poll-ice Department tweet, and received this comment on their blog from 'Lt_M_Murray_DPD:'
OFFICIAL DPD RESPONSE: There are many ways to tell a story. Unbiased journalism should not take a side and present all aspects so that the viewer or reader may decide for themselves. We were curious to see how the public felt when they viewed two news stories about the same subject side by side. We will publish the poll results on Twitter (@denverpolice). The police department is held accountable by the public - so is the media.
All of this makes us wonder:
WATCH the 9News photo radar story:
SUBSCRIBE AND FOLLOW
Get top stories and blog posts emailed to me each day. Newsletters may offer personalized content or advertisements.
Learn more