In the summer of 2007, in a remote village of the Peruvian Amazon, six children, ages 12 to 15, received a gift -- cameras with which to document their lives for one year.
They had never touched a camera before and couldn't know where their photos would take them.
The cameras came to San Martin de Tipishca courtesy of Niños de la Amazonia, a visual anthropology project-turned-nonprofit based in Jersey City, N.J. The project began when music teacher Amy Coplan visited the village while volunteering on an Earthwatch expedition the previous summer.
"It's so remote where these children live. There was no phone, no Internet, no direct line," said Coplan. "I wanted to do something to help."
When Coplan returned home, she looked for information about the indigenous Kukuma tribe online but found almost nothing.
"They needed a lot of things, but perhaps I could help give them a voice to the outside world," she said. "I'm not a photographer or journalist. But I wanted to give them an opportunity to tell their story, not for me to tell their story."
It has been four years since the first photos were taken. In September, four of the six teenagers were able to attain visas and visit the United States for two weeks with funding from the Rainforest Fund, an organization dedicated to "protecting and supporting indigenous peoples." The photographers traveled to the U.S. at the invitation of the Smithsonian in Washington, D.C. Niños de la Amazonia is being featured in the newly opened imagiNATIONS Activity Center at the Smithsonian's National Museum of the American Indian, which selected 60 photos from the project to display for 10 years.
The four teenagers -- Miuler Rimachi Ahaunari, Roy Ever Mendoza Ayambo, Edil Grencio Silvano Lancha and Jesmarly Frias Rojas -- went on a mini-tour, presenting their photography in New York, New Jersey and Washington, D.C.
On Sept. 21, the Rainforest Fund -- which was founded by the singer-songwriter-activist Sting and his wife, Trudie Styler -- hosted a cocktail reception at the Smithsonian's National Museum of Natural History to bring awareness to the nonprofit and to raise money for the Peruvian teens' education.
"They don't know who Sting is. I had to play some of the music on the computer for them so they see who he is," Coplan said jokingly.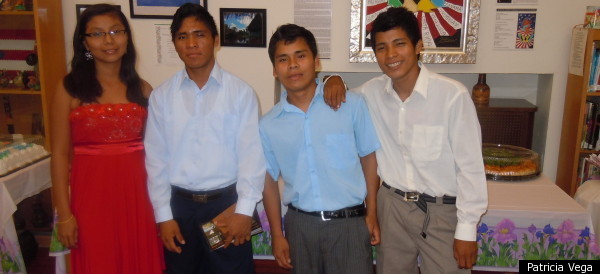 Finally, on Sept. 27, the teens ended their tour with a reception and exhibit opening at the Biblioteca Criolla of the Jersey City Public Library. Patricia Vega, bilingual librarian and information specialist at the Biblioteca Criolla, said organizing the event took five months.
But Vega said, "It was the right place and the right time. Amy was seeking books to teach her child Spanish and talked about Niños de la Amazonia so passionately, I immediately wanted to host the children at our library."
Among those attending the New Jersey event were Jose Benzaquen Perea, consul general of Peru in New York, and Raul Abanto, president of the Peruvian Lions Club, whose donation to the library helped support the event, said Vega. At the reception, the children were given a proclamation by Jersey City Councilman Ray Velazquez Jr. (At-Large).
In other words, they "were like rock stars for two weeks," said Coplan.
Jesmarly, one of the teen photographers, spoke with HuffPost LatinoVoices before the group returned to Peru.
"I had never seen a camera before, let alone used one. I wanted to learn something new," she said. "Before this project, I was a simple girl. When the project became a part of my life, it completely changed my perspective. It changed my life. Once the project started, there was all this talk about our future and how this program would benefit us. I never used to take the future into consideration."
Her involvement in the project has given her an opportunity to go to college, Jesmarly said. "There aren't any professionals in my family. Now I'm preparing for college. I want to be an accountant, but I also want to be a photographer. I'm very happy now," she said.
Jesmarly also admitted that she missed home. "It's very different," she said. "Especially the food. I like some but not most. I miss Peruvian food."
Is there a second generation of photographers awaiting Niños de la Amazonia? Coplan hopes so. "I would love nothing more than one day for these children to run Niños de la Amazonia," she said.
Will Jesmarly carry on the legacy of the project?
"I would love to continue this program in my village," she said. "Learning how to use a camera and a computer would be new and different for the children in my community. Taking a photo changed my life, and I would like to help someone else see how it can change theirs."
For more updates on the children's lives, please go to the Niños de la Amazonia Facebook page.
Niños De La Amazonia Photography