AUSTIN, Texas -- On Thursday evening, Austin's local Fox News weatherman Scott Fisher gave his viewers a welcome forecast: a "big time" chance of rain for the weekend. In fact, he slotted a 70 percent probability for Sunday -- thankfully, after Saturday's big Oklahoma-Texas college football showdown in Dallas.
"We're warm and hopefully we're gonna be wet," he said. "We need it. Let's hope it pans out."
The thirsty state is undergoing its worst one-year drought on record. The last significant rain fell in September 2010, leaving 97 percent of Texas now under extreme or exceptional drought. Records are broken nearly every month for everything from high temperatures to scorched acreage. (This week, another wildfire burned through 1,000-plus acres in Bastrop County, just east of Austin.) And as the Lone Star state's climatologist John Nielsen-Gammon recently suggested, the historic dry spell could continue for several more years.
The severity of the situation earned it a special session at the inaugural SXSW Eco conference in Austin. Thursday's panel of local experts discussed the drought's underlying factors and the state's management strategies.
John Dupnik, regulatory compliance team leader for the Barton Springs/Edwards Aquifer Conservation District, warned that a little rain should not induce complacency, unveiling what he calls the "hydro-illogical cycle": Drought eventually brings awareness, then concern, followed by panic. "But as soon as it rains, it goes off the radar immediately," he said. "We get apathetic and lose momentum and then start over when a new drought begins."
The rain forecast for central Texas this weekend is expected to be short-lived, with dry conditions returning through at least next week.
Experts anticipate future droughts in the region to increase in frequency, length and intensity due in part to the effects of La Nina, a weather phenomenon triggered by unusually cool surface waters in the tropical Pacific Ocean, and Pacific Decadal Oscillation, a long-term warming or cooling of the Pacific's surface waters. Global climate change and a growing population will only exacerbate the problem over the long term, the panelists said.
"By 2060, there will be 46 million people here," said Jennifer Walker, water resources specialist for the Lone Star Chapter of the Sierra Club. "And they are not bringing any water with them."
Within the next 40 years, river flows to the Texas coast could be reduced by 85 percent during droughts -- if population growth, as well as a conservative 4 degree Fahrenheit increase in temperatures and a 5 percent decrease in rainfall are taken into account, according to a study cited by the Environmental Defense Fund.

Humans aren't the only ones suffering; wildlife across the region are in need of rain as well. Bats and frogs are famished due to depleting insect populations, while turtles struggle to find the few remaining water sources and more raccoons, deer, and even bobcats find their way into backyards.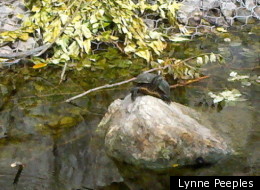 "We're at risk of losing species," Walker said. "A fish doesn't get to choose which river to live in."
All of this leaves the state with few options -- basically they either reuse more water or use a lot less water in the first place, the panelists said.
While Walker noted that water reuse is very important, she also highlighted a potential concern: The flow of rivers from cities, which is rich in wastewater, is often relied upon by downstream communities and wildlife. Removing that water could potentially create a devastating "ripple effect," she said.
The key roadblock to cutting down overall water use, according to Dupnik: "Water simply does not cost enough."
"Only two things will change behavior," he said. "You turn on the faucet and no water comes out, or it is priced accordingly so it hits the pocketbook."
Walker agreed that the value of water is a "big tripping point for progress."
"We need to realize that the water we need to keep grass green may not be the best use of that water," she said. "It's probably un-Texan to even bring that up. But it's important."
Outdoor watering accounts for the majority of household water use, especially during the summer.
The panel discussed the "peer pressure" inherent in many Texas neighborhoods to keep yards uniformly lush and green. According to Dupnik, builders tend to just roll out turf grass and "irrigate the hell out of it" until the home is sold. Landscaping with native vegetation, rather than grass, is far more water efficient. And if given the choice, he said, many buyers would be happy with this alternative landscape.
"We have to convince builders that the 'xeriscape' option won't affect their bottom-line," Dupnik said.
Walker emphasized the importance of public awareness, recalling her neighbor putting down a new lawn this July. "I guess I need to talk to my neighbors more," she quipped.
Several state water systems now restrict lawn watering. Austin's water utility went a step further, recently starting a pilot program that pays customers to remove their St. Augustine grass -- a popular turf grass that requires large quantities of water and fertilizer to maintain.
Of course, not all Texas water ends up on lawns (and football fields) or comes out of home faucets. Walker noted that water is embedded in everything from producing paper to manufacturing the microphone she held. "The things around us take a lot of water to make," she said. "We need to think about how, when and where we use it."
The panel also stressed the importance of transitioning to less water-intensive methods of agriculture and energy production.
Irrigation still accounts for the majority of water demand in Texas, although as cities grow, its share is expected to drop from 60 percent to 45 percent by 2060, reported the Texas Tribune.
If Texas does not find a workable solution, "a drought as bad as that of the 1950s could cost Texans $116 billion a year by 2060," wrote the Tribune, adding that it could also "cause the potential loss of more than one million jobs."
"We are going to have to make tough choices," said Walker.