'SNL': Zoolander Joins Stefon's Halloween Report On 'Weekend Update' (VIDEO)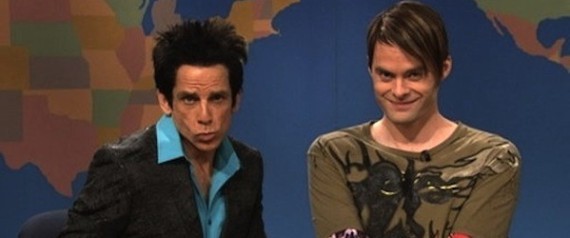 Earlier this week there were rumors that former "Saturday Night Live" cast member Eddie Murphy would drop by this weekend's episode on the account of the host being his "Tower Heist" co-star Ben Stiller. While that didn't happen, viewers did get to see the return of one of Stiller's most beloved characters: Derek Elijah Zoolander.
As it turns out, Zoolander is a natural match for one our favorite "SNL" characters, Bill Hader's Stefon, and joins him in this "Weekend Update" segment about Halloween in NYC. From the minute Zoolander appears (a few minutes in to the sketch) and asks, "Am I on the news?" he makes us laugh by spouting the same kind of nonsense Stefon usually does about "New York's hottest clubs."
Watch the bit below to see Zoolander's triumphant return, and hear how he plans to take Halloween from an "almost religion-y holiday for old people and babies" to the craziest party New York City has ever seen.
WATCH:
Click here to watch on NBC.com