You've always had two options when it came to message boards: Either go for one that looked straight out of an office, or straight out of a kindergarten classroom. But today's Craft Of The Day changes all of that.
Part rustic, part modern, this DIY chalkboard starts with a cross-section wood cut. Though you can buy them straight from a lumberjack, you can more easily find them in the wood crafting section of the craft store. (Or online at Hofcraft.) Add a coat of chalkboard paint...and you're pretty much done.
Woodsy Chalkboard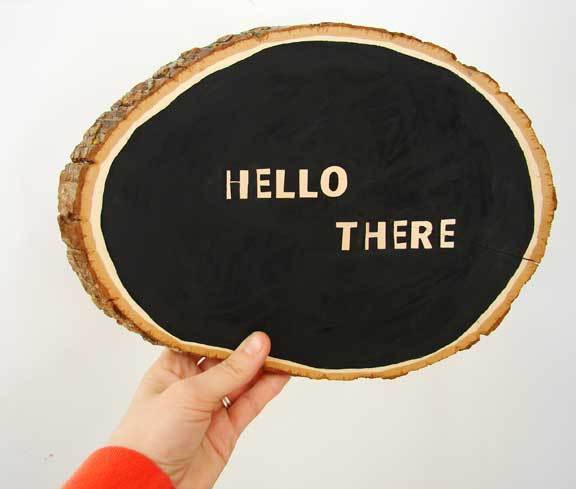 Flickr photo by How Now Design.
What You'll Need
Wood plaque (cross-section style, with bark intact)
Chalkboard paint
Foam paintbrush
Chalk
To make it: Brush away any loose dirt or dust from the wood plaque, using a stiff brush. Then, using the foam brush, apply the chalkboard paint. You can extend the paint all the way to the bark, but leaving a little exposed wood provides nice contrast. Cure the chalkboard paint according to the package's directions. (Usually, you have to apply two coats and let dry for 48 hours, after which you'll run a piece of chalk over the chalkboard surface...but again, check the package's instructions for specifics.)
For more great craft ideas, visit Aesthetic Outburst.
And, be sure to check out our other great crafts in our Craft Of The Day slideshow below.
PHOTO GALLERIES
Craft Of The Day
Have something to say? Check out HuffPost Home on Twitter, Facebook, Pinterest, Tumblr and Instagram.