Katy Perry had the "scariest" night of her life at Knott's Scary Farm on Sunday.
Dressed up as a skeleton in full face makeup, the 26-year-old singer found the perfect way to make her rounds around the haunted theme park virtually unrecognized.
Perry tweeted a photo of herself asking, "Be honest with me, do I look tired?"
Katy and friends weren't completely unrecognized, some fans recognized her. Tumblr user, Randomvince27, wrote on his blog:
"Last night Katy Perry and Russell Brand went on Xcelerator 8] (sic) I got to see them and talk to them, they had their faces painted so they couldn't be noticed. Katy asked one of my coworkers to make out with her but he didn't know it was her so he turned it down, my supervisor called him an idiot hahaha."
Sounds like Katy had a lot of fun going incognito.
PHOTOS: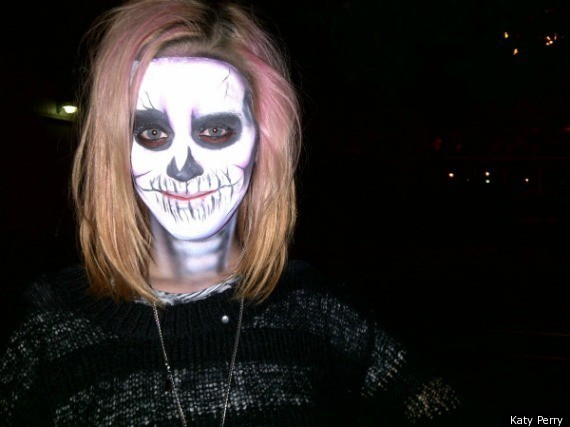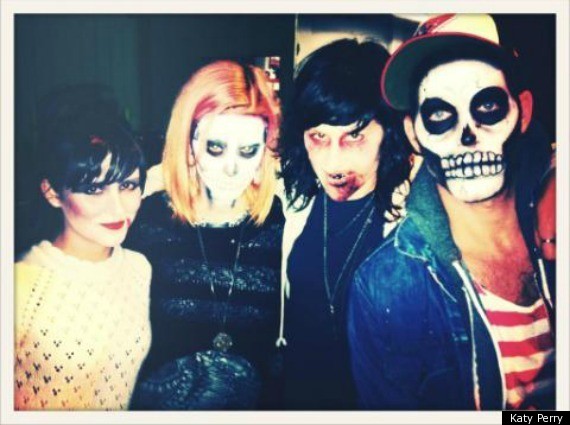 Check out these celebs in Halloween costumes:
Celebrity's Halloween Costumes
Audrina Patridge rocks this sexy pirate look to judge a halloween costume contest at The Bank Nightclub in Las Vegas.

Kim Kardashian looks sweet and not-so-innocent dressed up as little red riding hood in a corset top and full skirt.

We're not really sure what the "pickle queen" is, but we do know that we're loving Snooki in this wonderfully bizarre green sparkly number.

Ciara looks hot in a long blonde wig and black pleather unitard as Storm from X-Men.

Is that Heidi Klum under all that purple paint? The Project Runway host gets an A for effort for this amazingly detailed Transformers costume.

Napster Co-founder Sean Parker -- who was played by Justin Timberlake in The Social Network -- and girlfriend Alexandra Lenas dressed up as '90s pop power-couple Justin and Britney.

Vampire Diaries star Nina Dobrev looks adorable in a top hat, fishnet tights and purple overcoat as Willy Wonka.

Katerina Graham trades in her on-screen witch persona as Bonnie on The Vampire Diaries to be a sexy vampire for a night.

Dereck Hough (who's reportedly dating Lauren Conrad) was right on-the-mark with this Clark Kent/Superman costume.

Perez Hilton, the king of celebrity bloggers, dresses up in a black minidress and blonde wig as queen of pop Lady Gaga.

Michelle Trachtenberg went all-out in this baroque and beautiful Marie Antoinette costume.

Sexy pilot Blake Lively is ready to take flight, covering up her flowing blonde locks with a short, jet-black wig.

Rocking a curly fro, handlebar mustache, and bright sweatband, Penn Badgley is straight out of the 1970s.

Who doesn't love a good food costume? Jack Osbourne's taco ensemble is caliente!

90210 star AnnaLyne McCord looks dazzling dressed up as the White Queen from Alice in Wonderland.

Twilight star Ashley Greene looks stunning in this feather-covered peacock outfit.