Officers from several Oregon law enforcement agencies have joined the search for Lidiya Dmitriyevna Russu, a 47-year-old woman whose vehicle was found abandoned in the Mount Hood National Forest last week.
"The current search involves efforts and support from Mountain Wave Communications, AMR Reach and Treat and Pacific Northwest Search and Rescue," said Clackamas County sheriff's Sgt. James Rhodes.
Portland Mountain Rescue, Search One K-9, NORSAR, the Hood River County Sheriff, and the Multnomah County Sheriff's Office Search and Rescue Team are also assisting in the search.
Russu, of Portland, was last seen by her family Thursday. She was reported missing the following morning. On Saturday, Russu's 2000 Hyundai Elantra (pictured below) was found parked near the High Rocks lookout in the Mount Hood National Forest, off USFS Road 4610.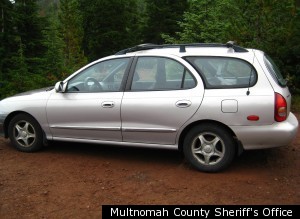 According to family members, Russu was not equipped or prepared to stay in the forest.
Rhodes said that while authorities do not suspect foul play, they also do not know Russu's intentions or destination.
The forest, which is located about 60 miles east of Portland, encompasses six counties and covers more than 1 million acres of land. So far, authorities have focused their search in the immediate area where Russu's vehicle was found.
"The terrain is very steep in that area," Rhodes told The Oregonian. "We're hoping she didn't get far from the car."
Heavy fog and rain reportedly hampered Monday's search efforts. Low visibility grounded all aircraft from conducting aerial searches and heavy rainfall diminished the effectiveness of search dogs.
Russu is described as a white female, 5 feet 4 inches tall and weighing about 155 pounds. She has long black hair, brown eyes and was last seen wearing a black house dress with a zipper on the front, a silver scarf holding her hair in a bun, and flip flops.
Anyone who has had contact with Russu since Thursday, Oct. 6, 2011, or anyone who has information regarding her whereabouts is asked to contact the sheriff's office at 503-723-4949.
MISSING CHILDREN CASES:
PHOTO GALLERY
BEFORE YOU GO
Missing Children
PHOTO GALLERY
Missing Children
TOP STORIES FROM THE ASSOCIATED PRESS: