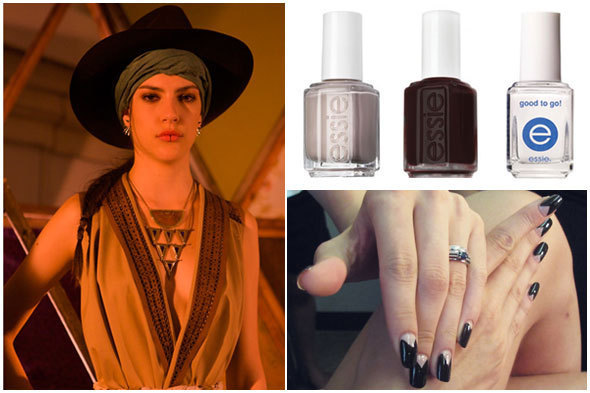 Photos: Model at Pamela Love Spring 2012 presentation; Essie Topless & Barefoot nail polish; Essie Little Brown Dress nail polish; Essie Good to Go top coat; nail art at Pamela Love's Spring 2012 presentation, Stylecaster.com.
I haven't quite mastered the art of piling on New York based-jewelry designer Pamela Love's eccentric pieces, but I had better luck this weekend at recreating the Moroccan-influenced nail art models donned at her Spring 2012 presentation.
To complement the triangular jewelry found in Love's latest collection, Essie Weingarten, creator of Essie Cosmetics, brought that pattern down to the digits.
"We drew inspiration for the reverse chevron French manicure, which exposes the nail's natural moon, from the tribal graphic element of the clothing," said Essie manicurist Elle Gerstein.
Want to get the look yourself? Begin by applying two coats of Essie nail polish in Topless & Barefoot (a beige pink) and allow to dry. Then draw on a diagonal line on the left and right sides from the cuticle up to the tip with Essie's Little Brown Dress. Fill in the "V"-shape until you created a chevron. Set the nail art with Essie Good to Go Rapid Dry Top Coat.
What do you think about this Pamela Love-inspired manicure? I think it's a funky new take on the classic French tip.
Tell us in the comments section and shop the products below to nail the design.
SUBSCRIBE AND FOLLOW
Get top stories and blog posts emailed to me each day. Newsletters may offer personalized content or advertisements.
Learn more