ORLANDO, Fla. (AP/The Huffington Post) -- President Barack Obama has joined four unemployed construction workers in Florida for a round of beers on a day his jobs bill met defeat on Capitol Hill.
Obama met with the group at Harp and Celt Restaurant & Irish Pub in downtown Orlando. He solicited opinions on the jobs situation and said he was trying to figure out how to get the construction trades back to work.
The workers – three unemployed pipe fitters and one unemployed plumber – drank Budweiser and Obama had a Guinness. They all toasted: "To more jobs!"
Obama held the meeting between fundraisers in Florida as Senate Republicans – and two Democrats – turned back an effort to open debate on the president's $447 billion jobs bill. Obama says the bill would create construction jobs.
The White House Pool Report, written by Carol Lee of the Wall Street Journal, offers some more details:
POTUS, with a pint of Guinness, cheers with unemployed construction workers - "To more jobs..."

Motorcade was rolling at 6:58 pm and stopped at 7:01 pm for President Obama's visit with unemployed construction workers an Irish bar in downtown Orlando.

When pool entered, Mr. Obama was already seated with the construction workers (names below) and Orlando Mayor Buddy Dyer at a table inside Harp and Celt Restaurant & Irish Pub on Magnolia Avenue.

The bar smelled like stale beer. It was mostly empty except some workers, WH staff and a couple of people in the back who appeared to be customers eating and drinking. POTUS and the construction workers sat at a table near the door. The wooden table had a half eaten large plate of nachos in the middle. Apparently the construction workers had been eating them, as they had small plates in front of them. There were 4 bottles of Budweiser on the table. Two were in front of construction workers and one in front of Mr. Dyer and POTUS, but POTUS, then Mr. Dyer, ordered a Guiness instead. One worker had a Corona, and another had a soda. Mr. Obama, seated with his back to the door, was in shirtsleeves. A lifesize cardboard pint of Guiness was propped up behind him in a corner.

POTUS told the workers part of the reason he wanted to stop by is because "Buddy and I" are trying to help create jobs. "You guys are what this country's all about," Mr. Obama said.

POTUS said he wanted to get sense from the unemployed construction workers what they're seeing, how projects are going. One man told POTUS he had worked at the Amway Center. Pool couldn't hear much of the conversation. A version of "Landslide" was playing in the bar (not Fleetwood Mac, maybe Smashing Pumpkins?)

As the group of six talked, someone brought POTUS a Guinness.

"Look at that," he said, examining it. "Now that looks good."

Mr. Dyer thought so too. "Is that a Guinness?" he said. "Can I get one of those, too?"

POTUS then raised his glass and the construction workers raised theirs.

"To more jobs," he said.

And they clinked glasses.
See more pictures below: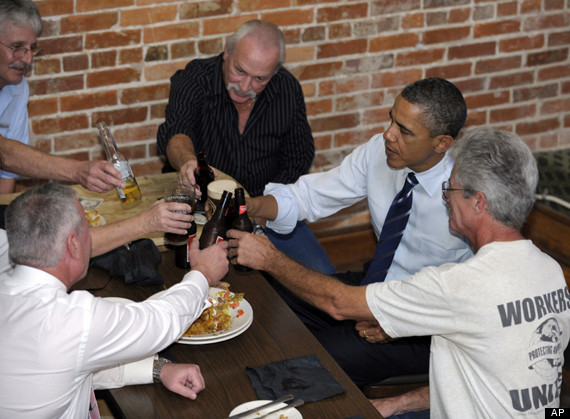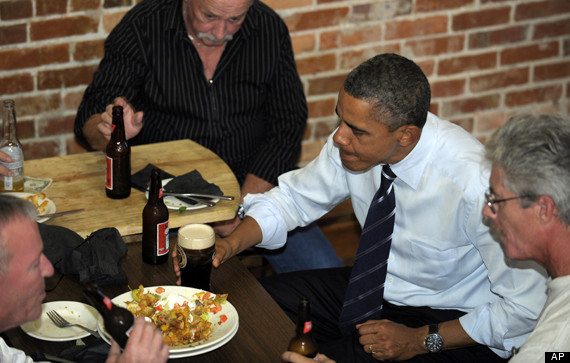 FOLLOW HUFFPOST