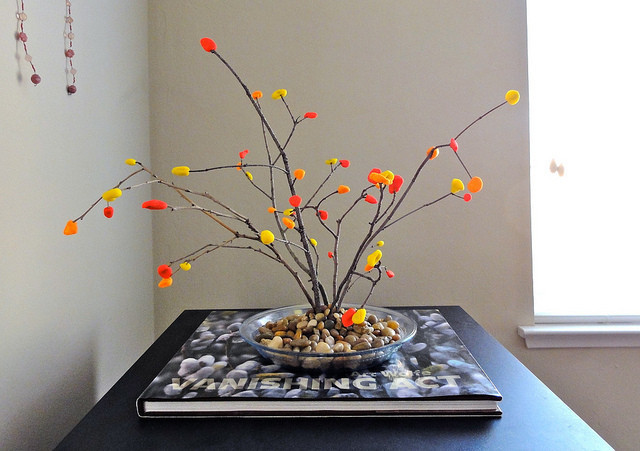 Flickr photo by mindfulone
Is it just us, or does fall seem like it's coming a bit late this year? Usually the leaves have changed by now. In lieu of a big showy display of autumn leaves comes today's project, which creates a bonsai-like tree from a branch and felt scraps. It's nice for a desk, coffee table or any bare corner that needs a little extra something.
Autumn 'Bonsai'
What You'll Need
Twigs or branches
Floral foam
Felt
Hot glue gun
Plate or platter
Pebbles
To make it: First, carve the floral foam into a 4" wide by 2" tall rectangle to create a base for your "tree." (These dimensions are a starting point—if you have lots of branches, you'll need to create a bigger base. Essentially, you'll want it low enough that you can cover it with pebbles later.) Next, insert the branches into the floral foam, forming a tree-like shape.
Then, cut a few small felt ovals, which will be your leaves. To connect them to the tree, add a dab of hot glue to the end of each branch. Next, sandwich the branch end with two leaves. Repeat until the branches...look like a tree. To display, place the tree on top of a plate, covering the foam with pebbles.
And, be sure to check out our other great crafts in our Craft Of The Day slideshow below.
Have something to say? Check out HuffPost Home on Twitter, Facebook, Pinterest, Tumblr and Instagram.
SUBSCRIBE TO & FOLLOW LIFESTYLE
We're basically your best friend… with better taste. Learn more