Formaldehyde-Free Treatment For Frizzy Hair (PHOTOS)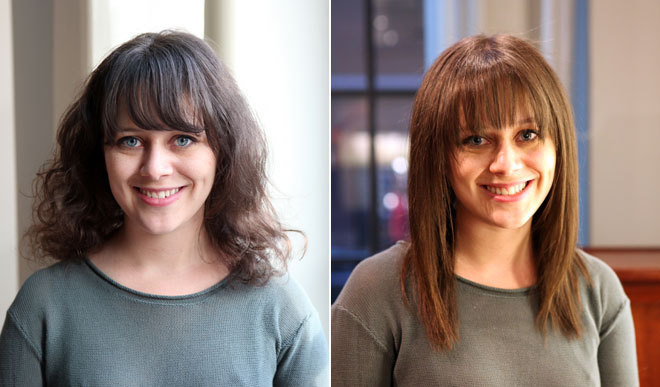 Photos By Bobby Doherty
I didn't realize that I had curly hair until I was 12 years old. Until that point, I would brush my ringlets into a porcupine-esque frizz ball and slick it back into a ponytail on a daily basis. I started to discover the wide world of products shortly thereafter, and along with learning about mouses, creams and sprays I became dear friends with the terrifying flat iron.
Years of blow drying, ironing and heat styling has left my locks beyond drab. I have always wanted to have straight hair like Gwyneth Paltrow or Jennifer Aniston, but I am terrified of the chemicals involved in most treatments. The Brazilian blowout? Japanese hair straightening? There had to be another option.
When I first heard of Tela Beauty Organics by Philip Pelusi's blowout treatment from our associate beauty editor Dana Oliver, it seemed to good to be true. Tela's is nontoxic, formaldehyde-free and 85% organic. Technicians don't even need to wear gloves during the application! I made an appointment as quickly as possible.
Unlike a Brazilian blowout or Japanese straightening treatment, Tela's blowout doesn't chemically straighten your hair, instead it leaves your hair smoother, shinier and frizz free. As a commitment-phobe, chemically straightening my hair seemed like a frightening choice. What if I wanted to go wavy one day? Tela offered me the best of both worlds: it is easier to blow dry my hair into a sleek, straight style while still having the option to go wavy.
I was prescribed the full blowout treatment by Tela's specialists to combat my dry, frizzy hair. First, my stylist Ricky washed my hair with Tela's Balance shampoo and conditioner. Twice. Even after shampooing with their sulfate-free organic formula my hair felt more nourished. Then, Ricky began to apply the blowout smoothing treatment and started to get to work. He slowly gave me a fantastic blowout after applying Tela's Healer and Guardian products which will protect hair against frizz and restore moisture. Ricky flat-ironed my hair following the blowout for a pin-straight style that is completely different from my daily look! I walked out of Tela's salon in the Meatpacking district a whole new woman. I was even allowed to wash my hair eight hours later compared to other treatments that forbid washing for up to three days.
But, the real test of Tela's blow out treatment was still yet to come. Before, I would blow-dry my hair on a daily basis, spending easily half an hour each morning to make sure my frizz was in check. I used buckets of products, but hadn't found any that I loved. I promised Ricky that I would use Tela's after care products exclusively while the semi-permanent treatment did its work on my hair. The results? Significantly smoother, less frizzy hair. My styling time has been cut in half and I actually feel like my hair is healthier since the treatment (something you definitely can't say of the chemical alternatives). Although my hair in the above photo was styled with a flat iron, it is still noticeably less frizzy after air drying. You can bet that I'll be back at the salon in about 4-6 weeks when the treatment wears off.
Meanwhile, the latest hair trend is a bit colorful. Would you try it?