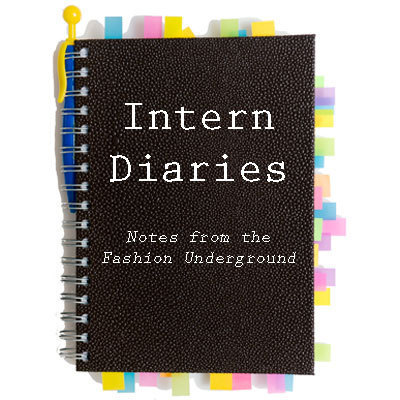 Intern Diaries: Notes from the Fashion Underground is a column that goes straight to the source of the fashion industry--the free labor. In this column, anonymous interns tell all about their terrible bosses and entitled coworkers as they endure ridiculous tasks which include, but are not limited to, fetching dry-cleaning, going on coffee runs and acting as a substitute nanny. This week's intern is a male college student working for a young brand during New York Fashion Week.
5:00 A.M. On my way to Detroit Metro Airport, en route to New York City to complete the internship I began over the summer.
7:00 Arrive at the airport. It was packed. Nearly missed my flight.
7:30 Run like a mad man from the security check point to gate of departure. Made it just in time to board the plane.
8:00 Soaked in sweat, but still look awesome in Brooks Brothers shirt, Dolce & Gabbana jeans and my new Coach Heritage Stripe Tote, which was perfect for traveling in style.
10:00 Land at LGA, immediately hail a cab and head to the showroom in Manhattan.
10:13 Roll down the cab window and the morning breeze greeted me with a gentle caress, welcoming me back to the Big Apple.
10:47 Step out of the cab and onto the NYC pavement.
11:13 Already settled in at the house, not missing a beat! I was born for this.
11:22 Showroom is a complete mess - filled with everything from shoes, model cards, handbags, gift bags, jewelry and seating charts. Ugh, this is not going to be a vacation.
11:24 Start to organize everything because I can't work in mess. I am a total neat freak.
12:00 P.M. Starving for lunch, but there is no time. Jeweler here to present the collection for the show.
12:15 The exquisite gold bracelet, gold earrings, chokers and sapphire epaulet completely blew me away.
12:24 An editor from a fashion blog stopped by. She interviewed the designer and asked questions on the jewelry that were to be used in the show.
12:35 Finally grab a quick lunch while no one is looking.
12:40 Caught up with other interns and learn that a celebrity will be closing the runway show! Who will it be?
2:00 Prepare for our next meeting with the music composer by printing out the list of songs that the designer had mentioned.
2:15 We debated on using the soundtrack from "Lawrence of Arabia" and Sting's "Desert Rose".
2:45 No decisions made. Yet.
3:55 Fitting session starts, oh brother.
4:00 Model after model come into the showroom. Each of them more beautiful than the next!
4:20 Standing next to the designer during the model fitting and made sure everything was right. He is a complete perfectionist.
4:45 Exhausted after running around making sure that each model has at least 2 looks and footwear in the proper size.
5:13 Hand the models their call sheet and remind them to show up on the day of the show in clean hair and nails. You would be surprised how some of them walk in.
6:00 Take a short break. Deserved, right?
6:15 Still running on adrenaline. I'm back, baby!
10:13 We call it a day after almost 10 hours of non-stop working. Does that make me a workaholic?
11:40 Dreaming about the music for the show. I'm sick.
DAY TWO
6:44 A.M. Already up before my alarm goes off. So excited. Put on my favorite Marc Jacobs wool sweater, Jill Sander cotton blend chinos and Chukka boots from Cole Haan.
8:00 Arrive at the showroom.
8:01 The big reveal! Kirstie Alley will be closing the show. I love Cheers and Dancing With The Stars. So excited.
8:03 On top of that, I learn that Entertainment Tonight will be filming a 2-part exclusive series of Kirstie and her first-ever runway show. Hence, we had to put in extra effort to prepare for her arrival.
8:25 Waste no time making sure that the shworoom is spic and span.
9:11 Hide shoeboxes behind the staircase (what the camera can't see won't hurt us) and toss out trash.
10:24 Finally satisfied with the status of the showroom.
11:00 Try to touch up my appearance in front of the mirror before her arrival - I guess the rest of the crew had the same idea.
11:05 Hear her laugh, the star is in the building!
11:09 Totally star struck. She is just like on TV.
11:25 The crew member from Entertainment Tonight set up their cameras and equipment. I befriend them (hey cameras!)
11:35 Showroom starts to get warm, it's usually not this crowded. Dip out for fresh air.
12:10 P.M. The fitting goes well. Kirstie looks absolutely stunning in the custom-made, Sapphire-beaded opera gown. There is no doubt in our minds that she will own the runway.
1:15 After a quick lunch, I meet with our Public Relations Director to assign the VIP seating for the event. Some of the celebrities expected to be in attendance were Petra Nemcova, Jill Zarin, Ramona Singer and the legendary Patti Labelle. Better keep them happy.
2:03 Arranging the seating charts was no easy task and that meant keeping track of all the gossip and being very mindful of the relationships and associations of our guests to avert any unnecessary uneasiness!
2:45 Finalize the seating assignments. Better late than never!
3:00 How did this all work before Fashion GPS?
4:16 Petra Nemcova is here! She is totally gorgeous.
4:56 She tried on several outfits before deciding on a white-laced top with bootleg pants to match.
5:00 Tweeted about my meeting with the supermodel. Oh, I felt like Rachel Zoe. Can we get "The Fashion Intern Project" on the air?
5:44 Observe a meeting with hair and makeup team and decide on a look: glamorous eyes and lacquered hair.
6:11 The calm before the storm?
7:00Eat KFC for dinner. Not a fatty, we call the night before the show "Lucky Chicken Night" a ritual that started in 1991 when Anna Wintour came to the show for the first time.
8:12 A final pre-show meeting was called for the staff and the volunteers. Our PR Director, assigns everybody to their tasks for tomorrow.
11:23 Still at work.
11:49 Make sure that every piece is in order, completely finished and polished. Good night moon.
DAY THREE
9:55 A.M. By the time the cab pulled up at Lincoln Center, I could feel the butterflies in my stomach.
9:58 I never imagined myself stepping foot in the white tents of Lincoln Center during the Mercedes-Benz Fashion Week. It was like a scene out of a magazine.
10:01 Stand there for a brief moment enjoying the feeling. Then run along.
10:11 Catch a glimpse of Beyonce backstage and I almost pass out!
10:30 Gift bags are assembled, hair and makeup team in their place, we're ready.
10:43 Who are all of these people backstage? We have work to do.
12:40 P.M. Twenty minutes before the show starts and my work is done.
12:43 Guests start filtering into The Studio.
12:44 Checking in guests at the front.
12:48 Recognize a number of familiar faces in the crowd: Robert Verdi, Miss J. Alexander and Stephen Baldwin, amongst others.
12:50 A fashion editor came up to me and demanded a seat, I had to convince her that it was full house.
12:57 The lights dim.
12:59 Sting's "Desert Rose" starts playing.
1:09 One by one, the designer's thirty-three-piece collection is unleashed on the runway.
1:19 A thunderous applause erupted when Kirstie Alley walked down the runway in the designer's "One Thousand Nights and One Nights" imperial coat.
1:22 Actually teary-eyed when the models do their final walk. The audience iss on their feet when Kirstie and the designer came out to take their bows.
1:30 The standing ovation lasted for like ten minutes and he deserved every minute of it. It was a good showing and I was so proud of our team effort!
4:33 Done already, jump in a cab to LGA.
5:00 Manhattan skyline looked beautiful across the East River. My brief summer encounter with this multi-billion dollar fashion industry has truly been insightful. There are marked contrasts within this world. Where there is glitz and glamour, there is also sweat and tears. There are people who are genuine and accommodating, but there are more who are pretentious and intimidating. The only way one can be successful in this industry is through sheer determination, hard work and perseverance. I realize that there will be sacrifices to make if I am to make it in this industry, but I walk away from this summer internship knowing that I am IN!
Are you a fashion intern? Interested in contributing? Please email sarah.leon@huffingtonpost.com.
FOLLOW HUFFPOST