Adam Lambert's rise from "American Idol" runner-up to gay cultural icon has been truly unprecedented in the fickle world of pop music. But as the singer reveals in a new interview with The Advocate, he has mixed feelings about his role within the LGBT community.
Though Lambert is actively involved with both the Trevor Project and Equality California, he says he hopes to achieve more of a balance between advocacy and performance as his career continues to progress. "How many ways can I spell G-A-Y? Everybody knows I'm gay," he says. "What am I going to be known for in 15 years? I want to be known for my music, that's my art. That's what I'm contributing actively."
Before "Idol," Lambert's life, he says, "wasn't defined by my sexuality," but now "all of a sudden it's all about being gay. In some respects a lot of good can come from that. When I was a kid I didn't have that many people to look up to. And if I'd had people in the public eye who were really up-front about it, it probably would have helped me. I feel like this is a conversation [Advocate] readers will understand where I'm coming from, because it's tricky — I don't know what the fuck I'm doing sometimes. Seriously. No one teaches you how to be a gay celebrity."
Lambert also reveals details about the upcoming follow-up to 2009's "For Your Entertainment," which he describes as "Nine Inch Nails meets George Michael." The album is tentatively scheduled for a spring 2012 release:
"No matter what the genre is, it's all very personal, even on upbeat, fun tracks. The last album was a little bit more of a fantasy escape…even my image for that last album felt very theatrical and kind of over-the-top and intentionally tacky. I get a kick out of making artistic statements that are kind of ridiculous."
He's less forthcoming on his relationship with boyfriend Sauli Koskinen, the 2007 winner of Finland's "Big Brother," who he's been dating since last November. "It's done a lot for me, and it's grounded me, and it has inspired me as a writer as a performer," he says. "I just think everybody wants that connection, and I'm really happy to have found it."
Check out Lambert's Advocate cover (of which he has since Tweeted: "Is it me or did someone get a little photoshop happy?") below: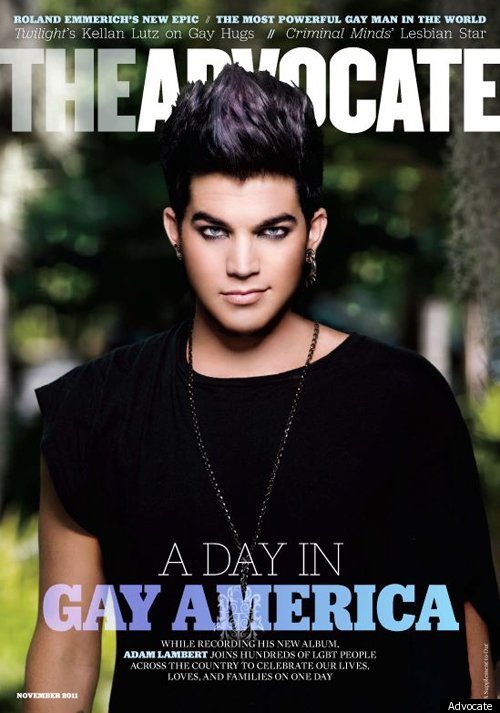 Check out some of Lambert's most memorable moments below: