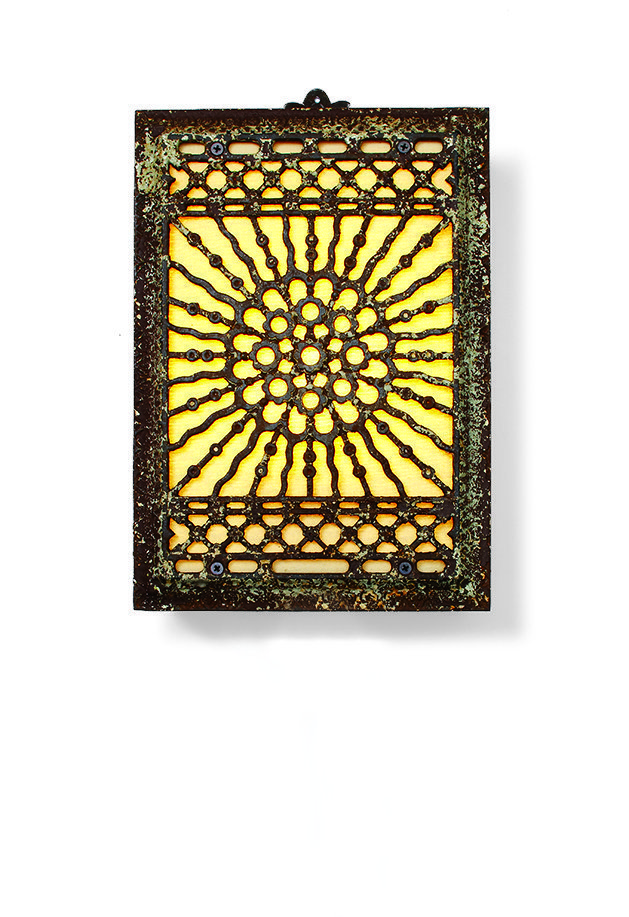 There's no denying the decorative detailing and architectural appeal that you see in old wrought-iron railings, gates and fences. And we find this aged beauty in this light piece, which consists of a vintage register cover that has been repurposed into a captivating wall sconce. Low-cost and simple, this DIY creation is certain to instantly add old-world flair to any room.
TITLE: Use a Register Cover to Make a Light Fixture
TIME: 1 Hour
COST: $40
SKILL LEVEL: Easy
SUPPLIES:
Register cover
Wood for a frame
Corded light socket
Lampshade fabric
Wood glue
Finishing nails
Decorative screws
Cabinet hinge or picture hanger
TOOLS:
Drill/driver
1/4-Inch bit
Paddle bit
Utility knife
Step 1: Make the frame.
Glue and nail together wood strips sized to the inner dimension of the register cover decorative grille.
Step 2: Drill a hole for the socket's cord.
Use a 1/4-inch bit to bore a hole in the frame's bottom, and snake the cord through (unscrew the socket to disconnect the wires).
Step 3: Seat the socket in the frame.
To ensure that it fits snuggly inside, fit your drill driver with a paddle and widen the inner side of the hole.
Step 4: Line the register cover's back with lampshade fabric.
Size the fabric the inner dimensions of the grille, and insert to hide the bulb and diffuse the light.
Step 5: Secure the register cover.
Using its existing screw holes, fasten the cover to the frame with wood screws.
Step 6: Hang the sconce.
Secure a cabinet hinge to the top of the frame with screws to serve as a decorative picture hanger, and install the sconce using the right fastener for your wall type.
SUBSCRIBE AND FOLLOW
Get top stories and blog posts emailed to me each day. Newsletters may offer personalized content or advertisements.
Learn more