Occupy Wall Street Brings New Hopes To Reformers in D.C. WASHINGTON -- Progressive and public interest groups that have been advocating for years, if not decades, on behalf of the issues now animating the Occupy Wall Street protests are suddenly brimming with optimism.
"It's pretty amazing what a chord the message has struck," said David Donnelly, national campaigns director for the Public Campaign Action Fund.
"What we all hope for now is a changed political environment," he said. "That's the underlying hope here, that the ground shifts under Washington so that Washington pays more attention to what's happening in the country."
Robert S. Weissman, president of Public Citizen, the consumer group celebrating its 40th anniversary this week, said, "What we need is a movement that gives voice to the outrage that people feel over the state of the country, that speaks to Wall Street having crashed the economy with devastating effect on communities and virtual immunity for the perpetrators, and also for the capture of government by Wall Street and big business."
"And what they are doing is exactly what we need."
Adam Green, co-founder of the Progressive Change Campaign, welcomed the new developments.

"There's been a simmering anger about the corrupting role of corporate money on our politics, our democracy and our economy. And that simmering anger is now boiling over," said Green.
But what's particularly exciting about the Occupy protests, Weissman said, is how that anger is being expressed. "I think it's been deeply, deeply felt, but the main public expression of the outrage has [historically] been disengagement: 'It's hopeless.'"
Suddenly, Weissman said, it's different: "There's energy in the Occupy Wall Street movement, and there's an inherent optimism."
Green said he believes this has expanded opportunities for reform.
"There are things that are possible now in terms of corporate accountability campaigns and legislative solutions that were not possible just a month ago because of this new environment, and that's just going to keep moving in a positive trajectory so long as the Occupy movement just keeps growing," Green said.
After the Dodd-Frank Wall Street reform bill was passed, for instance, the conventional wisdom on Capitol Hill was that a window had closed. But Green said the Occupy movement "essentially reopens" that window, and "gives political leaders license" to introduce new legislation.
"Before, any Wall Street accountability or campaign finance reform bills would not be seen as having any credibility," Green said. Now, he said, public financing bills like the Fair Elections Now Act, or a reintroduced version of a proposal to break up the big banks could "quickly gain steam."
And if they are blocked, he continued, "that will play out right in front of voters."
Donnelly is less optimistic about legislation anytime soon.
"I don't think the dynamics have changed significantly as far as the prospects of getting legislation passed by Congress," he said.
But, he noted, "I am more optimistic that there's going to be a real debate about these questions."
Green suggested that there are other successful tactics citizens could end up using, without the help of Congress.
"If consumers vote in the marketplace, and move their money from the big banks and punish corporate actors in a sustained way, that will change the country," he said, by way of example. "'Move Your Money' is a people-powered solution to 'Too Big To Fail.'"
Could the protests even potentially change the dynamic of the 2012 elections? These advocates said yes.
"What's interesting is the degree to which this group of protesters has crystallized for the political class the otherwise quite evident fact that most of America is very upset about Wall Street and what it did to us," Weissman said. "That to me was self-evident prior to the Occupy movement, but it didn't seem to be so evident to many political figures."
He continued, "If somehow this jolts them to a recognition that we're living in a populist moment, and they adjust their campaigning and maybe even their policies, that would be consequential."
"Are they going to chase the money, or are they going to adopt a more populist frame that speaks to where the American people are?," he asked.
Watching the Obama campaign so far, however, Weissman said, "it seems to me that they're a little conflicted."
Donnelly said congressional candidates could come to the conclusion that embracing the populist message "is going to be worth much more to you than the money you could get from Wall Street. That would be a tremendous shift."
But it's also a tremendous amount of money; people associated with the finance, insurance and real estate sector have already made $96 million in direct donations to federal candidates this cycle.
"I'm hoping that there will be a new wave of candidates," said Bob Edgar, president of the public-interest advocacy group Common Cause. He said both parties would be well advised "to search out candidates who are uncommon in their ability to tell the truth."
"If a group can be swept away by the Tea Party there's no reason to think that a group can't be swept in by Occupy Wall Street," Edgar said.
Donnelly also sees future politicians in some of the movement's current protesters.
"You could see people turned on to be active in politics in lots of ways, including running for office," Donnelly said.
Meanwhile, sympathetic groups are trying to find the right way to help the movement grow and focus -- without being overbearing.
"These are authentic voices, they don't need us to tell them what to think," Donnelly said.
Edgar seconded, "Our understanding of movement-building is if any group tries to capture it from the top, it will sour the movement, so we are celebrating the fact that this a bottom-up revolution."
Donnelly said Public Campaign has visited several different protest sites, collecting stories from individual protesters about what money in politics means to them, and how it has affected them. Those stories will eventually be posted on a new website: occupydemocracy.org.
The group is also developing a teach-in model that includes facts and figures about money in politics, some proposed solutions to minimizing money's influence in the political system, and what actions people can take to advance those solutions.
"We want to make sure that they're connected to tangible things that people can do in their communities," Donnelly said.
And Public Campaign is also collecting comments from the "one percent," like the anonymous money manager quoted by the New York Times expressing disappointment that New York's Democratic senators had not jumped to Wall Street's defense.
"They need to understand who their constituency is," the man told the Times.
Donnelly said of this one percent, "They are tone deaf, and we're going to hold up their tone deaf statements."
To become a truly potent political force, of course, the movement still has a ways to go.
"As exciting as it is, it's obviously nowhere near the scale needed to actually shift the political, cultural and economic terrain," Weissman said.
But the signs are strong.
"So far, the trajectory is all about growth," Green said. "Every week new occupy locations are formed, every week the number of people turning out increases."
*************************
Dan Froomkin is senior Washington correspondent for The Huffington Post. You can send him an email, bookmark his page; subscribe to his RSS feed, follow him on Twitter, friend him on Facebook, and/or become a fan and get email alerts when he writes.
Occupy Wall Street Demonstrators in Washington, DC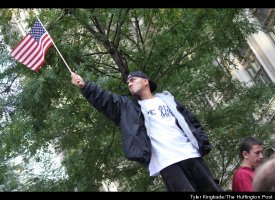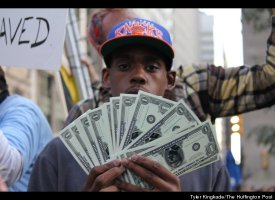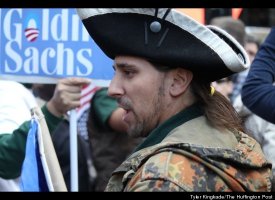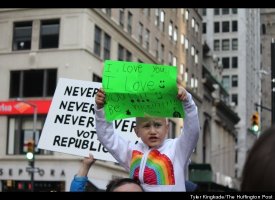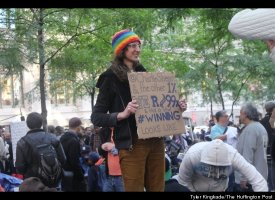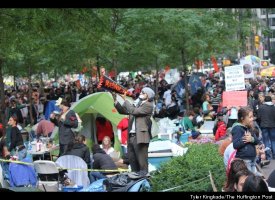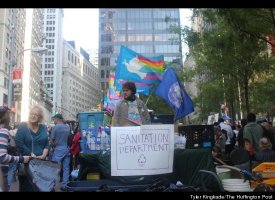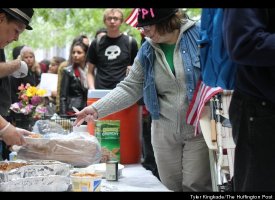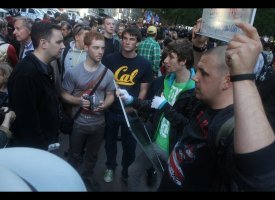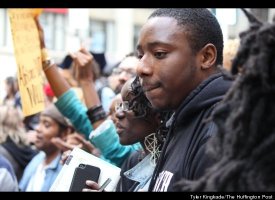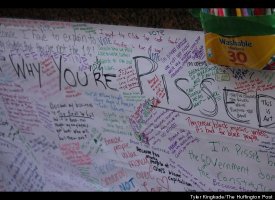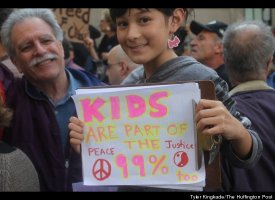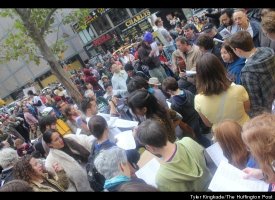 Subscribe to the HuffPost Hill newsletter!