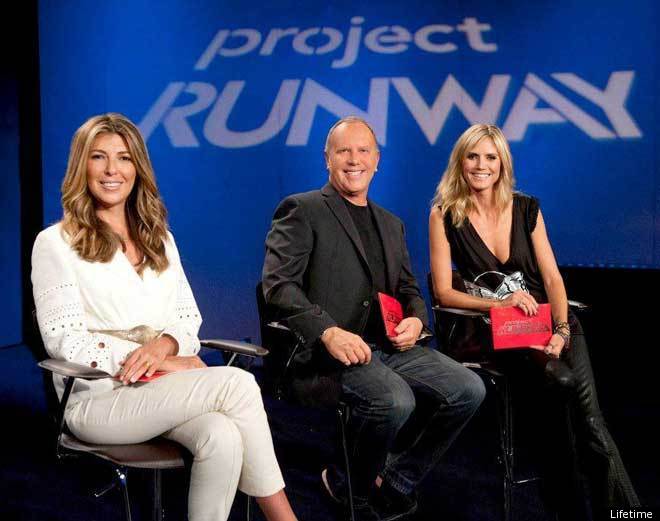 Tim Gunn puts on his best grey suit and ventures to far-away lands, like Queens, NY., to check in on the final four season nine contestants as they sketch, stitch and procrastinate in anticipation of New York Fashion Week.
But the judges have a trick up their immaculately pressed, designer sleeves.
And sew it goes:
The Challenge: The final four designers; Anya Ayoung-Chee, Joshua McKinley, Viktor Luna and Kimberly Goldson each have $9,000 and four weeks to create a 10-piece collection to show at Mercedes-Benz Fashion Week.
The Twist: Host Heidi Klum gathers the contestants before sending them to the subway and informs them only three contestants will actually get to show their looks.
The Not-In-The-Workroom Drama: Gunn's hometown mentoring visits have been anti-climatic for Stylelist ever since season seven when he donned a leather jacket, cashmere turtleneck, played board games and jumped on winner Seth Aaron Henderson's trampoline. THAT was fun. This season's visits are duds-ville. Each of the finalists seems to be grieving a dead relative and Gunn never gets out of his mourning suit; not even while cruising around Trinidad & Tobago on a power boat with Ayoung-Chee.
Papa Gunn's first visit is to Goldson's home in suburban Maryland. (New Yorker Gunn marvels at the size of her crib.) There, we meet her adorable toddler niece, Avery, whose first words include, "Tim Gunn. Work." Too cute. Goldson is working on a collection inspired by transformed Brooklyn girls and wants to be the first African-American "PR" winner. Gunn is happy because her works-in-progress "feel like Kim."
Next stop Trinidad. Ayoung-Chee left Parsons for her island home, went scuba diving, bought some fabric and hasn't done A-N-Y-T-H-I-N-G else. No garments. No sketches. She's got a mood board with pictures of beaches. This is bad. She's a fan favorite. She's won three challenges in a row. She's supposed to WIN. Gunn scratches his chin and implores her to get to work - and do her own sewing.
At Luna's Manhattan apartment, Gunn has to climb five flights of stairs and declares "Grandpa needs a break." Fortunately, he gets one because he's impressed with the "wow" collection inspired by a trip Luna took to visit his late brother David's grave in Mexico. (Stylelist told you it was depressing.)
Next stop is to visit McKinley in Queens, N.Y. Gunn meets Josh's sister, McKenzie, and while Stylelist marvels at how much these attractive siblings look alike, we also learn McKinley was a track star in high school. This explains why the inspiration for his neoprene-meets-neon collection seems to be the gym. Gunn hates it even more than Stylelist does. He calls it "Farmer in the Dell" and says it contains the "ugliest fabric I've ever seen." He does a gagging pantomime.
Things are suddenly looking brighter for beauty queen Anya.
The Runway Show: The designers choose three of their "best" looks to show judges Klum, Nina Garcia and Michael Kors in a pared down review. There's no guest judge unless you count the clown on Klum's sleeveless T-shirt.
The Deliberations: The judges like some things and hate others, but it's the ladies who incur their wrath. It's obvious that Ayoung-Chee has slapped together her garments at the last minute. Garcia is upset about the "cheapness" of Goldson's styling and hates her hot pink mess of a bubble skirt. There's some worry that McKinley's clothes might skew Halloween. (Wait until they see his prints coming down the runway at Lincoln Center.)
Meanwhile, Klum tries to steal one of Luna's always fabulous embellished leather jackets straight off his model.
Who's In: Everyone! After lots of "really difficult deliberations" and cliffhanger commercials the judges give "ins" to McKinley, Luna and Goldson. They make Ayoung-Chee weep (we're supposed to think she's going home) and then tell her she's in too.
Of course, all of this fake-out drama is for reality television fans. As we've been reporting since September, nine of the finalists (including Bert Keeter, Laura Kathleen, Bryce Black, Anthony Ryan Auld and Olivier Green) got to show their collections in a decoy show to a packed house at Lincoln Center.
Stay Tuned: Next week the winner is chosen. After Ayoung-Chee's island melt-down the sash and crown are clearly up for grabs.