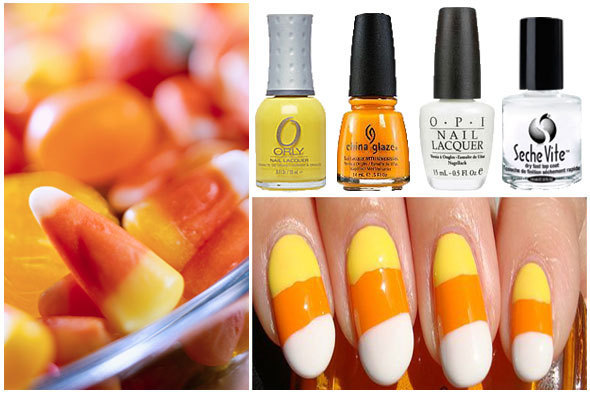 Photos: candy corn, Corbis; Orly Spark; China Glaze Papaya Punch; OPI Alpine Snow; Seche Vite Dry Fast Top Coat; SwatchandLearn.com's candy corn nail art, Courtesy Photo
I may not be able to indulge in trick-or-treating this Halloween, but sweet nail art is almost just as satisfying.
This yummy manicure comes courtesy of SwatchandLearn.com's Mary S. To get in the holiday mood, the 20-something-year-old lacquer lover recreated the seasonal candy on her round-shaped digits in just one hour, she tells Stylelist.
"I've always been self-conscious about the shape of my ring finger's nail –- it's narrower at the top near the cuticle and then flares out," she wrote on her blog. "But for candy corn nail art, the shape actually makes it look more like the candy!"
And I couldn't agree more as the nail art almost looks good enough to eat!
To perfect this design, Mary prepped her nails with Nubar Foundation Base Coat. Then she painted on three separate horizontal lines using two coats of Orly Spark (yellow), China Glaze Papaya Punch (orange) and OPI Alpine Snow (white). Seche Vite Dry Fast Top Coat added a glossy finish.
What do you think about this candy corn-inspired manicure? Tell us in the comments section and shop the products below to get the look.
Be the first out the gate with these jockey stripe digits from Ruffian's Spring 2012 fashion show!

SUBSCRIBE TO & FOLLOW LIFESTYLE
We're basically your best friend… with better taste. Learn more