Jessica Simpson Tweets Barefoot Bathroom Photo And Looks Extremely Pregnant In New York (PHOTOS)
Jessica Simpson is giving a new meaning to barefoot and pregnant.
Yesterday, the 30-year-old singer seemed to have some problems in the bathroom at luxury department store Bergdorf Goodman in New York City.
Simpson tweeted a photo of her bare feet, which were apparently too short to reach the floor, and wrote "Short girl problems." While Bergdorf's definitely has a fancy bathroom, why Jessica was barefoot in a bathroom stall to begin with is still a mystery.
The singer and designer is in town with her mom and sister Ashlee to work on their tween denim line for the Jessica Simpson Collection, reports Us Weekly.
And while Jessica still hasn't addressed pregnancy rumors, X17Online snapped some photos of the singer wearing sky-high heels and her ever growing belly. If that's not a baby bump, we don't know what is.
We've heard Jess is holding out to find a magazine that will pay her big bucks for the official news, but it looks like time is running out.
Click over to X17Online for more photos.
PHOTOS: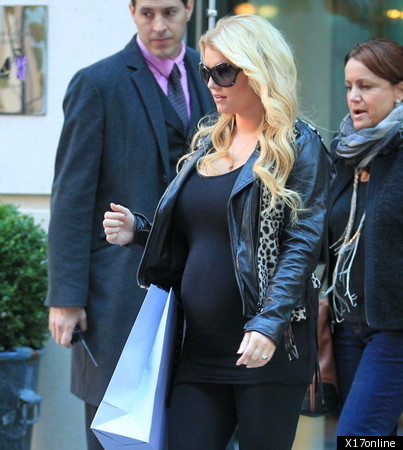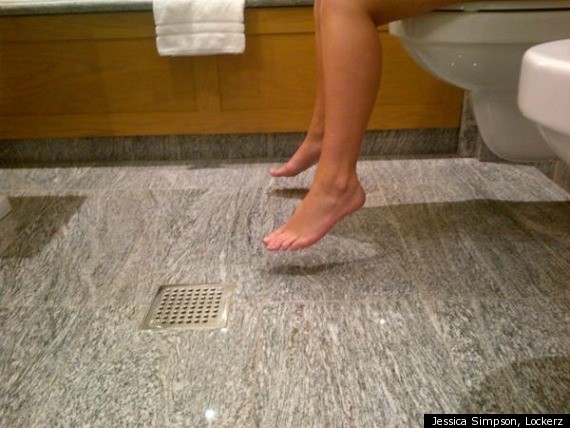 Check out these other celebs who stayed mum about their pregnancies:

Loading Slideshow
Angelina Jolie

While promoting their film, "Kung Fu Panda," at the Cannes Film Festival in 2008, Jack Black accidentally told the world that Angelina Jolie was pregnant with twins. Oops!

Jennifer Lopez

Man, exes always seem to ruin everything! In 2007, actor and choreographer Cris Judd confirmed to both US Magazine and People that his ex-wife Jennifer Lopez was expecting her first child with then-husband Marc Anthony.

Mariah Carey

Actress Thandie Newton spilled the beans during an appearance on "The View" when she let it be known that she had gotten her role in "For Colored Girls" because of Mariah's pregnancy.

John Edwards

In 2007, the <em>National Enquirer</em> broke the news that Edwards had fathered a daughter with his former campaign videographer. But it wasn't until 2010 that Edwards publicly admitted that <a href="http://voices.washingtonpost.com/44/2010/01/john-edwards-admits-paternity.html" target="_hplink">he was baby Quinn's father</a>.

Hilarie Burton

Let's call this the most secretive pregnancy in Hollywood history. Just two weeks after going public with their romance, E! News revealed that Jeffrey Dean Morgan and "One Tree Hill's" Hilarie Burton also welcomed a baby boy. In 2009, Burton wasn't photographed for nine months. Now that's some serious secrecy.

Arnold Schwarzenegger

In 2011, former California Gov. Schwarzenegger acknowledged that he fathered a child with a member of his household staff after the <a href="http://www.latimes.com/news/nationworld/nation/la-me-0517-arnold-20110517,0,312678.story" target="_hplink">Los Angeles Times broke the story</a>. For at least 10 years, Schwarzenegger managed to keep his secret safe.

Pink

Before Pink announced her pregnancy on "The Ellen Degeneres Show," her baby news was spoiled by someone else. "Hey, Pink, I'm sooooo happy for you lady!!! Congrats on baby!!" wrote Good Day L.A. co-host <a href="http://twitter.com/#!/askjillian" target="_hplink">Jillian Barberie Reynolds on her Twitter page.</a> "Ps. You know your man whispered it to us at dinner. See I CAN keep a secret!!" Actually, Jillian, it looks like you couldn't keep a secret.

Liv Tyler

Leave it to Liv to spoil her family's secret. Liv grew up thinking that rock star Todd Rundgren was her father. But as she was growing up, rocker Steven Tyler began dropping by to visit, and Liv noticed that his daughter Mia Tyler looked enough like her to be her twin. She then confronted her mother, and was told the truth; by the time she was 12, she had taken her father's name. Not even Nancy Drew is that good!

François-Henri Pinault

Salma Hayek has been married to her very wealthy husband, François-Henri Pinault, for two years. But around the time they met in 2006, Pinault was also seeing model Linda Evangelista--and he ended up fathering both Hayek's and Evangelista's children--who happen to both be 4-years-old. Awkward.

Isla Fisher

Isla Fisher and husband Sacha Baron Cohen can certainly keep a secret. The couple had their second baby last August (2010), and have yet to publicly reveal what they named the little girl--that is, until <a href="http://www.usmagazine.com/momsbabies/news/revealed-find-out-the-name-of-isla-fishers-baby-2011103" target="_hplink">Us Weekly unearthed the name</a>: Elula Lottie Miriam Cohen.

Katie Holmes

After many months of speculation Katie Holmes and Tom Cruise finally announced they were expecting their first child together although they still kept their due date quiet.

Jennifer Garner revealed that she and Ben Affleck are expecting their third child together. Garner was thought be pregnant for some time before she confirmed the news as she was spotted out with what looked to be a growing baby bump.

Mariah Carey

Mariah Carey finally confirmed that she and husband, Nick Cannon, were expecting in an interview with Access Hollywood. There had been a lot of buzz about a possible pregnancy before the couple confirmed the news. Little did everyone know, there wouldn't be just one baby for Mariah and Nick, the couple gave birth to twins in April 2011.