Food Informants is a week-in-the-life series profiling fascinating people in the food world. We hope it will give you a first-hand look at the many different corners of the food industry. Know someone who would make a great Food Informant? Tell us why.
Food maintains a nearly constant presence in the life of 34-year-old competitive eating champion Timothy Janus, known to his fans as Eater X. Ranked #3 in the world by Major League Eating, Janus spends many of his weekends on the road, competing in contests across the country and around the world. A seven-year veteran of the sport, Janus has competed in over 100 events, owns seven world records, and yet still looks pretty good in a pair of pants. At night, Janus is a waiter at a pizza shop in Manhattan's East Village. His life, he says, has been a very good adventure.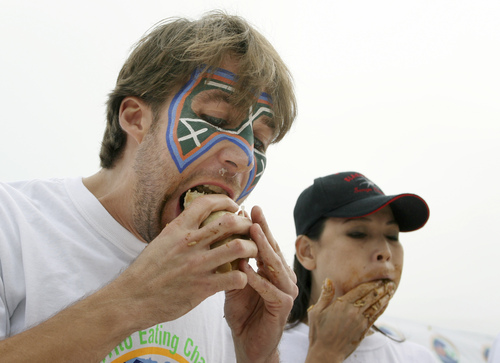 AP Photo
Wednesday, October 5
10:00am: I've woken up starving. These days I almost always wake up starving, but that wasn't always the case. I used to be a midnight snacker. I'd wake up in the middle of the night, eat a brownie, drink some soda and go back to bed. More than once, I took a brownie to bed with me, fell asleep before I finished it and then woke up with half a brownie clenched tightly in my fist. It looked like the grip from a motorcycle handlebar: shiny, black and almost perfectly molded to my hand. But I kept getting cavities, and it wasn't hard to figure out why. So I made some changes in my life. Among them: I don't eat anything in the middle of the night anymore unless I'm willing to brush my teeth before returning to bed.
12:30pm: Exercise is a big part of my life. I hit the gym at least five days a week. Today I fix a protein shake (MET-Rx) and eat a Clif Bar (Coconut Chocolate Chip) and a banana. Because I'm scared of getting cavities, I floss and brush my teeth. Did I mention that I use a prescription toothpaste? It costs $18 a tube! But you can't put a price on peace of mind.
4:33pm: I work nights at a place called Pizza Gruppo in Manhattan's East Village. I love working at Gruppo. I've worked there for seven years, which is an eternity in restaurant-time but not uncommon at Gruppo, because everyone who works at Gruppo loves working there and sticks around. Gruppo makes the thinnest yet crispiest pizzas I've ever encountered. The ratio of crust to sauce to cheese is one of a kind, and it makes for a pizza that truly pops with flavor.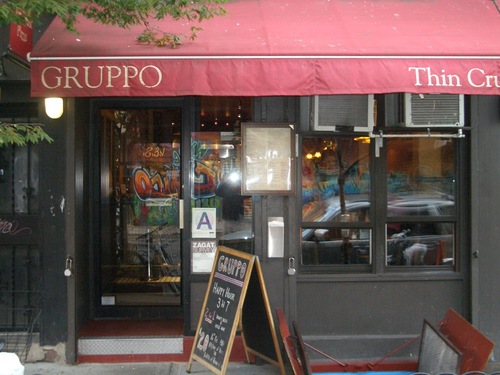 5:00pm: There's a wonderful Mexican woman who sells homemade food out of a push cart in the East Village several days a week. She stops by Gruppo on schedule. Today I purchase two tamales, both chicken with salsa verde. They're a dollar each, and they're delicious. I'll eat them later tonight.
2:22am: It is bedtime, but I've got to coat my stomach with something before I go to sleep. I take ten deep pulls from the carton of milk in my fridge.
Thursday, October 6
12:53pm: I'm in the canned food aisle of the grocery store, scoping out the various kinds of chili. On Sunday, I'm competing in the Ben's Chili Bowl World Chili Eating Championship in Washington, D.C. I'm sure I could stand to practice a little bit, but I really don't want to. I love chili, just not the amount that I'll need to eat in order to make a practice meaningful. Screw this. I'll wing it on Sunday. I buy some more milk because I'm running low. I drink about 2.5 gallons a week, so I feel like I'm always buying milk, or anxious that I'll need to soon.
4:31pm: Eating the first six inches of a Subway Club on whole wheat that I picked up on my way back home from the gym. I'm a huge fan of the Subway Club with swiss cheese, spinach, onions, tomatoes, pickles, and spicy mustard. I'll save the second half of it for after work or for tomorrow because -- again, I'm a little embarrassed -- I kind of like it when it sits in my fridge for a while.
4:46pm: Long chug from the milk carton.
12:22am: Greetings, Subway Club. You look even better than when I last saw you.
Friday, October 7
9:00am: Fridays are busy days for me. I work a double at Gruppo, so if I'm going to hit the gym, it's got to be early, and I hate morning work-outs. I skip abs, though, out of consideration for the Ben's Chili Bowl contest. We're going to eat a lot of chili on Sunday, a couple of gallons I'm sure, and if my abs are going to have to stretch to accommodate all of that food, I don't want them to be sore from a bunch of dumb sit-ups.
5:03pm: I'm taking a break between shifts and digging into a pizza. I went for my old standby: hot Italian sausage, sweet red onions and button mushrooms. It's my favorite combination.
12:15am: Eating some sushi from Fu Sushi, which is two doors down from Gruppo. Fu makes some of the best sushi rolls I've ever had.
Saturday, October 8
11:11am: I try to focus on very simple carbohydrates the day before a contest because I imagine them burning off very cleanly in my body, like ethanol or natural gas. I don't like to eat meats if I have a contest the next day because I don't trust them to digest fully. My goal is to show up to a contest completely empty, with nothing in my stomach and nothing in my intestines. I want my abdominal cavity to be empty so that when I start putting food in my stomach, nothing impedes its expansion. If my intestines are full from a big meal I recently ate, I won't be able to utilize my full capacity, which is my biggest asset as a competitor and also one of the keys to a victory on Sunday Today I'm definitely eating cereal: Flax-Plus on the bottom, a little bit of milk, a fifteen minute wait, and then Life on the top, and a little more milk.
2:07pm: I used to get cavities so often that occasionally my dentist would fix one for free. I'm walking past my old haunt, Economy Candy, truly one of the great candy stores of the world. I used to spend thirty dollars a week at Economy Candy, but I haven't spent a nickel there this year. I am candy-free in 2011, and not even tempted to stop in. It's so nice not having cavities very often anymore. It makes life without candy entirely worth living.
2:44pm: Where, oh, where is my stopwatch? I can't find the one that I've been bringing to competitions for the last couple of years. I loved that little stopwatch because it was waterproof, which is important when you spill food all over it, and it had a really big display that I could very easily read with just a quick glance. I'll need one for Sunday's event. I'm at K-Mart now buying a new one.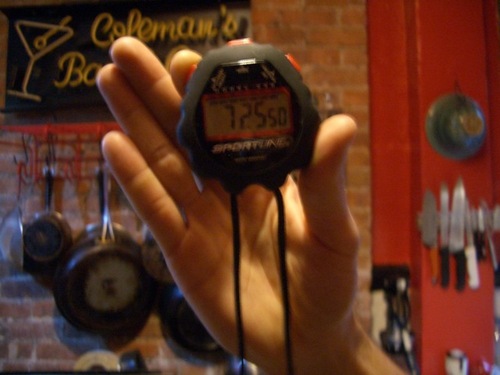 4:09pm: This is my favorite hour to work out. I always feel good at 4:00. I skip abs again.
Sunday, October 9
5:15am: I'm catching a 7:00 AM bus to D.C., so I've woken up very early to pack a day bag.
6:20am: Almost out the door, but before I go, I chug a 32-ounce milk-based protein shake. The volume of the milk will give me the feeling of fullness, and because milk takes longer to process than water or soda does, that feeling will last longer. It will also give me energy, and I really like to feel strong and vigorous for a contest. Eating contests are very physical. If I limp into one lethargically, I won't be able to push myself as hard I'd like to.
11:03am: I arrive at Union Station a few minutes early, well rested. I slept most of the way. I consult a map, and then start wandering in the general direction of the contest venue, at the corner of Pennsylvania Avenue and 10th. I'm not entirely confident of where I'm going, but I don't have to be there until about 12:00, so I figure I've got an hour to spiral towards my destination.
11:40am: I've arrived. I almost always paint my face before each contest, but I need a mirror and about 40 minutes to do it. I don't have a mirror, and I've barely got 40 minutes, so I may have to eat clean-faced today. I've only eaten that way three times before.
12:35pm: Introductions begin. I take my place near the center of the stage, and wait for the final two contestants to be announced. World #1 Joey Chestnut is positioned to my left. He's favored to win, so it'll be nice to be able to keep a close eye on him throughout.
12:36pm: There is "full," and there is "professionally full," and I'm anticipating being professionally full in just a few minutes. I'm a little nervous because that's often not very fun.
12:47pm: Damn it. It's over. Six minutes, and I've finished in a tie for second. Maybe I should have practiced. Joey was quick today. He always is. And the chili was slow. I thought I would have moved a little faster. We didn't eat nearly as much as I was expecting us to eat. Joey ate two gallons. I ate a gallon and a half. I'm full, of course, but not in a way that's intolerable. Oh, well. I won $750 for the Tim Janus retirement fund. I'm very happy about that.
1:46pm: Several of the eaters, the emcee and I are hanging out a nearby bar called Harry's. No beer for me, just water. I'm thirsty, and neither the bubbles of the beer nor the taste of it appeal to me right now. Plus I don't even think I'd catch a buzz if I were to drink now anyway. There's too much food in my stomach for the alcohol to have a chance of being absorbed into my body. It would just sit there and mingle with the chili, which seems to be going nowhere.
5:30pm: Back on the bus. Back to New York. Again, I sleep.
10:04pm: I stop by Peter McManus Cafe, my favorite bar in all of the world, to grab a beer with Crazy Legs Conti, who also competed in today's contest. He's actually my roommate, but he took the train back, so we haven't yet had a chance to compare notes. I'm feeling better, so I order a Guinness. Just one though.
11:50pm: I'm heading to Australia in November for a shrimp wonton contest, and I couldn't be more excited. I'm taking an extra week for myself after the contest to do some exploring. I'm doing travel research right now, and it's funny: I haven't even been to Australia, and yet in my head I'm already planning my second trip there.
Monday, October 10
11:21am: I'm working myself hard this fall, hitting a lot of contests. Saturday will mark my third in four weeks, and again I'm wondering if I should practice. The food will be Moon Pies, the event event minutes long, and the sponsor one of our regulars, the Lady Luck Casino in Caruthersville, MO. I'm nervous because Moon Pies are chewy and sticky, and they resist being eaten quickly. It won't take a big appetite to win, just a superior technique, so my greatest strength, my stomach capacity, won't be of much use to me. If I'm going to have a chance of performing well, I'm going to have to develop a winning technique, so I'm going shopping.
1:23pm: Well, that was a failure. Who knew Moon Pies were so hard to find? I hit every decent-sized grocery store around, and the best I could do was a couple of Moon Pie knockoffs. Oh, well. They'll have to do.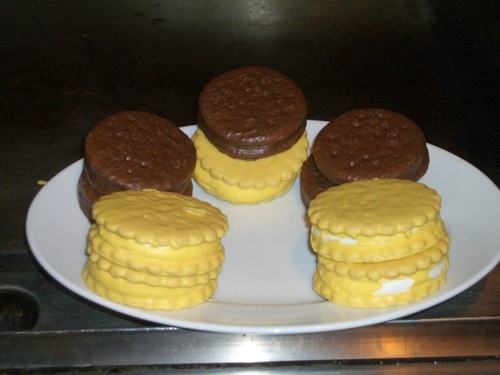 3:33pm: Crazy Legs and I are looking at these knockoff Moon Pies I bought. I eat three and wash them down with soda. I eat three more and wash them down with cold lemonade. I eat three more and wash them down with hot water. My mechanics are the same each time because there's not much you can do with Moon Pies; the rules of this contest forbid us from dunking them or breaking them apart. So I'm wondering if my choice of beverage will make a difference, but the sample size of each heat was so small, that it's tough to gauge if any beverage gave me an advantage. I think the hot water worked well, but that's just a feeling.
10:12pm: Sitting down with a big soda to watch Cedar Rapids. To my surprise, they've written a hot dog-eating contest into the script. Competitive eating is always growing! I'm really glad to be a pretty big part of it.
Tuesday, October 11
9:45am: I've got three quick radio interviews this morning, every 15 minutes. I'm promoting Saturday's Moon Pie eating contest at the Lady Luck. Reporters always ask me if I have a job outside of competitive eating. Of course I do, I tell them. I compete about 15 times a year. It would be an awful waste of time not to try to make money during at least some of the year's other 350 days.
11:15am: Arrive at Gruppo for a double.
11:44pm: Closing up shop, but I'm thinking about my travel plans for Saturday. My flight was $420, and a car and a hotel will set me back at least another $150, so I've got close to $600 worth of costs to cover. I might reach out to other eaters about a possible carpool from the airport to the casino, because everybody's cost-conscious, but I've got time to figure that out. Fourth place ($750) will be good enough to cover my costs. Still I'd like to come out ahead on this thing and not just break even.



See previous Food Informants below:
Geoff Bartakovics, 34, is the co-founder and CEO of Tasting Table, the free daily email publication all about food & drink culture. Before starting Tasting Table, Geoff was a business manager in asset-backed finance at UBS Investment Bank, where he coordinated business activities among the fixed income trading desk and the bank's middle- and back-office functions. Geoff was formerly a business analyst at Deloitte Consulting. He attended The University of Chicago, from which he graduated with honors in English. He was a Fulbright Scholar in comparative literature and philosophy in Berlin and Hamburg. He's an obsessive dinner party entertainer and a serious home cook. Read Geoff's diary here.

Elizabeth Laseter, an aspiring food journalist, is a recent graduate of Johns Hopkins University and lives in Washington, D.C. She received her diploma in Writing and Art History and is now pursuing a Culinary Arts Degree at L'Academie de Cuisine in Gaithersburg, Md. The one-year program includes six months of learning techniques in the classroom and six months at an externship in a D.C. fine dining restaurant. Elizabeth documents her food adventures through two blogs, The Baltimore Food Rag and The D.C. Food Rag. She decided to attend culinary school after interning at Baltimore magazine and working with the food editor. Read Elizabeth's full diary here.

Jane and Terry Levan operate a 20-acre pastured poultry farm outside of Lexington, Texas called Dewberry Hills Farm, after the dewberry vines that grow wild on their land. They raise antibiotic- and hormone-free meat chickens for sale. Their chickens mostly live outdoors. The Devans call themselves "omnivores with a conscience;" Jane won't eat any meat unless she personally knowns who raised it and how it was processed. Jane and Terry began farming in 2003, after reading Fast Food Nation and The Omnivore's Dilemma. The pair had always wanted to farm, but they didn't want to follow the industrial agricultural model. Jane and Terry built a processing building on-site and became state certified so they could sell their birds commercially in May 2008. Read Jane's diary here.

"James" is an Apple employee. He works at Caffe Macs, the on-site cafeteria of Apple's campus in Cupertino, Ca. Reminiscent of Google's epic food offerings, Caffe Macs is pretty much a corporate food court dream-come-true. Read James' diary here.

Brooklyn-based Aaron Lefkove used to work in book publishing and as a freelance writer. After his office re-located to New Jersey, Lefkove decided he didn't want to do the commute. Lefkove and his business partner, Andy Curtin, had the idea for a Cape Cod-style seafood joint for awhile. One day at a barbecue, they decided to commit to opening a restaurant, Littleneck, Brooklyn's first and only classic New England-style beach side seafood shack. Besides working in restaurants growing up, Lefkove had no experience as a restaurateur. He acknowledges that the process has been a major learning curve, but so far, there haven't been any obstacles they couldn't get around. At first, he thought opening up a clam shack would be easier than finding a new job but it turns it that it is actually "WAY WAY WAY harder." Despite this being the "hardest, most stressful, most frustrating, most time consuming, most ambitious thing" he has ever done, it isn't nearly as hard as he thought it would be. Plus, he says he loves working for himself, working toward something he has "always dreamed about," and building something really exciting. Read Aaron Lefkove's diary here.

Jonathan Stich, 29, is a third generation farmer from Burlington, Wisconsin. He grew weary of the corporate world, went traveling and decided to become a farmer. After reading about how heirloom tomato grower Tim Stark in Pennsylvania sells his products to New York restaurants, Stich made the decision to spend a night in restaurants in Milwaukee and Chicago asking if they'd be interesting in buying local produce. Read more about Jonathan Stich's week here.

Erika Nakamura and Amelia Posada are the owners, managers and butchers in chief of LA's artisanal butcher shop Lindy and Grundy. (Erika is Grundy and Amelia is Lindy.) The two, who also live together and are a couple, opened their store on Fairfax last spring (profiled on HuffPost Food). Lindy and Grundy has already been feted as one of the most best butchers in Southern California -- and quite possibly its most sustainable. Read about a week in the life of Erika Nakamura and Amelia Posada's here.

Recently, inspired by a meeting at the San Francisco Food Bank, chef Karl Wilder started the food stamp challenge: living and eating on a food stamp budget. What began as a one week project has turned into a two-month long commitment. Wilder calculated that a family has $1.33 to spend per meal, and decided that when using oil and seasonings, the cost would be $1.22. In total, he has less than $4 to spend on food per day. He monitors his nutrition and caloric intake on FitDay. You can read more about his daily experiences at on his blog, Fusion On The Fly. Read about a week in the life of Karl Wilder here.

Chris Cosentino is the executive chef of San Francisco's Incanto, an offal-heavy (not sure what offal is? Check out our Whole Animal Guide here) rustic Italian restaurant located in San Francisco. While encouraging patrons to try different cuts of meat, Cosentino also champions eating locally. He's previously cooked at such renowned restaurants as Kinkead's and Chez Panisse, and cites Jean-Louis Palladin as a big influence on his cooking style. He also co-owns Boccalone, which sells various cured meats and house-made salami. To learn more about Cosentino, check out his website, Offal Good. Read about a week in the life of Chris Cosentino here.

"Jane," 24, has been working for Trader Joe's since 2007, though in 2009 she left for over a year to go work for Whole Foods. She did not like it there and returned to TJ's. At Trader Joe's, every employee does a range of tasks, but Jane's speciality is dairy. Below is her explanation of the pros and cons of the job: I like working for Trader Joe's because they pay me well and offer great benefits. They also respect me as an employee and make me feel like I'm useful and needed and not just another part-time employee that can be replaced (which has been the case at other retail jobs I've had). Trader Joe's is really good at hiring great people and I'm lucky to have so many wonderful co-workers. I don't like working at Trader Joe's because the work can be strenuous on my back and wrists. Being on a register for several hours at a time is tiring and somewhat soul crushing due to ignorant people who feel the need to be condescending to me because I work at a grocery store. I also feel that the company is becoming more and more corporate as it grows and it is beginning to have an impact on the enjoyability of being a part-time "crew member." I also work in a very busy store which causes the managers to stress out a lot and I don't enjoy being surrounded by it. Read about a week in the life of a Trader Joe's employee here.

Chef Nate Appleman is the Culinary Manager at Chipotle. This involves a range of tasks including developing new menu items, opening ShopHouse (Chipotle's upcoming Asian fast-casual chain) and furthering Chipotle's commitment to sustainable sourcing. A graduate of the Culinary Institute of America, Appleman was previously executive chef and co-owner of San Francisco's super popular Italian restaurants A16 and SPQR. Appleman moved to New York in 2010 to open Pulino's. After leaving, Appleman took his current position at Chipotle. He has received a James Beard award for Rising Star Chef, been anointed Best New Chef by Food & Wine and is the champion of Food Network's Chopped All-Stars. Read about a week in the life of Nate Appleman here.

Freeganism is a lifestyle in which one employs "alternative strategies for living based on limited participation in the conventional economy and minimal consumption of resources." Gio Andollo is a writer, artist, musician and freegan. Andollo became a freegan when he realized that artists don't get paid much, but he didn't like the idea of working a "crappy, part-time job" to pay the bills. So he found another way. Andollo performs on the subway for about 20 hours a week, typically in two-hour intervals. He makes $10 to $50 per shift and has a love/hate relationship with busking. Andollo will buy food, but very rarely. The majority of his food comes from trash touring, or dumpster diving. He's become increasingly concerned with the abuses inherent in current economic systems: waste of resources, exploitation of people, degradation of the environment, calloused treatment of animals, commodification of time, labor, even war (thus human life in wholesale). In addition to busking part-time, he writes songs, blogs and books about these issues. Read about a week in the life of Gio Andollo here.

Captain Jason Joyce is an eighth-generation resident of Swan's Island, Maine. He is a Coast Guard Licensed Captain and a registered Maine Tidewater Guide. He has done lobster and fish research with the University of Maine, the University of Massachusetts, the Gulf of Maine Research Institute and the Lobster Institute. Joyce is currently doing a lot of work with the Penobscot East Resource Center, which works to secure a viable future for the fishing communities of eastern Maine. Each week, he records HD video of lobstering that he gives to restaurants to educate customers about sustainable lobster fisheries in Maine. Captain Joyce is married to his high school sweetheart and they have four children. Learn more about Captain Jason Joyce here. Read about a week in the life of Jason Joyce here.

Martin Kastner is a serviceware designer extraordinaire/jack-of-all-design-trades for Grant Achatz's Alinea, Next and The Aviary. Kastner creates custom pieces that work with Achatz's elaborate and intricate food. Born in the Czech Republic, Kastner trained as a blacksmith and received an MFA in sculpture. (His thesis was about air). He met his American wife in Prague and moved to the US in 1998. In 2003, Kastner received an unexpected email from Grant Achatz, who had emailed a host of designers. Kastner was the only one to respond. They've partnered not only on serviceware, but also on web design, video and the Alinea cookbook. Kastner's other clients include L20 (an upscale, seafood-focused Chicago restaurant), Le Bernardin (Eric Ripert's homage to seafood) and Empellon (Alex Stupak's new Mexican restaurant in New York). Read about a week in the life of Martin Kastner here.