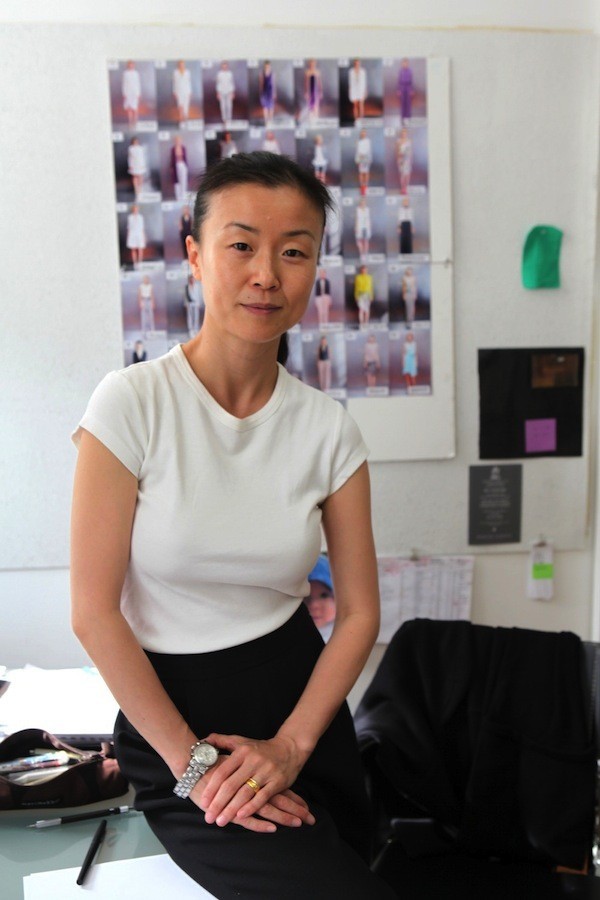 All photos by Bobby Doherty
Scroll down for photos of Doo-Ri at work in her studio
If there were a designer having a moment right now, it would have to be Doo-Ri Chung. In just a few short weeks, the petite, fashion darling dressed Michelle Obama for the state dinner with South Korean President Lee Myung-bak and announced her upcoming Macy's collaboration.
"It's been wild," giggled Chung. "A lot can happen in a week!"
It certainly can. Chung, who is known for her signature jersey draping typically keeps a relatively low profile, but admits things have been pretty "amazing" as of late, especially her experience with the first lady. "It's incredible. I can't believe the coverage. I have friends who aren't even in fashion, like know nothing about fashion, and they were floored. And the fact that it's on TV, it was everywhere. I couldn't believe it."
As for her relatives, she said, "I have family in Korea that called my mother and was just in shock. You know, because I'm like the poster child for Korean fashion in Korea and everyone loves the whole story of my parents being immigrants. It really became a success story for them."
Chung was actually on vacation when the White House came calling. "They really liked the strapless dress from the spring collection and then we kind of used that as a starting point," she said. "I was away, but it's the biggest thing I've done. The hardest part was not knowing and hoping."
So how did she finally get the news? "I was in the car en route to the Uniqlo store opening. It was crazy. I wanted to scream."
Just a couple of days after that, news broke about the Macy's partnership. Though it was an easy yes, given the scale of the offering, Chung admits she wasn't always sold on the fast fashion capsule collection. "I guess in the past, when the whole onslaught of collaborations started happening, I really didn't pay attention," she said. "I thought it was a fad, but now looking at it, it is an amazing opportunity for designers to reach a broader audience. For a small designer like myself, my reach only goes so far, and it really is isolated to the metropolitan areas. Even for designers like Karl Lagerfeld, unless you're a fashion insider, you may know what he looks like, but you don't really know the history of what Karl represents. To have someone like Macy's, I think that they could really do so much for a brand."
But could Chung see herself doing an extended in-store shop a la Simply Vera Vera Wang for Kohl's? "That I don't know," she said. "We don't have the capability right now, but hopefully one day."
With all the talk of the artist's day job, it's easy to forget that she has a brand, spanking newborn at home. "I haven't had five months with a full night's sleep," she joked. "Being pregnant was so much easier. This was one of the hardest seasons because you're working late at the office, but I think that most people don't realize that when you go home, the baby is still up, so you still have to feed him and everything that comes along with it. You've got your second job at home."
Luckily, aside from the usual rewards that motherhood brings, Chung has found some unusual perks: "My ability to edit has changed," she said. "I feel like I'm much more focused, so I'm spending time on pieces that have something great to say and eliminating the ones that I feel aren't worth pursuing. I've never really had that; I knew that it was there, but I always gave style a chance. Now I don't feel like I have that luxury. I feel like I'm much more efficient in that way. I guess that's what babies do."
Now that's one haute momma!
PHOTO GALLERY
BEFORE YOU GO