Patricia van der Vliet on Holland's Next Top Model, Blush and Dream Runway Shows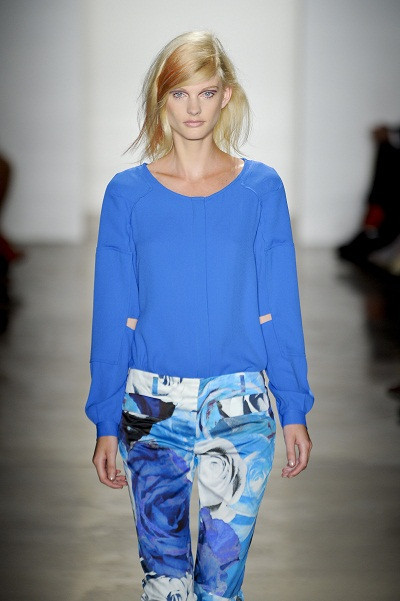 Van Der Vliet in the Peter Som Spring 2012 show, Go Runway
Unlike other models, Patricia Van Der Vliet wasn't randomly scouted on the streets while shopping or discovered at a party. The Dutch model took it upon herself to email Holland modeling agencies, but she kept getting rejected. Most girls (us included) would have stopped trying to get into the business, but Van Der Vliet decided to try out for the fourth cycle of Holland's Next Top Model. She placed fourth in the competition, but agencies quickly came calling.
Van der Vliet walked 41 shows this season in New York, Milan and Paris, but she wasn't too tired to chat with us. Read our interview below as the 22-year-old model talks about iconic photoshoots, the backstage scene and dream runway shows, and watch the video below to see Van Der Vliet in action.

What did you want to be when you were growing up?
An archeologist. I have a deep curiosity for all that's ancient -- ancient Egypt in particular.
Tell us about your first show; what was it like?
Oh, I remember that very well. It was BCBG, and they gave me the honor to open the show! I was so nervous. During the line-up, I barely spoke with anybody, my hands were all sweaty and I thought that my heart would jump out of my chest. It was my first time walking in heels that high, and my walk, well -- let's just say that I still find it painful to look at. Despite that, it was still a dream come true. I will never forget the joy of all the people backstage when the show finished. I felt like I was a part of something very special.
What has been your most iconic modeling experience so far?
I've really loved my editorials in magazines, especially "The Face of Beauty" in Vogue Nippon shot by Jem Mitchell, "An American in Paris" in Interview Magazine by Sharif Hamza and the Alexander McQueen special in American Vogue, which was shot by Patrick Demarchelier. And when it comes to shows, Valentino, Alexander McQueen and Rodarte are always magical to me.
How do you psych yourself up for a photo shoot or runway show?
I just try to get into character as much as possible, so that I fit into the vision that the stylist, photographer or designer has. I try not to be too excited because I tend to be too smiley then.
What is it like backstage with all the models, hair and makeup artists, dressers and designers?
Of course it gets a bit stressful and hectic sometimes, but most of the time it's so much fun! I work with the same people almost every day for over a month, and we all travel to the same cities. Consider it as one big gypsy family! I think it's amazing to be surrounded by so many talented and passionate people.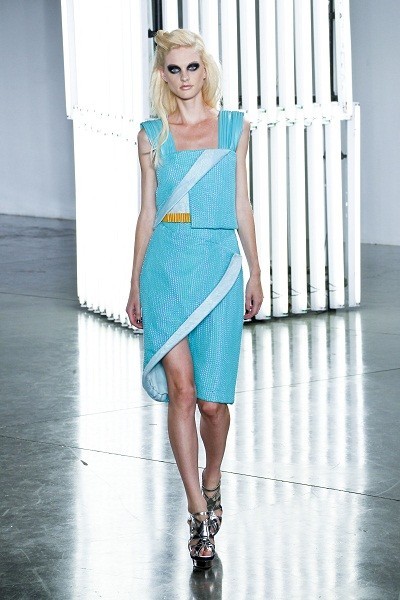 Van Der Fliet in the Rodarte 2012 show, Go Runway
You're in four major fashion cities twice a year, what are your places to go to in New York, London, Milan and Paris?
In New York City, the list is endless. I really love to run across the Brooklyn Bridge when the sun goes down, because it makes me realize how fortunate I am. In London, it's Selfridges without a doubt. I'm like a kid in a candy store, and it's a guarantee that you'll lose me. I can easily spend a whole day there! In Milan, I love the streets surrounding Montenapoleone. I also love to go for lunch on Via Brera. It's a little square filled with cozy restaurants that serve amazing Italian food, and the best part is that there's no traffic allowed. It's really hard to point out places in Paris as the entire city is so breathtaking.
Who are your best model friends?
My best model friends would have to be Mirte Maas, Iris van Berne, Lisanne de Jong and Mark Cox. But to be honest, I don't hang out with models a lot. I find it important to keep business and personal matters separate. And I also find it refreshing to hang out with people who are not involved in the fashion industry -- I think it helps keep everything in perspective.
What's your personal style off the runway?
Most of the time I go for a feminine feel and comfort, like MaxMara and Chloé . Not too dressed up since that's what I do for a living . Some of my favorite brands (I have a lot!) are Rag & Bone, Jason Wu, Alexander McQueen, Valentino, Givenchy, Hakaan, Bottega Veneta, Hussein Chalayan, Michael Kors, Stella McCartney, Proenza Schouler and Ann Demeulemeester.
What's your daily hair and beauty routine?
I simply wet my face, dry it with a towel, put on some moisturizer from Dermalogica and add some blush -- Coral by Chanel. I can't live without blush -- it's my signature thing. And of course, I clean my face daily, and I use cleaning products from Lancôme. For hair, I don't have any preferences when it comes to shampoo and conditioner. During shows I use leave-in conditioner from Kérastase as much as I can. After that, I apply protective oil by Shu Uemura on towel-dried hair. And I always tie it back and spray it with Elnett right away to prevent my crazy curls from coming out.
What's your dream show to walk in?
That would've been Valentino's 45-year anniversary in Rome. If I could only turn back time. But Alexander McQueen and Valentino were always my dream shows, so mission accomplished!