Some people really go animal for animal-style burgers from In-N-Out. But the cult fast food chain is only available in a few markets outside its native California -- and none are east of the Mississippi. Burger-loving LA transplants are thus left high and dry, much to their dismay. If you need proof, try Googling "i miss in-n-out." You'll get over 88,000 results.
But how much is this carnostalgia really worth? One deal site, Midtown Row, has a guess: $56.
That's how much the company is charging people who want to order In-N-Out for delivery anywhere in the country. For that price, customers get two frozen In-N-Out double-double burgers, either regular or animal-style, but no guarantee of freshness. Midtown Row warns, "We will ship with proper refrigeration via overnight mail, but reheat and consume at your own risk."
Here's the full deal: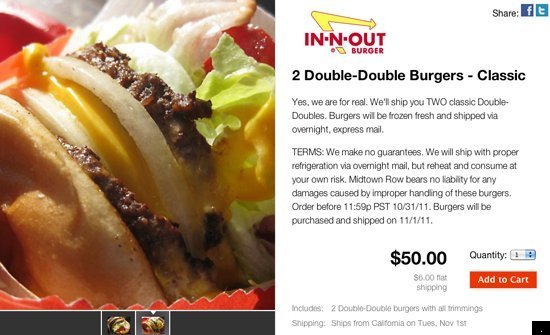 So, Los Angelenos, if it's the beef you miss, have at it. But if you're in New York, and it's really just the City of Angels gestalt that you're hankering for (which we understand, given this weekend's prediction of snow in the Tri-State Area), do yourself a favor. Take the subway to Times Square and order a ShackBurger with fries for your meat craving. And then, to get your requisite dose of LA flavor, walk five blocks south and get an Ice Blended at the first Manhattan location of Coffee Bean and Tea Leaf. No reheating required.

FOLLOW HUFFPOST