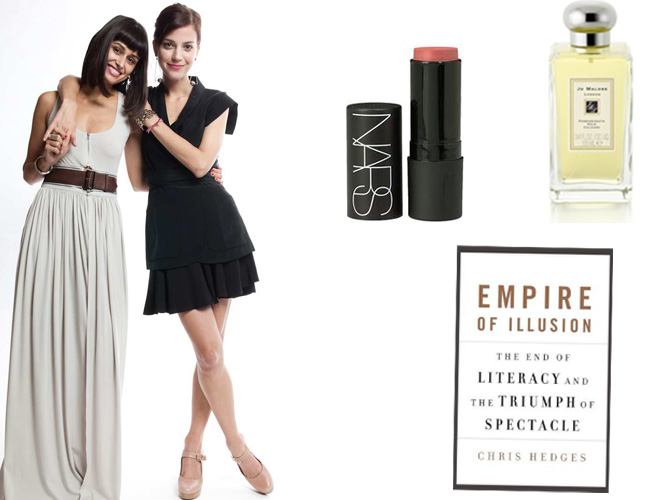 Since graduating from Parsons in 2003, California girls Lisa Mayock and Sophie Buhai have inspired cult-like devotion with their cool, vintage-inspired line Vena Cava. We asked the fashion it-girls (and best friends) to tell us what's on their style radar.
What's the last thing you bought that you loved?
Lisa: A burlap and leather basket bag.
Sophie: I just bought a pair of Stan Smiths to play tennis in, but I've been wearing them every day and I feel like all my dude friends. I love them. My "dad style" is developing more and more every year.
If you could have one super power what would it be?
Lisa: Stopping time.
Sophie: Time travel.
What's the last song you downloaded?
Lisa: The "Growing Pains" theme song. Sometimes that song is in my head for days, like a horrible disease.
Sophie: I think it was a Robert Wyatt song my friend Travis sent me.
What was your first designer purchase?
Lisa: An Indigo People men's zip-up track jacket. It's what Louise Brooks would have worn jogging.
Sophie: Miu Miu Mary Janes. It was the '90s and Claire Danes was their model.
Facebook or Twitter?
Lisa: Twitter.
Sophie: Twitter!!! It's, like, confessional -- I love the pace and the fact that they can't figure out how to make any money off of it. There is something anarchist about it.

What's your rule to dress by?
Lisa: I like to add one element that's incongruous -- it makes your look less of an "outfit."
Sophie: It's about personal style, not "fashion."
What's one trend you wish would die?
Lisa: Lip gloss.
Sophie: Men in deep-V-necks.
What item do you wear every day?
Lisa: A silver knuckle-covering ring I got in Mexico with my mom, my engagement ring
Sophie: A necklace that was part of my great grandfather's cufflink.
If you could only wear clothes from one decade, what would it be?
Lisa: The '30s. Even though the silhouette looks terrible on me, those clothes were magical!
Sophie: Probably my mother's closet in the early '90s. Classic black blazers, little shift dresses, men's shoes and big silver jewelry.
Minis or maxis?
Lisa: Maxis
Sophie: Minis
What's on your nightstand?
Lisa: Two Oliver Sacks books, a tall, black rubber lamp, a vase of mostly-dead white lillies, and my journal.
Sophie: "Madame Bovary," old newspapers, a stack of self-help books, Christopher Hitchens' essays, a broken alarm clock, bobby pins, a magic rock, and my iPhone.
What was your first job?
Lisa: I priced thrift store clothes out of a parking lot in the Valley, and was sunburned almost that entire summer.
Sophie: I worked for Workbook in high school.
What's your signature scent?
Lisa: Jo Malone Pomegranate Noir.
Sophie: Cologne En Brigade, but one day it will be Opium.
Who would be your ideal shopping buddy of all time?
Lisa: Pee-Wee Herman.
Sophie: My mother.
Last thing you read?
Lisa: The current issue of The Week, on the subway this morning.
Sophie: "Empire of Illusion," by Chris Hedges.
If you could only shop in one store for the rest of your life, what would it be?
Lisa: The Big Biba department store circa 1974.
Sophie: Loehmann's.
What's your beauty must-have?
Lisa: The Nars Multiple stick in Maui, and deodorant.
Sophie: Mascara, and lots of it!