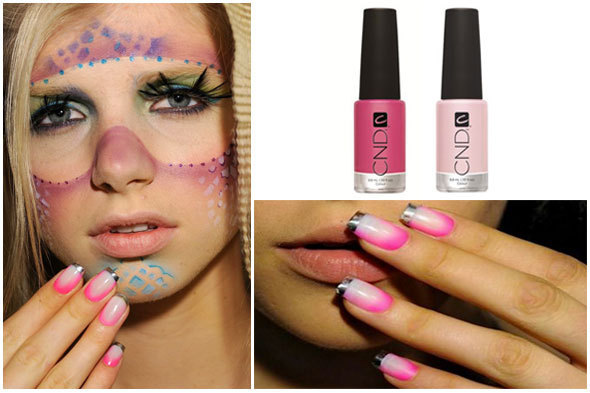 Photos: Model at Diego Binetti Spring 2012 fashion show, Jennifer Graylock/CND; CND Nail Colour in Raspberry Parfait and Frosting Cream; model's manicure at Diego Binetti Spring 2012 fashion show, Jennifer Graylock/CND.
While my friends are making the final touches on their Halloween costumes, I'm contemplating how to get my manicure into character.
Backstage at Diego Binetti's Spring 2012 fashion show, manicurist Candice Manacchio perfected "harlequin hardware" nail art. The ombré finish complemented the Bueno Aires born designer's fanciful collection, which was full of chiffon and lace fabrics dipped in pink, coral and cream. However, it was the metallic French tips, in what Binetti described as "a little ghetto edge" that enticed me to dress up my digits with this look.
To recreate this design, start by filing nails into a square shape. Apply a base polish and once dry, paint on two coats of CND Nail Colour in Frosting Cream (a sheer pale pink). Then brush on CND Raspberry Parfait (an opaque pink) to the outer corners -- forming a "U" shape. To achieve the "acid-wash" center, rub gently with acetone. Finish by capping with silver or gold tips.
What do you think about this "harlequin hardware" manicure? Tell us in the comments section and shop the products below to give it a try.
Meanwhile, check out this Gucci-inspired nail art.