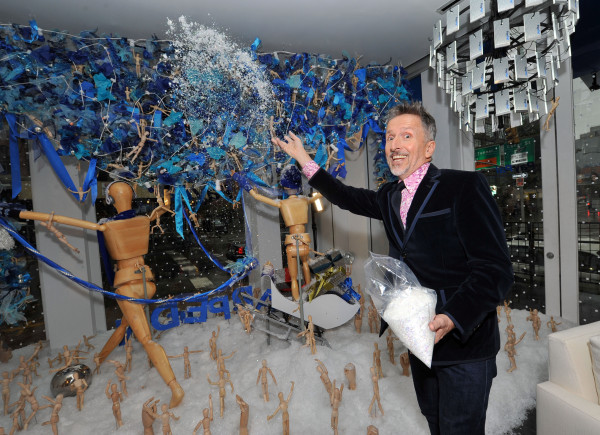 Simon Doonan is a man of many trades, the Creative Ambassador-at-Large of Barneys NY not only designs windows for the department store, he has inspired a TV show based on his life, writes for Slate magazine and recently designed windows for PayPal. What inspired his new embrace of the online world? "I realized that I was this kind of Internet failure. I was getting left behind, like a lot of geriatric people." Not wanting to "end up like Whistler's Mother just sitting and knitting and watching it all unfurl and becoming less and less understanding of it all," Doonan jumped into these extracurricular pursuits head first. "I started writing for Slate and Twitter-ing more and just trying to sort of wrap my head around it."
While Doonan is beginning to embrace new media, the Thom Browne-clad Brit admits that still doesn't believe that e-retail will ever replace the traditional brick and mortar shopping experience. "I think that traditional retail and e-commerce are complementary, I don't think – at this point – they're going to compete with one another. They certainly reinforce each other." Doonan does, however, admit that he is shopping more online. "I can buy incredible things at Barneys, which I can try on. So [online I buy] books, definitely books, and sporty things, like Jonathan [Adler] and I just bought paddleboards on-line. I'm making more of an effort to do that because I don't want to become one of these people sitting there like Miss Havisham covered in cobwebs and not understanding what happened."
Although Doonan and his husband Adler may have recently purchase paddleboards online, the stylish couple tends to purchase holiday gifts for each other that are more "experiential things, like a massage. This sounds perverted, but experiential things. Like I'll arrange a weekend where we go away or something like that. Between Barneys and his store, we kind of have the stuff we want, so if I found a book that I know he wants to read, he'll be like, 'Thank God you got me this!'"
While Adler has also branched into the realm of new media recently, with a design collaboration with eBay, there is no competition between the two, however, "I said to him, "Listen, there's only one window-dresser in this household so watch it, you're on my turf."
His turf it sure is, Doonan has been working as a window dresser at Barneys for 25 years, and no one does it better. For his PayPal holiday windows, Doonan made creative use of "artist dollies", ribbon and chicken wire, "Chicken wire is great, like the wreaths are made of chicken wire. It is such a versatile, incredible material and you should make yourself a chicken wire Christmas tree and then just start shoving things into it." When starting a window project, Doonan hits up his retail-standbys: "Often, my starting point is Home Depot. Home Depot and then an art supply store and Wal-Mart. You never know what you're gonna find in unexpected places." Use of the unexpected is Doonan's motto: "I love the holidays, but people have expectations from Barneys, me and PayPal. You don't have to deviate from the iconography to do something unconventional. You can do slays, you can do wreaths, you can do garlands. Make them out of something different. People can do that at home, you can make yourself a wreath, but make it out of old tin cans and reflective things, found objects, things that are readily available. At Barneys, we've made everything from, a reindeer out of old Coke cans all the way to taking old credit cards and making them into a holiday garlands. Keys are great. Anything reflective just sort of hanging around looks crafty."
Although he has designed many windows, in many different materials over the years, there is one in particular that stands out: "Back in the 80s, there was no such thing as celebrity culture, I didn't care about celebrities very much. Like in the 70s, movies were all like the director and who directed it. And celebrity culture was growing in the 80s. I thought that this was very funny because it was almost like going back to the Golden Age of Hollywood where you have fan magazines and so I thought that this was interesting how people are really into celebrities because it was unthinkable that we got a celebrity on the cover of Vogue. That would be very odd back in the 70s or 80s so I thought that this was so interesting. So I made a list of all the celebrities in 1988, stuck them on the windows at Barneys and the response was so insane. To this day, I still can't believe it. It was so completely off the charts and they were very miscellaneous celebrities like everyone from Margaret Thatcher to Madonna and her cone bra outfit, and Tammy Fae Bakker, Lawrence Taylor. They were all celebrities from all aspects of culture. I always think of that as sort of weird, watershed – like when celebrity culture became central. And I thought, "Oh it'll be cyclical and it'll go away again," but it didn't. it just got more and more and more and more and more, right?"
Some celebrities shouldn't go away, however. When discussing an upcoming trip to Japan, Doonan brought up his dog, "Liberace's going distraught, he already peed on the floor once." Why the name Liberace? "Hello, moi. I thought everyone's been forgetting who Liberace is. He doesn't have any records or movies, he's not like Elvis. But more and more you say to people," It's Liberace," they don't know what you're talking about. So I thought, "This is terrible. People are going to forget who Liberace was."
Maybe Doonan will be the first to see the Liberace movie with Michael Douglas. Clearly, he's his biggest fan.
SUBSCRIBE TO & FOLLOW LIFESTYLE
We're basically your best friend… with better taste. Learn more