Most people reserve their horror flicks, fake blood and sweet treats for the weeks and days leading up to Halloween. For horror movie lovers Nicole Mikuzis and Megan Owens, one month of horror isn't nearly enough.
The busy ladies took some time to answer HuffPost Chicago's questions -- and also shared a fantastic recipe for Alien Eggs, which are likely much more delicious than they sound.
Last year we interviewed Shannon Bucaro, who was Slash and Dinin'. When did you two take over?
We posted our first recipes and review around Christmas time last year and debuted ourselves with the film Black Christmas. It's grown quite a bit since then. We knew we wanted to add some of our own personal tastes to the column, but stick with the same idea of dinner and a movie. We've expanded the menu to include a variety of dishes and drinks and we're reviewing more action and sci-fi movies.
What is your favorite thing about Slash & Dine? Did you both read the site before you took over?
Horror movies and food are our two favorite things, so we love that we're able to combine the two on Slash & Dine. We do movie reviews, toasts to our favorite horror directors and actors, and interviews. A new thing we added this year was a Halloween feature. All of October we shared recipes, decoration, costumes, music, and movie ideas for throwing a killer Halloween party. And yes, we were familiar with the column on Brutal As Hell. Once we took it over, we decided to start doing more frequent posts and that lead to getting our own website, SlashAndDine.com. We now do new recipes a few times a week and we also have a regular feature in HorrorHound Magazine.
What are your favorite horror movies?

Megan: This is a really hard question! There are so many good horror movies out there. I really love the Hammer movies from the 60's and 70's. I'm a huge Christopher Lee fan. My favorite of the Hammer Dracula movies is "Dracula A.D. 1972." I also love a good 80's slasher movie, like "The Burning." There are some great Italian horror movies, like "Suspiria" and "The Beyond." I could go on, but I'll stop there!
Nicole: I actually work in the horror film industry, so I'm always checking out newer movies and older forgotten ones. I was raised on films like "Rosemary's Baby," "The Birds" and "Jaws" so those are near and dear to me, but I love smaller ones like "Santa Sangre," "Trick Or Treat" and "Werewolves on Wheels." We definitely agree on most movies, but I think the dynamic of having the two of us works well for the site.
What was your best Halloween costume ever?
Megan: This year I was The Log Lady from "Twin Peaks," which was really fun, but I would have to say my favorite costume was when I dressed as a beheaded Marie Antoinette. I sewed a big fancy dress and carved a fake bust out of styrofoam, which I wore over my head. I had fake arms that looked like they were holding my head. It was elaborate, but we like to go all out for Halloween.
Nicole: I loved being Medusa a few years ago. I was obsessed with the original "Clash of the Titans" movie when I was young, so that was really fun to be an evil Gorgon and have snakes in my hair. As a woman, it's not easy to find cool, scary costumes. You have to be creative if you want something outside of the sexy, store bought costume thing, which is not our style. We want something scary and classic.
Can you share a favorite recipe?
We'd love to! This is one of our Halloween creations that we came up with that pairs with the film Alien.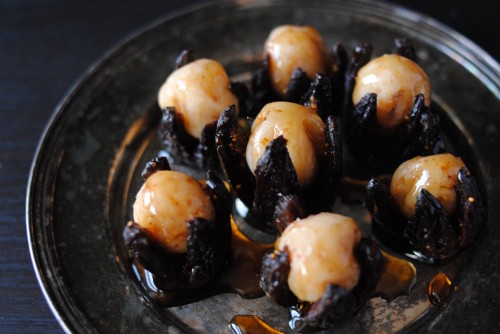 Alien Eggs-

Ingredients
12 oz dried figs
4 oz almond paste
3 tbsp almonds
1/4 cup candied orange peel
Agave or honey
Directions
Chop almonds and peel in food processor. Add almond paste and pulse a few times. Remove from food processor and use your hands to mix the paste with the almonds and peel. Trim stems from top of figs. Cut a cross in each fig, but do cut through the bottom.
Fill each fig with about 1 tsp of the almond paste. Press the fig back into shape around the paste.
SUBSCRIBE TO & FOLLOW THE MORNING EMAIL
The Morning Email helps you start your workday with everything you need to know: breaking news, entertainment and a dash of fun. Learn more