2012 TED Fellows Announced: A Look At Some Of The World's Leading Thinkers
A fragile rescue dog led Laurel Braitman to examine the mental health of animals. Sarah Parcak was inspired by her grandfather's aerial photography to discover thousands of potential ancient settlements in Egypt. Because of their work, both Braitman and Parcak have been chosen, along with 23 others, as TED Fellows for 2012, giving them a stage to showcase their achievements to millions.
The TED Fellows program was launched three years ago with the purpose to "change the dialogue in conversation," Logan McClure, the Program Officer for the Fellows, told The Huffington Post.
She said fellows are usually picked early in their careers so the program can catapult them to the next stage. The annual TED Conference invites the "world's leading thinkers and doers" to speak for 18 minutes. Their talks are then made freely available on the TED website.
Braitman, a historian and anthropologist, told HuffPost that her interest in mental illness was sparked by her rescue dog Oliver, who suffered from severe separation anxiety -- the dog once jumped from four stories out of fear that his owners wouldn't return. "In the process of finding treatment, I discovered some pretty strange things. I had to get a Prozac prescription from CVS, and that was a pretty weird experience in itself."
From there, she began her research into how human concepts of animal thought have changed over the past century or so. Braitman says that in the "Descent of Man," Charles Darwin "admits that other animals lose their minds and go insane, but they don't do it as often as people do."
Breitman has found that animal psychology is just as subjective and individual as human psychology. "For instance, a depressed chimpanzee is going to have a different experience to another depressed chimpanzee, just like humans experience illness differently."
Her upcoming book, "Animal Madness," posits that animals suffer from mental illness, too. She explains, "All animals suffer from anxiety and fear, but there can be animals that feel fear inappropriately."
Highlighting the international and multidisciplinary diversity of the TED Fellow program, Parcak is pioneering a completely different field through her use of satellites to discover ancient cities and lost temples in Egypt.
For 10 years, Parcak has used infrared satellite imagery to study changes on the ground that suggest where evidence of an ancient past might be buried, she told HuffPost. She said that while initially she thought similar techniques had already been used in Egypt, she soon realized that little had been done.
"If you look at the Nile on a map of Egypt, you don't think it has moved very much, but the river is very violent and has moved over time," she said, adding that settlements around the river have moved with it.
She said that after testing her methodology, she has had a 100 percent success rate, and she is now able to replicate the process. "There are 17 sites we've discovered that are suggestive of potential pyramids, two are certain foundations." She said there were also 3,000 potential settlements that need to be confirmed.
Drawn to Egypt from a very young age and inspired by her grandfather's aerial photography of tree species, Parcak is hoping to make people think more broadly about archaeology. "I think archaeologists are stuck, and we are losing our past at a very rapid rate. Tens of thousands of sites will be lost, and we've only unveiled a tiny percent of the past. I'm excited about having a stage to share my passion ... and I'm humbled by the opportunity to increase awareness to protect our past."
A BBC documentary, "Egypt: What Lies Beneath," that aired in October focused on the the discoveries made by Parcak and her team.
Click here to learn about all of the 2012 TED Fellows.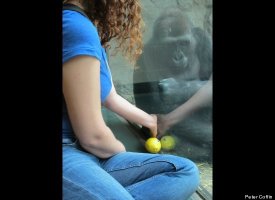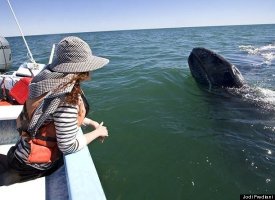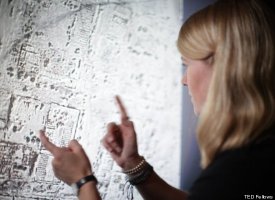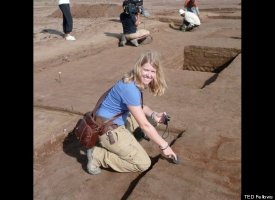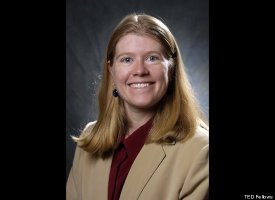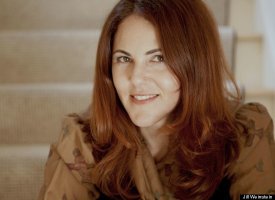 ---