Do you ever wish more foods were reliably cheap, healthy and tasty? Good news -- lentils are all three. Overlooked by many a supermarket shopper, protein-rich lentils are faster than other types of dried legumes to prepare, and they easily absorb your favorite flavors from other foods and seasonings. And as a result, you can never really run out of ways to make them.
We're guessing lentils aren't a likely staple in your kitchen -- yet, that is. We've put together some incredible lentil recipes to get you started, from salads to stews and everything in between. You can find all 36 in the slideshow at the bottom, but you can check out a sneak peek below.
Lentil Veggie Burgers With Pomegranate Ketchup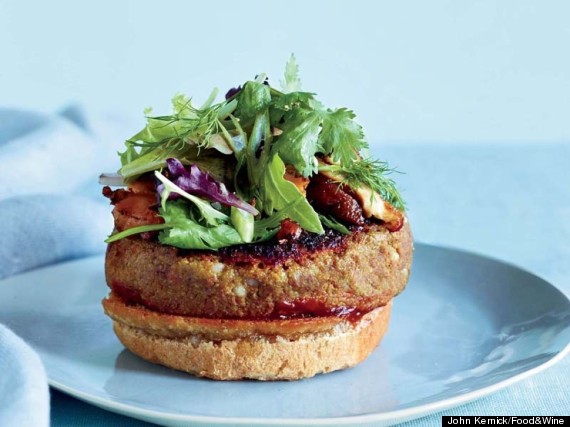 Get the Lentil Veggie Burgers with Pomegranate Ketchup Recipe
Vegetarians and carnivores alike will fall for this meatless burger -- especially its pomegranate ketchup.
Green Lentil Salad With Cucumber And Cumin And Lemon Vinaigrette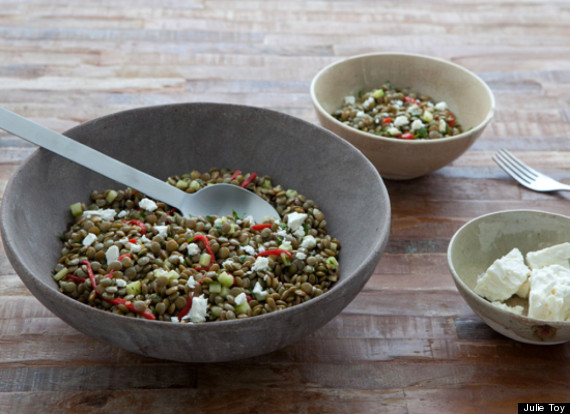 Get the Green Lentil Salad with Cucumber and Cumin and Lemon Vinaigrette Recipe
This lentil salad makes a perfect starter, side, or even main dish -- especially for eaters not fully satisfied by lettuce.
Lentil Soup with Crisp Pancetta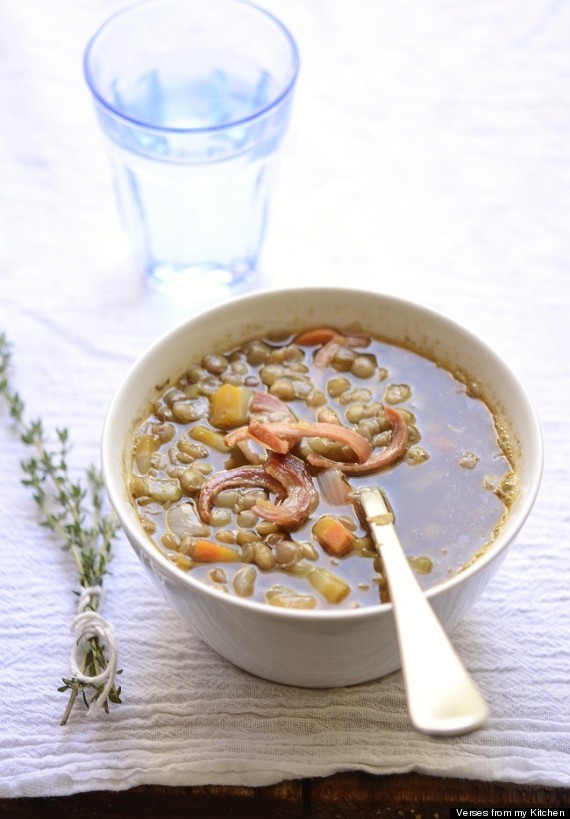 Get the Lentil Soup with Crisp Pancetta Recipe by Verses from my Kitchen
Lentils are one of the best foods to add to your soups -- they make them heartier, more filling, and infinitely more delicious.
Want more? Check out all our favorite lentil dishes in the slideshow.
Want to read more from HuffPost Taste? Follow us on Twitter, Facebook, Pinterest and Tumblr.
Get the Lentil Cakes Tikka Masala Recipe by thirschfeld/Food52

Get the Mushroom Lentil Rolls (Vegetarian Sausage Rolls) Recipe by Delicieux

Get the Spicy Lentil Tart with Pomegranate and Mint Recipe by Veggie Num Num

Get the Red Lentil Falafels Recipe by Macheesmo

Get the Baked Salmon & Lentils Recipe by Gimme Some Oven

Get the Lentil Soup with Sweet Potatoes & Spinach Recipe by Two Peas & Their Pod

Get the Lentil, Cilantro and Chili Salad with Warm Cauliflower Florets Recipe

Get the Lentil Salad with Roasted Red Peppers, Parsley and Almonds Recipe by Bev Cooks

Get the Lentil Veggie Burgers with Pomegranate Ketchup Recipe

Get the Green-Lentil Curry Recipe

Get the Lentil and Zucchini Tacos with a Chipotle Cream Sauce Recipe by Bev Cooks

Get the Bulgur and Lentils Recipe

Get the Vegan Lentil Chili with Roasted Red Peppers, Olives and Green Onion Recipe by Kalyn's Kitchen

Get the Lentil Veggie Balls Recipe

Get the Stuffed Vegetables with Lentils, Rice, Pine Nuts and Parsley Recipe

Get the Birbal Kee Khitcheree Recipe

Get the Farro and Lentils with Sauteed Kale and Trumpet Mushrooms Recipe by Tasty Easy Healthy Green

Get the Green Lentil Salad with Cucumber and Cumin and Lemon Vinaigrette Recipe

Get the Beef and Lentil Curry Recipe Bev Cooks

Get the Very Green Lentil Soup Recipe

Get the Spiced Eggplant-Lentil Salad with Mango Recipe

Get the Lentil Coconut Soup with Lentil Apple Salad Recipe

Get the Black Lentil and Bell Pepper with Mint Salad Recipe

Get the Lentil Loaf Recipe by Keep It Simple Foods

Get the Squash, Chickpea and Red Lentil Stew Recipe

Get the Warm Lentil Salad with Sausage and Apple Recipe

Get the Dilled Lentil Soup with Mushrooms and Tomatoes Recipe

Get the Rice and Lentil Salad Recipe

Get the Lentil Burgers Recipe

Get the Lentil and Sun-dried Pesto Salad with Roasted Peppers Recipe

Get the Roasted Pumpkin, Lentil & Feta Pithivier Recipe by Delicieux

Get the Lentil & Vegetable Stew Recipe by Lemon Sugar

Get the Spicy Lentil Salad Recipe by Macheesmo

Get the French Lentils with Roasted Roots, Caramelized Onions and Thyme Recipe

Get the Lentil Soup with Crisp Pancetta Recipe by Verses from my Kitchen

Get the Lenticchie e Lonza {Lentils and Bacon} Recipe by Bell'alimento