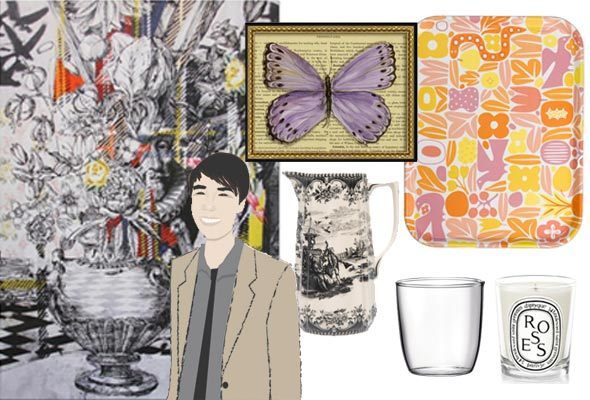 Portrait illustration by the fabulous Don Oehl.
One of my favorite things to do during the fall is stroll down tree-lined streets that are canopied by autumn foliage. The weather is brisk, the air is cool, and the colorful mix of orange, gold, brown and red all around is just plain pretty. I feel inspired by my walks and there's nothing better than cozying up at home after one surrounded by equally inspiring art and objects. And that's what I'm especially looking forward to this season.
Clockwise from top left:
Placed above the mantel or set in a gilt frame, this print by Francesca DiMattio is simply mesmerizing, $250, Exhibition A. For a vintage-inspired touch there's Kolene Spicher's butterfly watercolors painted on a vintage book print background, $69, Ballard Designs. I just can't resist the whimsical colors of this tray by the little-known midcentury designer Alexander Girard, $80, Velocity Art and Design. This 'Roses' candle tingles my senses, $28, Diptyque. I love how I can easily cup my hands around these glasses, $16 for set of 2, Bodum. The elegant look of Toile du Jouy fabric beautifully transported on to this shapely pitcher, $33, Fishs Eddy.
SUBSCRIBE AND FOLLOW
Get top stories and blog posts emailed to me each day. Newsletters may offer personalized content or advertisements.
Learn more