Family vacations in San Antonio can be rewarding experiences or absolute disasters -- it all depends on pretrip homework. To make planning easier, we've done all the preparation. As part of a Huffington Post Travel series on traveling with children, here are answers to some frequently asked questions about San Antonio family vacations.
The Alamo
The Alamo
, the most popular tourist site in Texas, is a former mission where fewer than 200 men met the full force of the Mexican army for 13 days in 1836 during the Texas War of Independence. Today, this site in the heart of San Antonio honors those who died at the Alamo -- including Davy Crockett and James Bowie -- and features a museum of Texas history.
Address: 300 Alamo Plaza, San Antonio, TX 78205
Phone: 210-225-1391
Hours: The site is open Monday through Saturday from 9 a.m. to 5:30 p.m. and 10 a.m. to 5:30 p.m. on Sunday. During June, July and August, the Alamo stays open until 7 p.m on Fridays and Saturdays. It is closed Christmas Eve and Christmas Day.
Price: Free.
Six Flags Fiesta Texas
The 200-acre
Six Flags Fiesta Texas
features 50 rides, including nine roller coasters and eight water rides, as well as live entertainment, shops and dining. The park, a part of the Six Flags family of theme parks, is located in a former quarry and boasts dramatic 10-story cliffs.
Address: 17000 IH-10 West, San Antonio, TX 78257
Phone: 210-697-5050
Hours: Six Flags Fiesta Texas is open from March to January. Hours vary by week. Check the Fiesta Texas website for current times.
Price: Adults, $54.99; children under 48 inches tall, $39.99; children under age 2, free; online special, $39.99 for everyone over age 2.
San Antonio Children's Museum
The
San Antonio Children's Museum
offers a variety of interactive learning exhibits. Kids will love Hill Country Bubble Ranch, where visitors can explore how bubbles work, and Runway #9, where kids run an airport, check in bags and man the control tower. Also be sure to check out Diamond Del's Mining Adventure, where visitors can pan for gold and learn about precious gems.
Address: 305 E. Houston St., San Antonio, TX 78205
Phone: 210-212-4453
Hours: The museum is open Monday through Friday from 9 a.m. to 5 p.m., Saturday 9 a.m. to 6 p.m. and Sunday noon to 5 p.m.
Price: Adults and children ages 2 and older, $7; educators and military, $6; children under 2, free.
San Antonio River Walk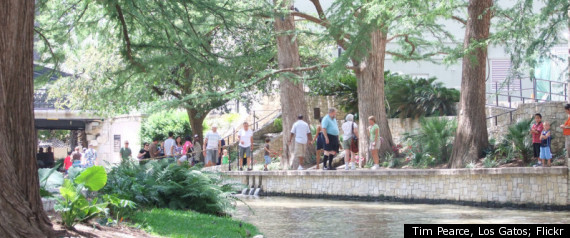 No visit to San Antonio would be complete without a stroll along the River Walk. Located on the San Antonio River in the heart of downtown, the River Walk is a landscaped, public, pedestrian passageway that hugs the shores of the river and features restaurants, shops, boat rides and a full schedule of events.

Address: 200 South Alamo St., San Antonio, TX 78205
Phone: 210-227-4262
Hours: The River Walk is open every day. Hours vary for individual restaurants, stores and attractions.
Price: Free to stroll the River Walk
Witte Museum
The
Witte Museum
, located adjacent to San Antonio's Brackenridge Park, focuses on natural history and science, particularly as it relates to south-central Texas. Exhibits include information on the dinosaurs that used to roam the San Antonio area, an exhibit about the San Antonio River and replicas of the log cabins that early Texas settlers built.
Address: 3801 Broadway, San Antonio, TX 78209
Phone: 210-357-1900
Hours: The museum is open everyday except for the third Monday in October, Thanksgiving Day and Christmas Day. Monday, Wednesday, Thursday, Friday and Saturday the hours are 10 a.m. to 5 p.m., Tuesday from 10 a.m. to 8 p.m. and Sunday noon to 5 p.m.
Price: Adults, $8; seniors 65 and older and military, $7; children ages 4 to 11, $6; children ages 3 and younger, free; admission is free for all on Tuesdays between 3 p.m. and 8 p.m.
SeaWorld San Antonio
SeaWorld San Antonio
, located on 250 acres on the west side of the city, has 12 water rides and roller coasters, but the animal shows have really made this park famous. Among these are "Believe," with Shamu the whale, the Pirates 4-D theater and "Azul: Lure of the Sea," with the SeaWorld dolphins.
Address: 10500 SeaWorld Dr., San Antonio, TX 78251
Phone: 800-700-7786
Hours: SeaWorld San Antonio is a seasonal park, so operating dates and hours vary, especially during nonsummer months. Check the SeaWorld San Antonio website for current information.
Price: Adults, $59.99; children ages 3 to 12, $49.99.
Fiesta San Antonio
Fiesta San Antonio, which began in 1891, is an 11-day citywide celebration of San Antonio's history and cultural heritage held each April. More than 100 events are squeezed into the week-and-a-half event, with everything from parades to concerts to the family friendly Fiesta Carnival. Many of the events are free.
Address: 2611 Broadway, San Antonio, TX 78215 (events take place all over town)
Phone: 210-227-5191
Hours: The festival takes place over eleven days in mid to late April (the 2012 dates are April 19 through April 29).
Price: Varies, some events are free.
FOLLOW HUFFPOST