Amusement Parks In Ohio: A Huffington Post Travel Guide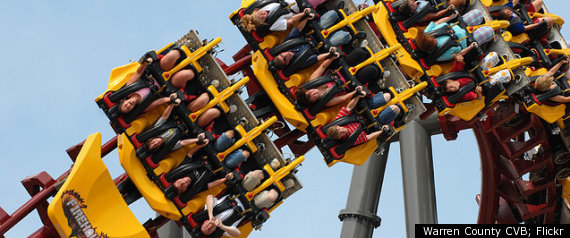 Amusement parks in Ohio offer some of the best heart-thumping, pulse-racing and death-defying rides in the country. If you are looking for a family-friendly place to hang out for the weekend, you won't be disappointed. As part of a Huffington Post Travel series on family-fun parks, here is our guide to all the key information visitors need to know about Ohio amusement parks.
King's Island
King's Island has been entertaining thrill-seekers since 1972. In fact, it is now considered one of the premiere amusement parks in the Midwest and has been awarded the
Best Kid's Area in the World
. From roller coasters to kiddie rides and everything in between, a trip to
King's Island
means a memory is about to be made.
Dinosaurs Return
New for 2011, and long awaited, is
Dinosaurs Alive
. Think Jurassic Park but with animatronics. Your wanna-be-paleontologist will love this interactive exhibit and
3-D movie
.
Fun For Every Size
King's Island is filled with rides for every size. In fact, small children have an entire area dedicated to them called
Planet Snoopy
. Here they can ride the
carousel
, drive bumper cars and thrill with a mini "drop" ride, all without the bother of height restrictions.
Snacks And Sweets
King's Island is divided into zones and each zone has it's own eatery and snack shop, featuring pizza, chicken tenders and hamburgers as well as sweet treats like ice cream.
Safety Record
In 2006, 27 passengers were injured due to alleged weak supports on a wooden coaster at King's Island. The
suit was settled
out of court in 2011.

Address: 6300 Kings Island Drive, Mason, OH 45040
Phone: 513-754-5700
Hours: The park is open mid-May through Labor daily from 10 a.m. to 10 p.m. It is also open select weekends in September and October.
Price: Adults, $52.99; guests under 48 inches tall and seniors 62 and older, $32.99; children 2 and younger are free. Tickets are offered at a discounted price if purchased online.
Cedar Point
When an amusement park has been ranked the "Best Amusement Park in the World" for over 10 years, you really have to see what all the fuss is about for yourself. In fact, Cedar Point lives up to its moniker with thrilling roller coasters, water fun and family rides all on the shores of beautiful Lake Erie. Since 1870, this classic park has been creating memories for families; stop by for some of your own.
Lose Your Lunch
The
Blue Streak
has been a favorite roller coaster at Cedar Point since 1964 and continues to hold its own next to bigger, better and faster competitors. The
Corkscrew
treats riders to three complete turns right over the concession line. Like many amusement parks, Cedar Point adds a new, lose-your-lunch ride almost every season.
Plenty Of Attractions
You could spend an entire week at Cedar Point and not have done the same thing twice. From the nearby
Soak City
water park and
Lake Erie
to the miniature golf and go-karts at
Challenge Park
, there really is something for everyone.
Dining Options
Cedar Point offers several dining options from quick snacks on the go to sit-down restaurants with air conditioning and everything in between. They offer a full range of kid friendly and parent-approved fare, from hamburgers and hot dogs to healthier salads.
Safety Record
According to
RideAccidents.com
, in 1999 a chain broke on the Corkscrew roller coaster while passengers were onboard. No one was injured.

Address: 1 Cedar Point Drive, Sandusky, OH 44870
Phone: 419-627-2350
Hours: The park is open daily mid-May through Labor Day from 10 a.m. to 10 p.m. During the months of September and October, the park is open Fridays from 6 p.m. to 10 p.m., Saturdays from noon to midnight and Sundays from noon to 9 p.m.
Price: Guests 48 inches and taller, $47.99; active military personnel, $37.99; guests under 48 inches tall and seniors 62 and older, $22. Reduced admission rates are available for resorts guests, twilight admission, multiple day passes and season passes.

Other Noteworthy Parks Near Ohio

What's your favorite amusement park in Ohio?
Check out more AMUSEMENT PARKS.