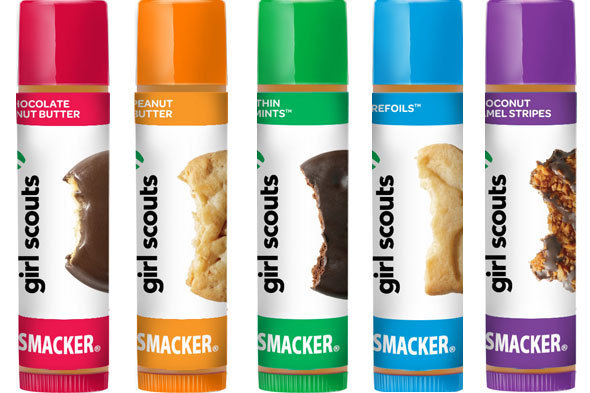 Girl Scout Cookie Lip Smackers. Photo Courtesy of ASPIRE Brands.
Love the taste of Thin Mints but loathe the idea of packing on the pounds? Well, now you don't have to worry about watching your calorie or carb intake as The Girl Scouts of the USA and iconic lip gloss brand, Lip Smacker, have teamed up for the sweetest beauty collaboration with the introduction of Girl Scout Cookie Lip Smackers.
The collection includes five flavors: Chocolate Peanut Butter, Peanut Butter, Thin Mints, Trefoils and Coconut Caramel Stripes.
As a former green sash-wearing Girl Scout Junior, I thought for sure I'd gravitate towards my cookie favorite lip balm equivalent, Coconut Caramel Stripes. However, it only took one whiff of the traditional shortbread-inspired Trefoils, to convince me that I had a new sweet spot. Plus, the ultra-moisturizing formula remains true to the Lip Smacker aesthetic, while offering yet another yummy option for treating dry, chapped lips.
And if you're more of a high-shine girl, look out for Girl Scout Cookie Lip Smacker liquid glosses to hit beauty counters early 2012.

Will you be picking up these perfect stocking stuffers this season?
Tell us in the comments section and click through the slideshow below for the complete Girl Scout Cookie Lip Smackers collection.
Girl Scout Cookie Lip Smackers holiday gift set, $5, WalMart and Claire's.
Girl Scout Cookie Lip Smackers Collection