Look: we're not going to B.S. you today. Unless you've been living under a rock, you know this week has been consumed by the multiple allegations of sexual harassment levied against 2012 frontrunner Herman Cain, dating back to the 1990s, and everything that followed after that. Namely, the denials, the reversals, the defenses, the accusations of dirty play (Politico is racist! Rick Perry probably did it!), and many moments featuring Cain awkwardly interacting with the press. We've heard that new ringtone of Herman Cain bellowing, "Excuse me! EX-CUSE ME!" maybe 700 times. Which remind us to ask those of you who have been living under a rock: are you subletting space? We are very clean and quiet people. Please let us know!
If you weren't a 2012 contender named "Herman Cain," you probably got to take the week off. The media essentially gave you a pass. If you didn't want to talk about Herman Cain (some did, most didn't, Rick Perry wasn't given much of a choice after Cain's campaign blamed his for spilling the story to Politico), then you didn't have to say anything to the press. And that's pretty significant, when you consider that you didn't hear all that much noise being made over Mitt Romney's Ponzi scheme pals, or Michele Bachmann's Ponzi scheme pals, or that new dumb concern about Jon Huntsman's Mandarin skills.
Hell, Cain himself benefitted from the distraction. Yeah, he got caught up in those allegations, and made a name for himself as a foreign policy dullard by not realizing that China had nuclear weapons, but he hasn't had to worry that much about his own campaign finance funny business, which we bet the Milwaukee Journal-Sentinel thought was going to be a huge story.
The Cain story broke a few hours too late for Rick Perry, who set eyebrows at full arch during his keynote speech to the Cornerstone Action annual dinner, which looked for all the world as if he had done two tabs of Ecstacy before he started speaking. And then came that moment where he went moony-eyed and fondlesome over a bottle of maple syrup that the organization gave him as a gift. Lots of people wondered if Perry was okay, but days after Cain began his long dark period of struggle, Perry was back on the air, flexing his considerable fundraising muscles with positive ads in the early primary states.
We can basically sum up this week in one graph, frankly: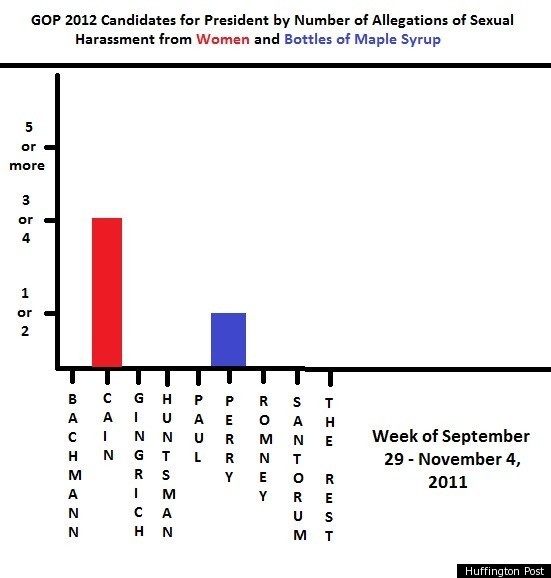 Of course, this meant that Romney had another stealthily good week. Romney's found a shrewd strategy in this race so far: stay away from the media and let the rest of the field implode. It's working like gangbusters. So much so that Obama's reelection campaign has all but determined that it's the former Massachusetts Governor that they'll be facing next year. Already, the White House is sharpening its attacks on Romney, and the campaign is devising its long-term strategy against him.
And on that score, your conventional Beltway analysis is also beginning to form: can Obama run a negative campaign while keeping his shirt clean? This is sort of premised on the notion that running a negative campaign will somehow be a new thing for Obama. But the facts say otherwise. Let's say it aloud together: Barack Obama ran a negative campaign in 2008. Everyone who covered it just decided that it was a positive campaign. Most of those who say that it was positive should know better, but when you're a slave to a narrative of your own making and that narrative is "this is a different and special campaign," that's what you end up believing. And yes, it was a different and special campaign from the perspective of many voters, but for the McCain campaign, it was a lot of negative ads.
Plenty of other stuff happened this week on the campaign trail that was not related to Herman Cain's alleged improprieties. Rick Perry got tripped up by a piece of satire. Mitt Romney earned ire from conservatives over another flip-flop. Buddy Roemer's faint hopes suffered a huge setback. Ron Paul sounded cautious optimism on the Occupy Wall Street demonstrations. Newt Gingrich got caught in a feud, Fred Karger went to war on juice, Obama got good polling news for once, and can you guess what candidate got compared to a pocketful of smelly string cheese? To find out, please feel free to enter the Speculatron for the week of November 4, 2011.
The 2012 Speculatron Weekly Roundup, November 4
Bachmann's campaign has long been scraping the bottom of the polls, but this week, the Minnesota congresswoman had to deal with the sting of rejection on multiple occasions. Ed Rollins, the former Bachmann campaign manager turned good-God-what-was-I-thinking-er who is now never trotted out on teevee to offer his election analysis without being asked to get in one good dig at his former employer, told Chuck Todd this week that Bachmann's campaign "was a mess" and lacked a credible organization to perform the necessary retail politics in Iowa. (Romney, he said, had the best operation in Iowa, which is quite a thing to hear given the minimum amount of sweat equity the candidate himself has invested in the Hawkeye State.) Rollins went on to tell ABC News that Bachmann had "run out of money and ideas." Said Rollins: "She's still saying the same things she said in the first the debate. There's no substance. She says, 'I'm going to repeal Obamacare.' But she's been saying that from Day 1. I told her: That's your Tea Party speech, now you have to say what you're going to do next." Rollins wasn't the only one slagging off the Bachmann campaign. Last week, Bachmann endured the rejection of a Tea Party affiliated group called American Majority. This week, she somehow got it in her head that a Rick Perry "dirty trick" was behind all that, according to some people she met in a parking lot or something. She also lost the support of Bradlee Dean, who Mother Jones' Tim Murphy describes as a "longtime ally" and "an anti-gay hair-metal evangelist who Bachmann has raised money for and publicly prayed for." Dean, who is suing Rachel Maddow for making fun of the fact that he spells his name "Bradlee" (yes, that is a real thing happening in America), had an interesting way of talking about his decision to quit Bachmann: It's like the guy that walks around with an open container of cheese, you know those little string-cheese deals, in his pocket. Everyone's walking around trying to figure out, 'Where's that smell coming from? You stink you stink.' And everyone knows who stinks, they're just trying to figure out why that individual stinks. Well, go look. But that individual's walking around with their nose in their air like they're all that and a bag chips. And she doesn't realize everybody's lookin' at her, like, 'Lady, you stink.'" The guy who walks around with an open container of string-cheese? There is, we suspect, a decent Replacements song in there somewhere. Also sounding off on Bachmann this week is Michael Gerson, who calls her campaign "callous and discreditable": Bachmann's candidacy represents a digression in the quality and seriousness of evangelical political engagement. It is difficult to imagine Mike Huckabee boasting of his indifference to the health and welfare of children, whatever their background. Even Pat Robertson, running for president in 1988, would have balked at such callousness. Both men would have been too conscious of the warnings found in Matthew 25, where Christianity's founder defines the proper Christian attitude toward the hungry, the sick, the prisoner and the stranger. "Whatever you did not do for one of the least of these," he said, "you did not do for me." And this week, it sure seemed like Bachmann, who is never shy of touting the amount of children she's cared for -- which, depending on the relative humidity that day, ranges between 15 and 30 -- really had it out for children. Bachmann would not do a thing to help the children of undocumented immigrants in any way, shape, or form. But she doesn't seem to have much affection for the children who are citizens of the United States, either. She was really upset with the news that President Obama wanted to do something to alleviate the crippling burden of student loan debt in today's stagnant economy, and her new tax plan would do away with a tax credit that's currently keeping millions of children out of poverty. Still, after accusing Rick Perry of stealing her tax plan last week, we suppose that it's a mitzvah that she even has one now, though it mainly consists of her yelling at Occupy Wall Street for publicly airing their grievances against the overseers of a financial system that decimated the economy and who had to be bailed out by taxpayers who have gotten little in return. We can also say with certainty that after floating the idea that no one should pay any taxes ever in a previous candidate debate, she now thinks that all the poors need to pay federal income taxes in addition to the taxes they're already paying: "They need to be invested in the country," she said. "Even if they can only afford $10, they need to pay something." The reason some people do not pay federal income taxes at the moment is because the current tax law respects the fact that many Americans who already pay a bunch of taxes need that $10 that's left over to buy a week's worth of food for their entire family et cetera. But this is just Bachmann being Bachmann, which she is able to do now that she's free of Ed Rollins and his "let's try to make a nominal amount of sense" strategies. And first things first: Bachmann's Book Sales! Would you please buy her book? Or just have her book? If she tells you in an email where the truck that's delivering her book to the Barnes and Noble is, will you jack a copy from the back while the driver isn't looking? Because, WHAT A BOOK: "Core of Conviction," by Michele Bachmann. If you are one of her "strongest supporters," she will send you her book...for a donation. $75 gets you an autographed copy, $125 gets you a "personalized autographed copy." You can make her sign it, "I HEART OBAMACARE, LOVE SHELZIE," for just $125! Do this now, because the remainder pile awaits! Beyond that, she's serving up the classic stuff, like foreign policy ignorance and sharia panic. And while on the trail, she's been working hard at decrying cronyism in all its forms while having a crony problem of her own, in the form of a ponzi-schemer who's been packing the warchests of various Minnesota politicians in a naked effort to try to obtain a presidential pardon for a felony conviction. Bachmann is one of the few recipients of his largesse who has been making this effort on his behalf. Bachmann is also worried that America is turning into a Banana Republic, which concerns us because we don't care for their new line of women's wear.

As you are well aware, this is the week that pizza mogul Herman Cain had some sexy problems with some ladies. But were you also aware that there was a whole bunch of other stuff that happened to Herman Cain this week? Were you even aware that there was a whole bunch of other stuff that happened in America? That wasn't about all of Herman Cain's sexy problems with sexing? If so, congratulations: you watch many fewer hours of cable teevee news than we do. You should keep doing that, trust us! Right now, it's unclear whether Cain's sexual harassment flap is even making a difference in the 2012 race, as plenty of GOP primary voters will likely be inclined to believe this is some big unwarranted media pile-on. And in fairness to them, the media isn't exactly doing much to avoid these charges -- by week's end, people were just out there, filling the airwaves with repetitive blather. "This is a bad week for Herman Cain," said everyone, speaking the obvious aloud repeatedly in a last-ditch effort to prevent their brains from beginning to work. Newspapers, meanwhile, just ran with whatever dumb, poorly-sourced nonsense they could poop out, for fear that some "new angle" of this amazing story in American life would pass them by, or leave them with resources that could be devoted to covering unemployment, or something. For Cain's part, none of this has yet proven to be worrisome. He's still the frontrunner. In two polls. He's still very popular in Iowa. And his fundraising has been better than it's ever been since the news of this scandal broke. Today, he's endearing himself to the faithful by declaring: "This may be a breaking news announcement for the media: I am the Koch brothers' brother from another mother." Hey! He stole that joke from Wisdom Quarterly: American Buddhist Journal! Of course, the biggest boon that this sexual harassment flap has given the Cain campaign is the fact that it's distracted attention from this whole other big scandal broken by Daniel Bice in the Milwaukee Journal-Sentinel's "No Quarter" blog: Herman Cain's two top campaign aides ran a private Wisconsin-based corporation that helped the GOP presidential candidate get his fledgling campaign off the ground by originally footing the bill for tens of thousands of dollars in expenses for such items as iPads, chartered flights and travel to Iowa and Las Vegas - something that might breach federal tax and campaign law, according to sources and documents. Internal financial records obtained by No Quarter show that Prosperity USA said it was owed about $40,000 by the Cain campaign for a variety of items in February and March. Cain began taking donations for his presidential bid on Jan. 1. Prosperity USA was owned and run by Wisconsin political operatives Mark Block and Linda Hansen, Cain's current chief of staff and deputy chief of staff, respectively. The authenticity of the records was verified by two individuals close to the firm. It is not known if Cain's election fund eventually paid back Prosperity USA, which now appears defunct. The candidate's federal election filings make no mention of the debt, and the figures in the documents don't match payments made by the candidate's campaign. Dave Weigel recounts ABC News' Amy Walter's attempts to get Cain campaign smokesman Mark Block to talk about this: At National Journal's 2012 preview panel, in the caged environment of a hotel ballroom and live video, ABC News's Amy Walter asked Block if he could explain the Bice story. "We've retained independent counsel to look at the Milwaukee Journal Sentinel story and report back to us," said Block. Walter followed up with a different version of the question. "We've retained independent counsel to look at the Milwaukee Journal Sentinel story," said Block. Walter tried again, asking Block if he watched the books when he ran the organization. "Amy," said Block, coldly and calmly, "why don't we talk about the campaign going forward?" She did move on, with the allegations unanswered. So: Cain's campaign manager was once suspended from election work in Wisconsin because of election law violations. He can't or won't talk now about more possible violations. It might be better for the Cain campaign if we all focus on Politico's story. TPM, by the way, asked a former Cain campaign staffer about this matter, who said, "Would I trust Mark Block? Resoundingly no." And even without these two scandals dangling in the air, it's pretty clear that Cain would have still had a week of gaffes and nonsense. When Cain appeared on "Face The Nation" this past Sunday, he and host Bob Schieffer got into an insane conversation over the campaign ad that featured Mark Block smoking. Schieffer, a cancer survivor and fearsome opponent of smoking, dragged out the matter and essentially forced Cain to justify the decision to have someone smoking in the ad. Cain's explanation, if you can call it that, was that the commercial was trying to send a message that it was okay for Mark Block to do the things he likes, including smoking. "Mark Block smokes. That's all that ad says," Cain said. That's what the Cain campaign spent precious cash doing, though? Getting that important message out to America? The whole thing ended with Scheiffer essentially forcing Cain to say on the air that smoking was dangerous and "not cool." Cain also managed to steer the conversation on "Face The Nation" to his approving recitation of what amounts to an urban legend about Margaret Sanger wanting to kill black babies using Planned Parenthood. Wrong and wrong, say actual facts. And then we got to Judy Woodruff's interview with Cain, in which Cain's foreign policy expertise was demonstrated to be precisely at the level you'd expect when he expressed concern that China might someday want to develop nuclear weapons. The good news is that we're several decades removed from China getting a nuke. The bad news is that we're several decades removed in the wrong direction: China has had nuclear weapons since the 1960's. Cain did what he could to cover for his cock-up after the fact, and it's as funny as you'd imagine it to be. Lots of people have criticized Woodruff for not holding Cain's feet to the fire on this when she had the chance, but we have to imagine that she was probably worried that at any moment, Cain might start sexually harassing her. That's pretty distracting! The bottom line though, is that everything is still going according to plan. As Jonathan Chait explains: Cain is executing a business plan. It's an excellent plan. The plan involves Cain raising his profile as a conservative personality, which he can monetize through motivational speaking, book sales, talk shows, and other media. Cain's selling point is that he's a black conservative who can capitalize on the sense of white racial victimization that has mushroomed during the Obama era. Accordingly, Cain assures conservatives that they are not racist, as proven by their support for him. Indeed, it is the liberals who are racist, as evidenced by their opposition to Cain. If Cain were campaigning to be president, the scandal would hurt him. Since he is instead campaigning to boost his profile, it will help him. Cain is exploiting a loophole which allows a person to declare their candidacy for president, and then attract free media coverage and participate in nationally televised debates simply because the media can't prove that they're not really trying to win. And, indeed, the potential payout for Cain is considerable. That's probably why he's mulling taking some kind of legal action against Politico. When you are an actual candidate for president, you accept the fact that a news organization like Politico is going to go out looking for damaging stuff, and you deal with it according to a strict set of rules that govern political survival. No one sues newspapers over this stuff -- especially not after you've confirmed the basics of the story, as Cain has done. That's the sort of thing you do when your goal is enhancing the earning potential of your personal brand.

This week featured two annoying trains of thought from the conventional wisdom-spouters of the Beltway. The first, and most annoying, were all the people who were wistfully wondering what might have been if Tim Pawlenty had stayed in the race. (SPOILER ALERT: He would have spent a lot of money and time needlessly on a campaign that was awful and that few people even noticed, let alone liked. LET IT GO, IDIOTS.) The second big idea of the week is that Newt Gingrich, of the go-on-vacation-repeatedly, be-up-to-your-nipples-in-debt, have-your-entire-staff-quit-on-you Gingrichs, is primed to surge back in the polls if Herman Cain falters. This, we'll admit, is somewhat plausible -- after all, Mitt Romney's competition has more or less sucked tailpipe all year long, and Newt Gingrich has gotten back to double digits of late. On the other hand, all this really means is that Romney and Perry trade one guy who's not serious about running for president and who is only looking to goose his longterm earning power from the political-media patronage network for another guy doing the same thing. (Perry should probably wise up, play the same game, and let Mitt Romney deal with the sack of flaming dog-feces that is the U.S. economy if that's what he really wants to do.) Also, Newt is campaigning in Oslo? Yeah, this doesn't make sense. Still, Gingrich is doing things that look like the stuff that credible candidates do -- like yelling at Obama over his plan to keep recent college graduates from going into intractable poverty, and coming out against the "Arab Spring" because the people of those nations didn't immediately make it a national priority to accept Jesus Christ as their personal savior. Newt Gingrich is also in a feud with Meghan McCain, which seems more at the sort of level we'd expect him to be, circa 2011. For her part, McCain, making her first appearance as a paid contributor to MSNBC, said that she "bets her career" that Gingrich would not win the nomination. That led to this conversation, between your Speculatroners: JASON: Did you hear that Meghan McCain is betting her career that Newt Gingrich won't win the Presidential nomination? ELYSE: I saw that, yes. JASON: Who are we rooting for, though? [pause] ELYSE: Oh, God.

At this point, the only thing keeping Jon Huntsman's thin hopes aloft are the antics of his far-more-popular daughters and whatever KoolAid of Magical Thinking they've been passing out at Huntsman HQ that leads them to believe that the teeming hordes of GOP base voters who hate Romney for being to the left of the rest of the field will give a candidate who's even further to the left the chance to be the Romney alternative. To that end, Huntsman is working to get in on the "Call Mitt A Flip-Flopper" game, but there's little chance he'll be playing for long, as Romney's campaign war chest is considerably larger at this point. (Romney's pulling more campaign donations than Huntsman in Utah, which Huntsman used to run, and where he recently re-upped his residency status.) The only other Huntsman story of note from this week questioned his fluency in Mandarin. People had feelings about this, probably because his father said "If he were running for president of China, he would have already won the election." NEWSFLASH: No one in America really cares that Huntsman doesn't speak Chinese all that well, and it's not going to be anywhere a determining factor in the GOP primaries, but thanks anyway, guys.

Last week, Gary Johnson had some logistical strife to work through, as he nearly missed the filing deadline to participate in the New Hampshire primary. This week, Johnson's back to fighting exclusion problems that don't stem from nearly-averted unforced errors, as he continues to lobby for debate inclusion: Charging that "once again, a national news network has arbitrarily excluded Governor Johnson from a televised debate", Gary Johnson's presidential campaign is urging supporters, Republicans and CNBC viewers to let the network know that fairness demands he be included in next week's Republican presidential debate in Michigan. Ron Nielson, senior advisor to the Johnson campaign, said in a statement, "As we have expressed to the Republican National Committee, it is a continuing travesty of fairness that a national network can set the Republican presidential field by imposing arbitrary criteria which systematically exclude Governor Johnson. "Even worse, it appears to us that CNBC isn't even using their own criteria fairly. They claim that the requirements for next week's debate are that a candidate has formally announced that he is running and has achieved 3% in a recognized national poll. Gary Johnson has done both. In a May Gallup poll - before being shut out of several debates - Governor Johnson registered 3% support. And, of course, he formally announced his intention to run in April. So, where is our invitation? "Of course, NBC is the same network who, in September, mysteriously came up with a 4% polling threshold when Gary Johnson was polling at 3%, prompting commentators to speculate about a 'Gary Johnson Rule' for keeping him out of debates. Johnson also continued to fight for marijuana decriminalization. This week, he was a featured speaker at the International Drug Policy Reform Conference in Los Angeles: On Thursday, Johnson told the crowd about a Gallup poll last month that found that 50% of Americans favor legalizing marijuana. "Fifty percent of Americans support legalizing marijuana, " he said. "But zero percent of the universe of politicians support this." He assailed his Republican rivals, whom he said have overlooked the effect of the so-called war on drugs on the U.S.-Mexico border. "They all talk about border violence and adding guns to the equation instead of looking at the root of the problem, which is prohibition," he said. With the exception of Paul, who believes states should decide whether to outlaw marijuana use, Johnson's stance on the drug is in stark contrast to most of his Republican rivals. The Los Angeles Times, which reported on Johnson's appearance, sums up his campaign by saying that what "Johnson's shoe-string presidential campaign lacks in resources and media attention--which is a lot -- it has made up for in quirkiness." But it wouldn't seem so "quirky" if he was allowed to participate in the debates and respond to the issues the media chooses to cover. (Which, admittedly, would for this week essentially be: "What do you think about Herman Cain's sexy lady problems?")

Fred Karger has spent the week campaigning across New Hampshire, where this past Tuesday he launched his long-awaited boycott of Florida orange juice. You remember that, right? The whole orange juice boycott that Karger got behind to support New Hampshire's early primary against the incursions of the state of Florida? Honestly, we actually thought this boycott was a couple weeks old. But now, begun these citrus fruit wars are! Long-shot presidential candidate Fred Karger is trying to spur a new taste sensation with a political twist: Grapefruit juice. The candidate is asking people to join him in boycotting Florida orange juice, and suggests switching to grapefruit instead. Karger's boycott is meant to pressure Florida to push back its primary into March. In violation of Republican National Committee rules, Florida moved its primary up to Jan. 28, which prompted other states to follow suit. He objects to the accelerated primary schedule, which he said helps only the candidate leading in the polls. Karger has a web video out in which he ties this boycott back to an older boycott of Florida orange juice that took place in the 1970's, because then-Florida Citrus spokeswoman Anita Bryant was an anti-gay rights clown. And Karger's activism on behalf of the LGBT community continues to run on a parallel track to his presidential aspirations. This week, Karger took on this century's newest gaggle of anti-gay rights clowns, the National Organization for Marriage, demanding that they release their tax returns. NOM has historically balked at doing so on the grounds that they have to protect their donors' identities. Which is a pretty clear sign that they know full well they have some reprehensible opinions! Next week, Karger will head to Michigan, where the upcoming CNBC debate will be happening, in the hopes that maybe CNBC will let him participate.

While Ron Paul had the occasion to defend his student loan plan from charges that he intended to immediately eliminate federal student loan programs, this hasn't been a week where he's made a lot of news. Normally, a week in which the media largely ignores Paul is one that leads his campaign and its supporters to complain about being shoved out of sight. But since the conversation has been centered on Herman Cain's sexual harassment allegations, you have to figure that it's as good a week as any for Paul to stay away from the spotlight. Paul's been calling for a more substantive debate overall, and his campaign has made it clear that it's just not interested in getting caught up in Herman Cain's nonsense. As his campaign chairman Jesse Benton told Politico: "We plan to beat Herman Cain on the issues, like his support for TARP and his cozy relationship with the Federal Reserve, not by assaulting his character." And this is just the ever-consistent Paul, being consistent. Paul also indicated this week that he's cautiously optimistic about the Occupy Wall Street demonstrations: "I think it's both very good, and very risky," he said in an interview with The Des Moines Register. "I think there are a few that attend these rallies that actually want more government -- they want to just tax people more and believe if we just taxed the 1 percent, it could solve all the problems. "That, to me, is a risky idea." Paul continued. "But I think that the majority of them think government is the problem and taxes are too high and they know that the Federal Reserve plays a role in this, which, of course, is something I agree with." It's debatable whether the #OWS crowd is a majority of dyed-in-the-wool Paulites, but the candidate's acolytes have been a presence at the Occupy demonstrations, and seem to have integrated themselves well with the other demonstrators. There's a lot of common ground to be shared, after all. From an outsider standpoint, Paul's "Very good...very risky," is a fair and cogent assessment, and naturally, one would hope that Paul is fully in favor of the right of assembly.

Last week, Rick Perry was looking for some answers, some way to make up the ground he'd lost to Herman Cain in the Battle To Be The Person Not Named Mitt Romney That Maybe People Would Vote For. He was mulling staying out of the debates entirely, which isn't a completely insane idea, given that he's never done particularly well in that setting, and his poor debate performance has been the primary contributor to his decline. But that trial balloon got shot down by critics who figured it would be a cowardly thing to do, and then came the news that Cain was outpolling him in Texas, of all places. So now, a serious effort to resurrect his once-promising campaign is in full effect. Perry's been out, working to reassure GOP officials that he'll be better prepared and won't let them down should he end up the guy who'll debate Obama come next fall. While Romney remains aloof from the media, Perry's been seeking out would-be allies to try to persuade them to give him another look. He will show up to debate his competitors. And he'll keep reminding anyone who will either listen or broadcast his opinion that Romney lacks consistency and can't be trusted. In addition to that effort, Perry's going to be blanketing the early primary states with ads that focus on "substance" and conveying a "regular guy image." Here's where Perry's financial advantages come into play, as he's capable of bringing his campaign ads to most of the early primary states. A fairly cogent plan! But then something not so cogent happened: Republican presidential candidate Rick Perry raised some eyebrows Friday night with a speech performance in Manchester, N.H., that was unusually expressive. Yes, that big Perry news of the week was this speech that Perry gave in which he flopped around, got loopy with his voice, and then appeared to freak out with unusually giddy delight after being given a jar of maple syrup. The more charitable observers found it simply weird or "bizarre." Others speculated that Perry might have been on the sauce, or that his performance may have been somewhat enhanced by painkillers for a bad back. People who were there defended Perry, and told people he'd only been drinking water at the time For his part, Perry said he just "felt great." Maybe he had simply taken several doses of HPV vaccine before his oration! But it was hard not to note that pretty soon, he had an ad out in which he explained that he was a "doer," not a "talker," and that you shouldn't continue to expect him to communicate well. And on the "doing" front, Perry is, indeed, more clear about his intentions. For instance, one thing he definitely plans to do is make sure that the 1% will get a massive tax break. As Sam Stein reported: Under Texas Governor Rick Perry's tax plan, the U.S. government would lose $995 billion in revenue by 2015 while individuals making more than $1 million a year would receive an average tax cut of roughly $510,000 by that same year, a study by the centrist, highly respected Tax Policy Center concluded. The findings, one of the first comprehensive analyses done of the plan so far, make Perry's proposal one of the more regressive of those introduced by Republican presidential candidates to date when compared to current policies. "You can say, to his credit, that Herman Cain's plan actually does somewhat come close to raising the same amount of revenue cut relative to the current policy baseline," said Joseph Rosenberg, a research associate at the Urban Institute, in reference to Cain's proposal to introduce a nine percent sales tax alongside reducing the corporate and personal income rates to nine percent. "Rick Perry is essentially providing a massive tax cut disproportionally benefiting higher income people." That will play well with the base, obviously. What may not is his plan to offer work visas to undocumented immigrants. And as for what Perry's gotten done, it turns out that Texans aren't willing to credit specifically for the state's economic growth: The latest University of Texas/Texas Tribune poll finds that an overwhelming number of Texans attribute the state's economic success to "long-standing policies and natural resources," at 65%, while just 21% believe it was a result of Gov. Rick Perry's (R) leadership. "The poll results appear to show Texas voters don't buy Perry's claim that his policies are responsible for the state's economy and that he can do the same for the country. The findings, however, buttress his claim that protecting those state policies against efforts to raise taxes and increase regulation helped the state weather the recession." Finally, someone apparently needs to explain to Perry what "satire" is. This week, he got tripped up by a satirical piece in Toronto's Globe And Mail, which sent up Occupy Wall Street: It's weird protesting on Bay Street. You get there at 9 a.m. and the rich bankers who you want to hurl insults at and change their worldview have been at work for two hours already. And then when it's time to go, they're still there. I guess that's why they call them the one per cent. I mean, who wants to work those kinds of hours? That's the power of greed." We guess Perry missed the word "satire" atop the piece, because he went out on the campaign trail quoting the fake piece as a real news article. Someone needs to get Perry some adult supervision!

Right now, there's no one running a nobler campaign for president than Buddy Roemer. He's trying to be the last honest man in a cynical system, refusing to kowtow to special interests, forsaking corporate patronage, decrying the influence of money and lobbyists, with a dream of getting to the White House on the strength of supporters whose maximum donation can be $100 -- which, let's face it, should be the standard in this post-crash forever recession we have going here. You all realize that by the time this election is over, billions of dollars will have been spent -- mainly on turd polish. Roemer believes that the Great Pumpkin is going to alight in his pumpkin patch, having deemed it the sincerest. We want to believe too! But that cynical tide is a lot to overcome, and this week, we see signs that Roemer might not get there: On Tuesday, his quixotic presidential campaign learned via news reports that the Florida Republican Party had failed to include him among the Republican presidential candidates who will have their names on that crucial state's Jan. 31 primary ballot. And, at 5 p.m. Tuesday, the window closed on his being included on the ballot in the even more critical Jan. 21 South Carolina primary because he simply could not afford the $35,000 filing fee. To file in South Carolina would have nearly depleted Roemer's campaign treasury, which at the end of September had $46,111 cash on hand, money he needs for his go-for-broke campaign in New Hampshire, where he has been living of late and where the only condition to get on the ballot was a modest $1,000 filing fee. Roemer's campaign has been built on his refusal to accept any political action committee money or individual donations of more than $100, a self-imposed stricture that Roemer has said would make him "free to lead" if elected. But, as he told the Coffee Party rally on Saturday, it may also be "why you've never heard of me." That's a damper. But Roemer continues to press his case nevertheless, railing against corruption, preaching against "political in-fighting," and showing a willingness to criticize his own party's leaders when they fail to live up to their values, just as he does with the incumbent. But it's not helpful that the media sorts him into place in this fashion: Buddy Roemer may not be making headlines like presidential candidate Herman Cain, but that isn't stopping the former La. governor from pushing ahead for a strong showing at the N.H. Republican Primary in January. In other words: "We can only bear to tear ourselves away from Herman Cain's sexual harassment allegations for a few minutes to tell you about this other presidential candidate who we've rarely deigned to cover."

Mitt Romney remains the GOP candidate with the most going for him. Sure, he's playing nip and tuck in the national polls with Herman Cain, but Romney's not the guy who's thinking about suing Politico for publishing a story about sexual harassment allegations that have been reluctantly confirmed by the accused. No, Mitt's actually looking very strong in Iowa, a state in which he's barely competed. And no one can yet claim to be in his league in New Hampshire. While his former donors haven't been quick to his side, Romney's making it up with the support of former Bush donors, and, in any event, he's got no reason to spend money right now. Instead, he's working on winning over folks like Paul Ryan and those rascally Koch Bros -- he pretty much already has Karl Rove's support, because Karl doesn't really have a choice. And yet once again, we got an example of precisely why GOP elites remain cool to his presidential bid, as this week, Romney offered up another one of his trademarked flip-flops -- this time swinging from having a foot in the climate change realist camp to giving the denialist loons a cuddle. And it doesn't matter that Mitt's moving in the direction those GOP elites prefer -- it's his habitual position-switching that continues to sow the seeds of mistrust. Brit Hume cautioned Mitt that you only get the flop around so many times before people just doubt you, and George Will was already wilding out on Romney, calling him a "pretzel" and a "recidivist reviser of his principles who is not only becoming less electable; he might damage GOP chances of capturing the Senate." Michael Gerson saw things differently, claiming Romney's fecklessness was actually a hidden strength: Even conservatives who buy none of these explanations may calculate that Romney is acceptable. Precisely because he has a history of ideological heresy, it would be difficult for him to abandon his current, more conservative iteration. He has committed himself on key conservative issues. Having flipped, he could not flop without risking a conservative revolt. As a result, conservatives would have considerable leverage over a Romney administration. And we just sort of wondered what the downside was for the base to have a president they could push around so easily. But that take was complicated by Peter Wallsten and Juliet Eilperin's piece in the Washington Post, which described Romney as a candidate who "worked to reassure liberals" that he'd moderate the GOP if they elected him to the Massachusetts statehouse: Mitt Romney was firm and direct with the abortion rights advocates sitting in his office nine years ago, assuring the group that if elected Massachusetts governor, he would protect the state's abortion laws. Then, as the meeting drew to a close, the businessman offered an intriguing suggestion -- that he would rise to national prominence in the Republican Party as a victor in a liberal state and could use his influence to soften the GOP's hard-line opposition to abortion. He would be a "good voice in the party" for their cause, and his moderation on the issue would be "widely written about," he said, according to detailed notes taken by an officer of the group, NARAL Pro-Choice Massachusetts. "You need someone like me in Washington," several participants recalled Romney saying that day in September 2002, an apparent reference to his future ambitions. This is why conservative enclaves like the Free Republic are just banning Romney supporters from participating in their online forums. Jonathan Chait distills the matter with precision: Mitt Romney's problem with the Republican Party is not just that he previously held liberal positions on a wide-ranging array of issues. That can be explained away, at least a bit, as pandering necessary to win votes in a Democratic state. The deeper problem is that Romney was promising behind closed doors to act as essentially a sleeper agent within the Republican Party, adopting liberal stances, rising to national prominence, and thereby legitimizing them and transforming the Party from within. If Rick Perry's new theme isn't something along the lines of, "You'll never have to wonder and worry about where I stand," he needs to scurry back to Texas with all immediate haste. (For his part, Romney says that he is being "as consistent as human beings can be," which I think means that his Android neural network has studied humanity with care and is constantly updating his firmware with patches that bring him more into alignment with parameters set by typical homo sapiens.) Of course, Democrats will wield the flip-flop charge with just as much ferocity as Romney's opponents will. They'll also hit him for his stances on deficits and taxes. Oh, and there's also this: Mitt Romney, his son Tagg, and Romney's chief fundraiser, Spencer Zwick, have extensive financial and political ties to three men who allegedly participated in an $8.5 billion Ponzi scheme. A few months after the Ponzi scheme collapsed, a firm financed by Mitt Romney and run by his son and chief fundraiser partnered with the three men and created a new "wealth management business" as a subsidiary. The Romney camp raised some hell over the story, but weren't up for "directly disput[ing]" any of the reporter's "assertions." What did happen, however, was that various tracks were soon covered: After our report, the Romney campaign released a statement to ABC News and the National Journal simply attacking ThinkProgress as a "a left-wing blog with a highly partisan agenda." Despite calling our story "false material," the Romney spokesperson did not directly dispute any of our assertions. The Romney campaign has not explained why, for instance, Tagg Romney falsely claimed that his Solamere Advisors partners were "cleared" of wrongdoing in connection to the Stanford Financial Group Ponzi scheme. Now, it appears that one of the firms is trying to cover up its tracks. Sometime last night, Solamere Advisors, the firm run by brokers who allegedly took part in the Stanford Ponzi Scheme, deleted the section of their website that lists Tagg Romney and Spencer Zwick, the Romney for President lead fundraiser. View a screen shot of the current web address, which shows a "404 File or directory not found" error message. It may be fortunate for Romney that Herman Cain's alleged pecadilloes dominated the news. Not that Romney's been quick to run to the media anyway. As Michael Calderone reported this week, limiting his media exposure is a feature of Romney's strategy as frontrunner. The potential short-term harm comes in the form of Chris Wallace hectoring him to appear on "Fox News Sunday." But we can go back several months ago to an observation we made on these pages -- the Romney campaign seems to understand that the thing that annoys most people about Mitt Romney is Mitt Romney. The longer people don't have to hear from him, the better off he'll be. And so far, it's been a good strategy. Things are looking up for Mitt on multiple fronts. And as usual, the clearest sign that he's succeeding is that he's the only GOP contender who the White House is preparing to battle.

Here's Rick Santorum's candidacy, in a nutshell: DES MOINES REGISTER: Do you see yourself as ever reaching an understanding with the gay community on gay-rights issues? A: You know, the gay community and those who support gay rights with respect to marriage in particular -- no, I am not going to find an accommodation with that. That is a fundamental issue. People can live the life that they want to live, but now they are talking about changing the laws of the country to reflect a relationship that is not marriage. Calling it marriage does not make it marriage, and it undermines the institution itself. So, no, I can't find an accommodation where there can be none. Rick Santorum will NEVER EVER HELP THE GAYS EVER. This is a point he's made repeatedly clear. So much so that I wonder if reporters are playing a game with him. "Now Rick, you sound like you're going soft." "AM NOT! AM NOT! I WILL DIE ON A HILL TO STOP MARRIAGE EQUALITY." "Rick, how long can you primal scream your unwillingness to accomodate gay marriage?" "YAAAAAAAAAAAAAAAAAAAAAAAAAAAAAAAAAAAAAAAAAAAAAAAWWWWPPP!" [This goes on for several hours.] "Still not feeling it, Rick." [head explodes] At any rate, Rick Santorum doesn't think that Herman Cain has enough experience or that this recent flap over sexual harassment is his "biggest problem," he's okay with rationed health care as long as Paul Ryan is doing the rationing, and he's hoping for a "surprise finish" in the Iowa caucuses. Let's face it, any finish other than tied-with-Huntsman-for-last qualifies as a "surprise."

Barack Obama got a clean bill of health this week, which means he's got no other choice but to go through with this whole "running for re-election thing." But hey, it's not all bad: this week's Quinnipiac poll has Obama's fortunes improving, and it's been a while since he could say that. Of course, what really matters is the story that can be mined, told, and/or sold from these results, and whether or not the improvements can be extended and maintained. If you're Team Obama Reelect, you're hoping that the electorate is starting to warm to your narrative: Obama has a plan to get America back to work, and the GOP is thwarting it -- even parts of it that historically earn slam-dunk support -- out of a singular desire to seize power and get back to mess-making. There's some evidence this story is gaining traction -- a poll in Florida suggests that voters in that crucial swing state believe that this is precisely the game that the GOP is playing. But until it catches on and can be seen elsewhere and more consistently, the result remains an outlier. And in any event, it doesn't necessarily signal that those same voters, sour on the GOP, necessarily see a second Obama term as the solution. Besides, the next polling bounce for Obama may just come about because he looks comparatively awesome next to a GOP frontrunner who's dominated the news because of sexual harassment charges. Speaking of, while some conservatives reflexively fingered "the Left" for dropping a dime on Cain (against all common sense, which dictates that the Democrats would LOVE for Cain to win the nomination), it's pretty clear that the Obama campaign isn't sweating Cain in the slightest. They figure that Romney is going to be their opponent and are planning accordingly. As Sam Stein reported: David Plouffe's declaration Sunday that Mitt Romney lacked the conviction necessary to become president was criticized as the type of personal attack that may be expected from the president's reelection team but is inappropriate coming from one of his senior White House advisers. But what transpired on the set of "Meet the Press" Sunday was simply a public airing of a belief that administration officials have privately held for weeks, if not months. Obama's staff members in D.C and Chicago believe the Republican primary campaign is nearing an end. And with Romney, a former Massachusetts governor, likely to end up the nominee, their efforts to define them have hastened. In a briefing with a senior administration official, reporters got the skinny on where the White House sees things going. The thinking is: --"Romney would be the harder candidate for Obama to face" but no one is "dismissing...Rick Perry," --"Romney has two challenges that the reelection team believes it can exploit. His background in the world of private equity -- in which he made money even when his clients didn't -- is one, and the notion that he has no convictions and lacks a "core" is another." --On the former point, "administration has been studying data, including surveys from The Nielsen Company, that show a real angst in America over income inequality." --"The reelection campaign has polling data that shows that Romney has trouble with women voters." The Romney camp, naturally is expecting a negative campaign from the incumbent. You should too, it's just facts!
[Would you like to follow me on Twitter? Because why not? Also, please send tips to tv@huffingtonpost.com -- learn more about our media monitoring project here.]