Art In The Recession: In Tough Economy, Artists Act Anew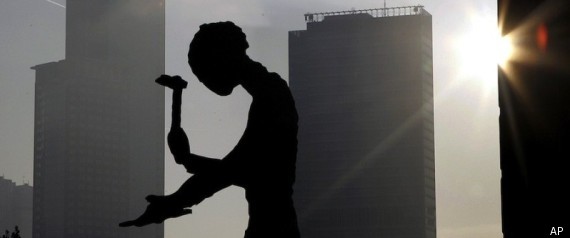 This is the first in an occasional series examining the recession's impact on culture: The Recessionary Arts. Find out more about it here.
Despite dim job prospects and ever-dwindling paychecks, more artists are living and working in America today than ever before. If as sociologist Charles Horton Cooley once said, "an artist cannot fail; it is a success to be one," then success in America is at an all-time high.
At least 2.2 million people in the United States can be classified as professional artists, up from 1.9 million in 1996. And as artists have proliferated, arts organizations have followed suit; According to a report from Americans for the Arts, there are over 100,000 non-profit arts groups and 550,000 for-profit arts businesses in the U.S today. Between 2003 and 2009, a new nonprofit arts organization was created in the U.S. every three hours.
However, general funding for the arts decreases year after year in most states, with the more classical disciplines -- dance, classical music, and theater -- facing especially severe cuts. In 2009, according to the same Americans for the Arts study, 41 percent of nonprofit arts groups reported a deficit, up from 36 percent in 2008. Attendance at museums and performing arts events "decreased 19 percent and 22 percent, respectively, between 2003 and 2009."
In early 2010, Rocco Landesman, chairman of the National Endowment for the Arts, went so far as to tell The New York Times that "there might be too many resident theaters" in America and the decreasing demand for their product was something they should "talk about." Many theater professionals reacted with outrage -- "If the National Endowment for the Arts doesn't support our existence, who will?" -- but the statistics, and the decrease in funding for everything, everywhere, made the statement more pressing.
Art might be the only sector that has seen an increase in employees without an increase in monetary support to back them up. At the same time, artists and the organizations that support them have had to consistently prove themselves to local and state governments hesitant to spend money on anything at all.
After one round of particularly steep cuts to the arts budget in Montgomery, Alabama, the executive director of the Alabama State Council on the Arts told the Birmingham News that "we have to do as good as job as we can talking about how arts are significant and central to state government, as opposed to a frill."
Indeed, storied cultural institutions and the artists they serve are on the chopping block as they defend themselves against further decline.
But we're also living in a time when making and distributing art to the masses is easier and more widely consumed than ever. Despite the financial challenges, is there still room for optimism?
Many artists and administrators think so.
'A HEALTHY REMINDER'
Robert Lynch, President and CEO of Americans for the Arts, one of the nation's leading nonprofits for arts advancement, thinks some people might be misinterpreting his organization's recent report, which outlined some of the financial difficulties faced by artists.
"Certainly there is a lessened demand for certain kinds of venues that deliver the arts, for example: a decline in people sitting in seats to hear classical music," he said over the phone from his D.C office. "However, another study shows that downloads of music are soaring, and the demand for music is higher than it's ever been. So what I think this study says is not that there's a lessened demand for the arts, but that we're undergoing a massive reassessment of the ways people want to engage with them."
Lynch certainly doesn't think we need "less art" or "fewer artists," and he doesn't think we can eliminate any of the myriad organizations that have sprung up over the past few years. In fact, he says, if you look at the trajectory that the arts have taken over the last half century, he said, you will see "massive growth" in interest from consumers on the whole.
"The data we have today shows that nonprofit groups still generate 5.7 million jobs. We also know there are 2.2 million artists who spend more than half their time making their living being an artist and millions more who do it part time. We really have to feel good about people's interest in this industry."
David F. Chapman, a theater director, teacher, and writer based in New York, feels like he's learning some valuable "survivalist" skills in these trying times. The struggle has made him think more critically about why he wants to do the kind of work he's doing, and what he actually wants to spend his time on.
"Right now we're learning how to be creative and resourceful and make the most out of a little bit," he said. "We're sort of in the depression era of making art."
He notes that even theater productions with the largest budgets -- like the recent, troubled production of "Spiderman: Turn Off The Dark" on Broadway, which went millions of dollars over budget and delayed its opening night several times -- constantly need more money than they have. When funding is limited and resources scarce, he wonders if perhaps it encourages artists and organizations to work within their means, and try new things.
Chapman, for his part, branched out from directing to try solo performance again, and it made an indelible impression.
"I think it's good for certain organizations to remind themselves that one of the reasons they're a not-for-profit is because they're working to advance a specific mission," he said. "That mission will never go away. Amnesty International, for example, they look forward to the day they can turn off their lights and close the doors because they've received 'amnesty internationally.' The mission will always exist."
Noah Fischer, one of the visual artists leading the recent Occupy Museums movement -- an offshoot of Occupy Wall Street -- said that the most egregious problem isn't funding for artists, but rather the proliferation of people providing unpaid labor for arts organizations.
"How do you compete against unpaid intern labor?" Fischer asked. "It's kind of a tough competition."
The Occupy Museums group has protested at the Museum of Modern Art in New York and recently marched with a Sotheby's art-handler union, whose members have been locked out of their jobs for the past three months.
Generally, Fischer wants lawmakers to fiscally "understand" everything that artists provide to the society at large. "Think of all the content we consume provided by artists, all the entertainment we get on a daily basis. Creative labor needs to be addressed as labor."
Chapman, however, wonders if his art would suffer if he were subsidized every month no matter what he put out -- if he received a monthly stream of income without any questions asked.
"Let's say I lived in some fictional country where I got money for being a nice artist who could write a good application and didn't have to worry if anyone was going to come see my stuff or write nice things about it, if I just had this pillow of state support," he wondered. "I really don't know if I would be growing as an artist."