"Jeopardy!" contestant Tom Kunzen, who just so happens to be a Redditor when he's not appearing on TV, came off of a five-game winning streak last week when he competed on Friday's episode. And while he did a decent job throughout the game, he didn't do well enough to keep from getting clobbered by contestant Joon Pahk.
By the time the final question rolled around, and it was clear that he wasn't going to win, Kunzen decided to express his frustration the best way he knew how: a Ragetoon.
To be more specific, he drew a little Rage Guy in the field where he was supposed to write his answer -- and then actually made the face himself once his drawing was displayed on the screen.
While something tells us that Kunzen probably could've found a TV host and audience more apt to understand his joke, it's always awesome to see the interwebs leaking into real life. Start the video above at 8:50 to watch Kunzen's answer.
LOOK: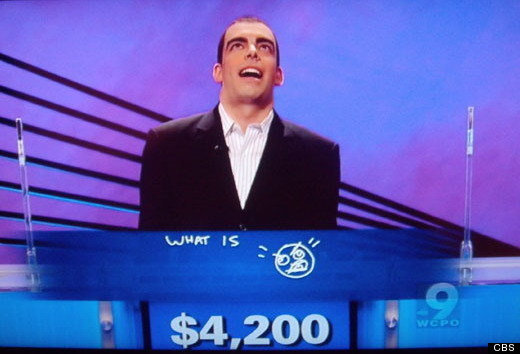 SUBSCRIBE TO & FOLLOW ENTERTAINMENT
Don't be the last to watch the viral video everyone is talking about. Learn more