Though Occupy Wall Street-related tweets are coming from a variety of different sources, it appears that a sizable minority are aimed at the same target.
Nearly one-quarter of tweets using the hashtag "#OWS" discussed tax increases for millionaires, according to research firm NM Incite. Other popular Occupy Wall Street twitter topics include "justice," which was mentioned in 20 percent of the tweets and "jobs," which came up in 18 percent of #OWS tweets.
The Occupy movement's focus on tax increases for millionaires mirrors the concerns of the American public at large. Nearly three-quarters of Americans said in September that they support President Obama's proposal to tax households making $1 million or more at the same or higher rate as middle-class Americans, according to a poll by DailyKos.
And it's not just ordinary Americans who want to raise taxes on the super-rich. Most millionaires support raising taxes on themselves. Sixty-eight percent of millionaires support raising taxes on households making $1 million or more, the WSJ reported last month.
Though "elimination of the corporate state" ranks at the top of the 99 percent declaration -- a document that includes a call for a national convention among other things -- "separation of corporation and state" only netted five percent of Twitter mentions, according to the survey.
Check out a graphic from NM Incite of the most popular #ows-related Twitter topics below: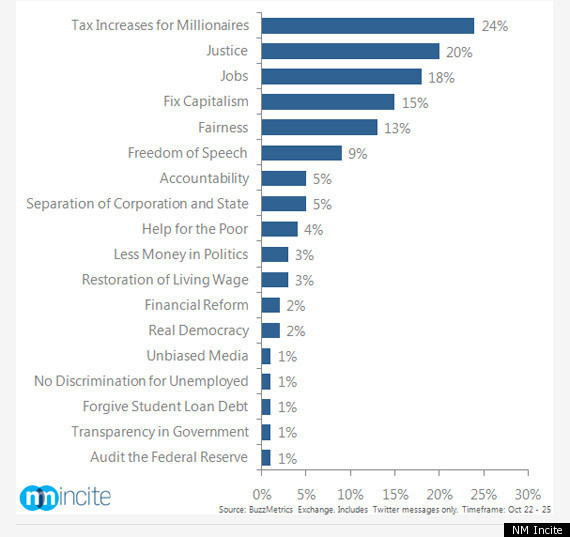 FOLLOW HUFFPOST