This story comes courtesy of The Hollywood Reporter.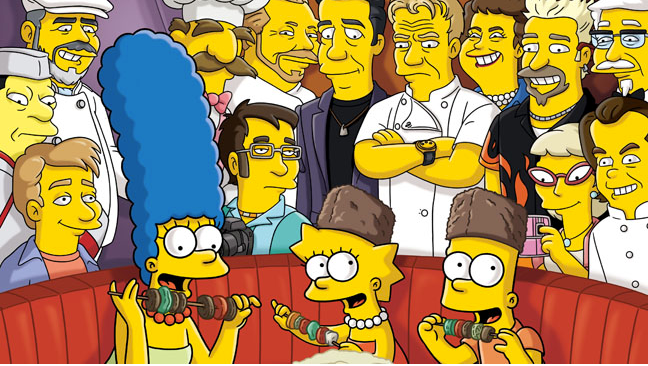 "The Food Wife," FOX
The venerable series -- now in its 23rd season -- takes on America's foodie culture in Sunday's episode.
Matt Selman, an executive producer at "The Simpsons", has turned his extracurricular interest in the reviews of Pulitzer Prize-winning LA Weekly dining critic Jonathan Gold and the lesser-known addresses of Fairfax's Little Ethiopia into "The Food Wife," in which Marge becomes a devout foodie -- and, this being 2011, starts a blog to chronicle her new fixation.
"It's something we do on "The Simpsons" a lot," says Selman, who's himself partial to Vinny Dotolo and Jon Shook's mid-city meat mecca Animal and sophomore seafood outpost Son of a Gun. "We take something we love and we make fun of it."
PHOTOS: Meet The Cast of "The Simpsons"
"The whole foodie trend, it's more than just eating. It's the obsessing and the intellectualizing, the being the first person to find the place and the showing your status in the world by where you've eaten. It's the new music, connoting how authentic and cool you are by what you've found and claim for yourself."
The episode features cameos by dining-world luminaries like Gordon Ramsay and Anthony Bourdain, as well as purposefully picayune moments, such as a riff on the proper pronunciation of the Vietnamese soup pho. The final segment is a send-up of molecular gastronomy, with the whole family visiting a restaurant presided over by a chef modeled on The Bazaar's Jose Andres.
"That kind of food lends itself to comedy quite nicely," says Selman. "There's a dish, for instance, called Regret. The waiter cries into your soup when he serves it. The human tear is the final ingredient."

Selman on Where The Simpsons Like to Eat in Los Angeles:
Homer's man-cave hangout The Golden State: "They mix beer and ice cream. Stick a donut in there and it's perfect." 426 N. Fairfax Ave., L.A., 323.782.8331, thegoldenstatecafe.com
Marge's sweet stop Magnolia Bakery: "She's been trying to figure out their banana pudding recipe, but Homer keeps eating it before she get it home." 8389 W. 3rd St., L.A., 323.951.0636, magnoliabakery.com
Bart's hard-core carnivore haven Feng Mao: "Pork intestines and lamb heart cooked over burning coals? It's like a death cult in your mouth!" 3901 W. Olympic Blvd., L.A., 323.935.1099
Lisa's politically-correct yet super-hip choice M Cafe de Chaya: "Full of cute vegan teenage actors." 7119 Melrose Ave., L.A., 323.525.0588, mcafedechaya.com
Maggie's four-alarm Thai favorite Jitlada: "She thinks it's funny when Homer eats the Khua Kling Phat Tha Lung (beef dry curry) and sweats and cries and then screams and screams and screams." 5233 W. Sunset Blvd., L.A., 323.663.3104, jitladala.com
Learn more about the upcoming food episode, "The Food Wife," at HuffPost Food.
PHOTOS: Check out each of the restaurants listed above: