Missouri Beats Texas: Fozzy Whitaker Injured As Longhorns Offense Fizzles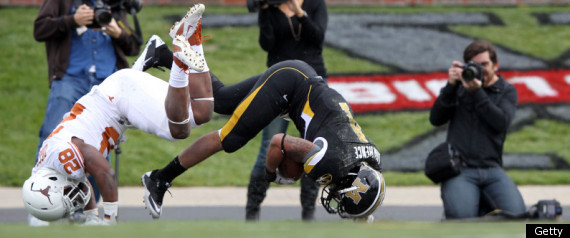 COLUMBIA, Mo. -- Texas' running game was unstoppable for two weeks. Nothing worked against Missouri, with injuries definitely playing a part.
The 21st-ranked Longhorns totaled just 76 yards on 29 carries in Saturday's 17-5 loss, a far cry from the 439 yards they put up last week against Texas Tech and the 441 against Kansas the week before that.
Leading rusher Malcolm Brown (turf toe) and Joe Bergeron (hamstring) were held out but were in uniform. Fozzy Whitaker was sidelined by an apparent right knee injury while making a cut in the first quarter.
"A little air did go out of the balloon," wide receiver Marquise Goodwin said. "We gave it our all and we left it out on the field. It just wasn't enough to win."
Coach Mack Brown said the Longhorns (6-3, 3-3 Big 12) didn't do a good enough job dealing with adversity.
"It's a game about injuries, it's a game about numbers," Brown said. "Even though they piled up today more than I think I've ever seen at one position, we still have to do our best to win the game."
Kendial Lawrence topped 100 yards with a touchdown in relief of injured Henry Josey and Missouri's defense kept Texas out of the end zone for the first time since 2004 to end a six-game losing streak in the series.
James Franklin completed his first 10 passes and ran for a 2-yard score for the Tigers (5-5, 3-4), who beat Texas for the first time since 1997. Lawrence had 106 yards on 18 carries with a 35-yard score in the second quarter.
Missouri allowed only a chip-shot field goal for the game's first score and a safety off a blocked punt in the third quarter.
The Longhorns led by a combined 70-10 at halftime in the last two meetings but trailed 14-3 this time – Missouri's first lead in the series since a 17-16 edge in 1997.
"We played hard but we didn't play well at all," said freshman quarterback David Ash, lifted in the third quarter. "Our standards are way higher than that."
The last time Texas didn't score a touchdown was a 12-0 loss to Oklahoma in 2004, and Saturday's point total was the lowest since then.
Josey was carted off with an apparent left knee injury in the third quarter. Brown came across the field to check on Josey, the Big 12's leading rusher from Angleton, Texas. Josey also missed the last nine minutes of the first half after an apparent helmet-to-helmet hit.
Lawrence, who won the tailback job in fall drills but was shelved for three games early in the season by a broken fibula, stepped up with 79 yards on eight carries and a TD before intermission.
Missouri controlled play in the half even after fumbling away a scoring chance on its first drive when Emmnauel Acho stripped L'Damian Washington after a reception and Texas recovered at its own 12.
Franklin scored his 11th rushing touchdown on a 2-yard keeper to put Missouri ahead and Lawrence's 35-yard run made it 14-3 with 4:43 to go in the half.
Eric Waters' blocked punt set up Missouri at the 1 for its first score in the third quarter in four games, though the Tigers had to settle for a 19-yard field goal by Trey Barrow that made it 17-3.
Less than four minutes later, Leroy Scott's blocked punt out of the end zone gave Texas two points.
Linebacker Emmanuel Acho had 12 tackles, his seventh game this season in double digits, with five stops for a loss. Jackson Jeffcoat got his fourth sack in the last three games.
Copyright 2014 The Local Paper. All rights reserved. This material may not be published, broadcast, rewritten or redistributed.