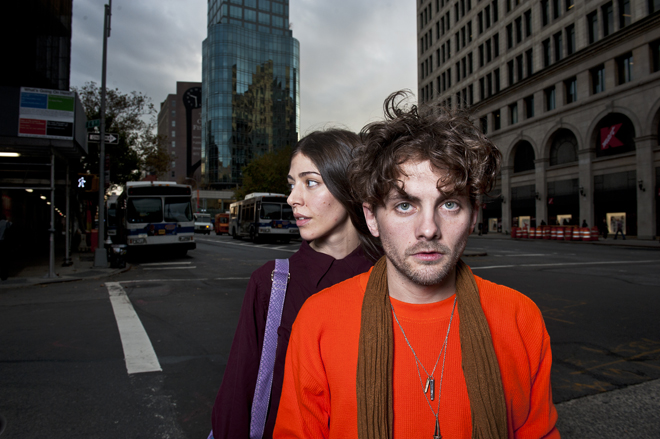 Brooklyn electro-pop duo Chairlift garnered musical acclaim with their 2008 debut album "Does You Inspire You," which featured the infectious single "Bruises" (yes, the one from the iPod Nano commercial). And later, the band earned fashion cred when they teamed up with Marc by Marc Jacobs to create a video for Saks. In honor of Chairlift's forthcoming release, "Something," we talked style with members Caroline Polachek and Patrick Wimberly.
You've collaborated with Marc Jacobs. What other designers are you into?
Caroline: Probably my friend Mandy Coon, whose stuff I've been wearing nonstop for the past two weeks. And The Lake and Stars -- I love the way those girls think.
What music do you listen to while you're getting ready to play a show?
Patrick: Black Sabbath or AC/DC.
Caroline: We were both listening to Heatwave earlier today.
What other bands have great style?
Caroline: I love how the boys in Beach Fossils dress. And Class Actress' Elizabeth Harper is like Liz Taylor 2.0.
What are your must-haves when you're on the road?
Caroline: Vitamins and sleep
Patrick: Clean socks. It doesn't matter what brand.
What's the most stylish city to tour in?
Patrick: New York. And Minneapolis is cool.
Caroline: I like London, because the people are super conscious, the way they are in Paris -- but Parisians are so conservative and care so much about subtlety. London is kind of more anarchist, like New York, but they care more. Especially, the men. The guys in the U.S. don't really care, which is kind of a cool thing, but sometimes it's fun hanging out with boys who care.
What was your first designer purchase?
Caroline: My first designer purchase was a Y-3 skirt. It's not exactly a skirt. It's long and asymmetrical, then it's got one legging sticking out of it. I think that's why it was worth the money, because you can wear it so many ways.
Any fashion regrets?
Patrick: I wish that I had a better haircut on the last record.
Caroline: I think I kind of regret my soccer shorts on stage. There was definitely a phase of Umbros on stage.
What's your beauty secret?
Caroline: I think mascara is going to go out of fashion in the next decade. That's not really a secret; it's more of prediction.
How can every woman look like a rock star?
Patrick: Umbros on stage.
Caroline: Well, you're talking to a synth geek, not a rock star. If you want to look like a synth geek, I suppose short fingernails and no spike heels, ever.

SUBSCRIBE AND FOLLOW
Get top stories and blog posts emailed to me each day. Newsletters may offer personalized content or advertisements.
Learn more