On Wednesday, Google announced its long awaited music service, called simply Google Music.
The service's online music store, which currently boasts 8 million tracks (with 5 million more on the way) will sell songs and albums directly through the Android Market.
Google Music includes several interesting twists on the traditional online music store, including a music discovery function that chooses songs you might like based on the tastes of your Google+ circles and also on an analysis of your music library.
Google also announced that the service is currently open to users in the U.S., who can upload up to 20,000 songs to the Google music storage locker for free.
Google Music is fully integrated with Google+, the web giant's social network. Users can share songs with friends on Google+. When you share content with your Google+ friends, those tracks will be posted to their Google+ streams, where they can listen to each of your song purchases once for free. This means you could listen to, say, a whole Drake album on Google+ before deciding whether or not to buy it--if a friend buys it first and shares it with you. Users can also share songs on Twitter, although it doesn't confer a free listen.
Google Music also offers a Myspace-like "Artist's Hub", where independent musicians can post and distribute their music directly to their fans.
Google obviously faces some tough competition from online music giants iTunes and Amazon MP3.
How does Google Music stack up? Check out our infographic (below) to see where you should be scoring your songs. REad on to find out everything you need to know about the new Google Music.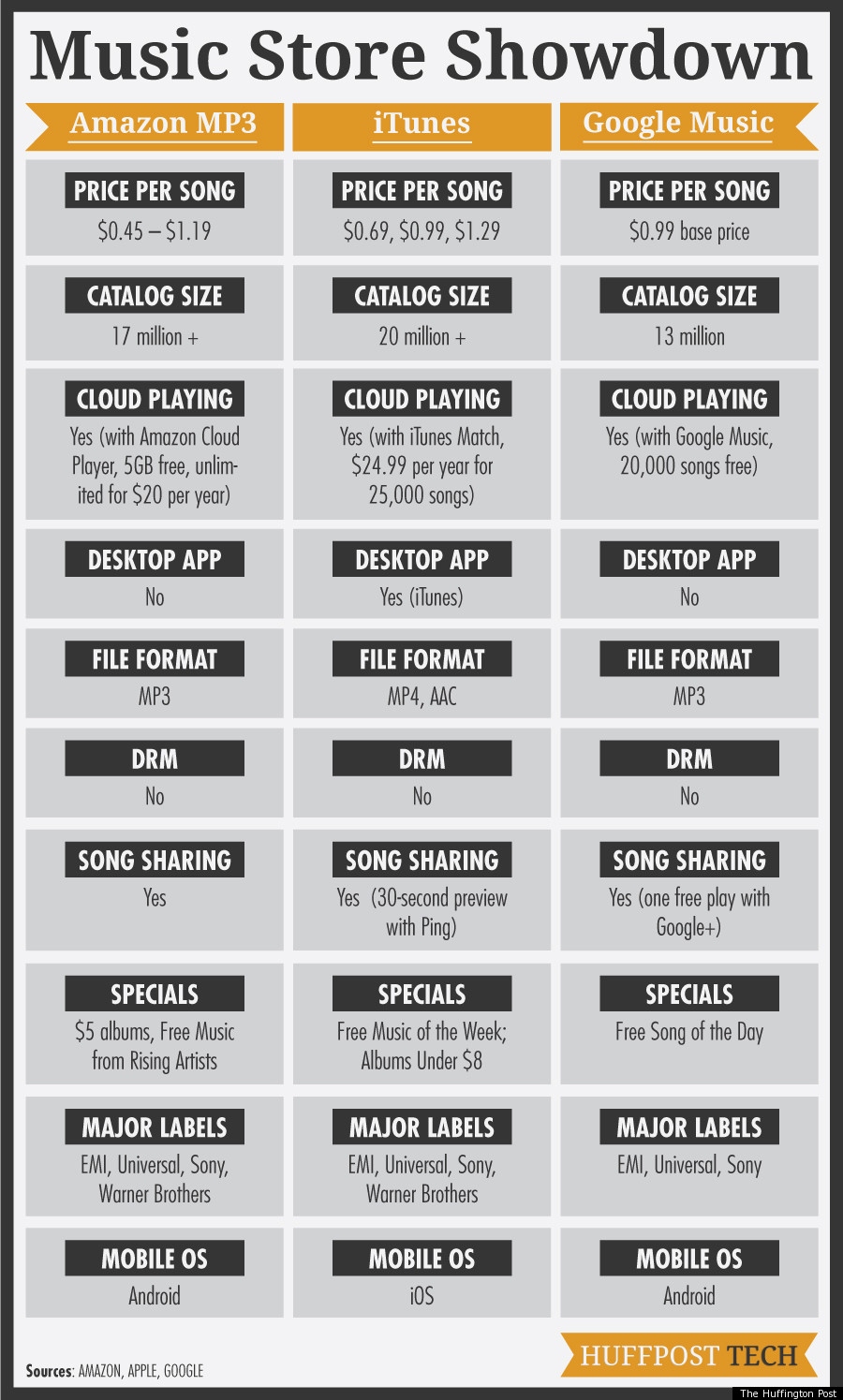 For an overview of the new Google Music, check out our slideshow (below).
Google Music Service (CLONED)
The new music store will be built into the Android market and will serve as a hub where users can discover, buy, share and download music.

Google has partnered with over 1,000 record labels to make music available for free and for purchase. Currently, the store has eight million tracks available for download. Five million more will be available within months, Google said.

Google music will soon be available as an app for Android devices.

Google Music users will be able to stream their music from the cloud and will also be able to "pin" certain tracks for listening without an Internet connection.

When you've selected what circles you'd like to share a track with, the track will appear in the streams of users within those circles.

Google Music users will be able to share purchased music on Google+.