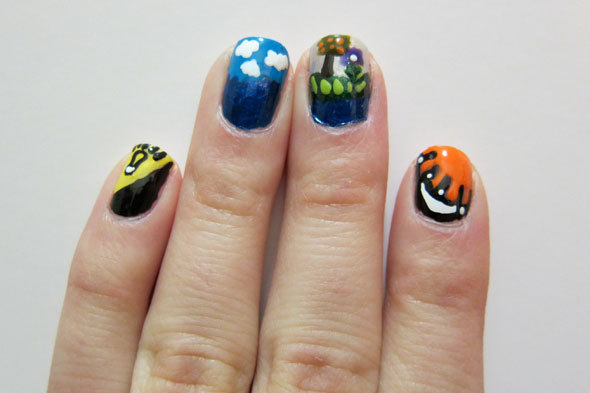 Rabbi Yael Buechler's "Creation" Midrash Manicure. Courtesy Photo.
Growing up in a southern Christian home, my childhood was filled with Sunday School and summer Bible study camps on lessons about loving thy neighbor and turning the other cheek. Yet, I am amazed by the Torah teachings of Rabbi Yael Buechler.

The 26-year-old, Long Island-native combined her love for nail polish and Judaism to create Midrash Manicures, a religious nail art company grounded on the Jewish tradition of Bible interpretation, and use manicures as a Torah teaching tool at a Jewish day school.
Read on as Rabbi Buechler reveals the meaning behind Midrash Manicures, her most challenging nail art and what she'd like her naysayers to understand. And click through the slideshow below for the meanings behind some of her religious designs.
How did your love for nail art begin?
At Solomon Schechter, my middle school social studies teacher, Mrs. Goldstein, became a mentor to me in many ways. Anyone who walked into her classroom would be greeted with a warm smile and a heart full of patience. Each week, Mrs. Goldstein came in with a new, professionally done manicure and this inspired me to begin to paint my own nails.
By the time I entered college at Brandeis University, my weekly manicures were themed for holidays, the weekly Torah portion and other special events.
What are Midrash Manicures?
The word "Midrash" means a text that is a "creative rabbinic interpretation of the Torah." The most common is the story of Abraham smashing his father's idols. Most people think that this story is found in the actual Torah, but in fact, this story is a reinterpretation, as the Torah does not tell us anything about Abraham's childhood aside from his lineage.
What is a typical Midrash Manicure class like from start to finish?
I begin each class by reviewing a few tips in nail polish application and nail art design. Then, I introduce a Hebrew passage about the upcoming week's Torah portion, and the girls study the texts in pairs.
We have a class discussion on the Torah portion, and brainstorm together about symbols that arise, and how we could translate those into manicures. I draw a few of the symbols on the board, and other girls volunteer designs to serve as samples for the nail art.
After we have discussed a few designs, the girls run up to grab polish, flat toothpicks (which we use for paintbrushes) and nail polish remover (for the girls who forgot to take off their polish before class). The girls help each other paint on their base colors. I remind girls to make sure the layers of color are thin so that they can dry faster and that they won't get smudged when the girls apply the nail art.
What was your first nail art lesson?
The first Midrash Manicure class I gave to the middle school students this year took place right before Rosh Hashanah, so we brainstormed what kinds of symbols would best represent the holiday. The class came up with apples, honey, round Challah, bees, pomegranates, and a Shofar (ram's horn).
Which Midrash nail art has been the most challenging and why?
Since Midrash Manicures are based on the weekly Torah reading, some are more animated than others. For example, the stories in Genesis are filled with lots of characters and colors. Literally -- the rainbow for Noah's ark, and Joseph's technicolor dream coat!
The Torah portions contained in the book of Deuteronomy are a bit more difficult to express visually, so I tend to focus on a particular line that gives an important message. For example, Deuteronomy 8:3 states that "man does not live on bread alone." For this Torah potion called Ekev, I painted several different types of breads on my fingernails and on my website, discussed the need for us to remember to nourish our souls, as well as our stomachs.
Is there a particular design that holds a special meaning for you?
My current favorite Midrash Manicure I did a few weeks ago for the Torah portion Genesis, when I painted the seven days of creation on seven of my fingernails. This manicure holds special meaning for me as there are hundreds of creative interpretations on how the universe was created, and I had the opportunity to vision for myself what it could have looked like. I found it to be a very spiritual experience.
How has the response from fellow rabbis, students and parents been?
My friends and colleagues have been incredibly supportive of my Midrash Manicures endeavors. Whenever I see someone at synagogue or on the street, the first thing they say is, "What's on the nails this week?"
The nail polish company Sally Hansen has also been incredibly supportive, having donated all of the supplies for the Midrash Manicures Club.
What do you say to those people who may view your Torah teachings as weird or vain?
Midrash Manicures is not about having the most beautiful manicure, as much as it is about having the most meaningful manicure.
SUBSCRIBE TO & FOLLOW LIFESTYLE
HuffPost Lifestyle is a daily newsletter that will make you happier and healthier — one email at a time. Learn more