Perhaps it's because she's gorgeous and talented and knows everyone wants to work with her. Maybe she doesn't much care. Or perhaps it's just something about interviewing with GQ. Whatever it is, Mila Kunis isn't afraid to speak her mind.
Named the magazine's "Knockout of the Year," the title could just as easily have been bestowed for her candid statements about Hollywood, too. While many stars spend their time in interview after interview pitching their integrity and devotion to the finest aspects of film, Kunis is realistic about how she makes her living.
"I love what I do, but my theory is that it's people who doubt what they do and want to prove it to you, they're like 'It's art. I create art. It's art, art, art,'" she tells the magazine in their new issue. "I'm like, Holy sh*t, are you f*cking kidding me? I run around and pretend I'm someone else for twelve hours; I record 'Family Guy' [she voices Meg]. Then I get to go home and watch 'Jersey Shore.'"
It's both refreshing and startling to hear that come from a woman who earned raves and even a Golden Globe nomination for her role in "Black Swan," one of last year's top independent films. But Kunis has always had a laid back attitude, and perhaps her grasp of reality comes from the almost accidental way she got into show business in the first place.
"My English was a little janky. I didn't have very many friends," Kunis remembers, talking about her early days in Los Angeles after moving to the United States from the USSR. "And there was this place advertised on the radio as a place for kids to meet other kids—an acting class. My parents couldn't afford a babysitter. They said, 'Great, that takes up our Saturday.'"
That isn't to say that Kunis is glib or doesn't care about her job; back in August's GQ, she was frank about the sexism she says still reigns in Hollywood.
"You have no idea how hard it is for a woman in this business," she said. "A lot of people don't even think women are funny. It's fucked-up, but you have to deal with guys like that. I've learned to roll with it."
She continued on, saying, "The bottom line is if you're an attractive female in this industry, people just take you as that: attractive. People aren't getting the opportunity to move beyond being attractive. It's not only with comedy. It could be with drama or action or whatever. People are distracted by looks. It happens. I'm not saying it happened to me, but it happens."
Luckily, her frankness hasn't stopped her from getting roles. She'll star next year in Seth MacFarlane's live action comedy, "Ted,"
as well as Disney's "Wizard of Oz" prequel, set for a massive 2013 release.
PHOTO: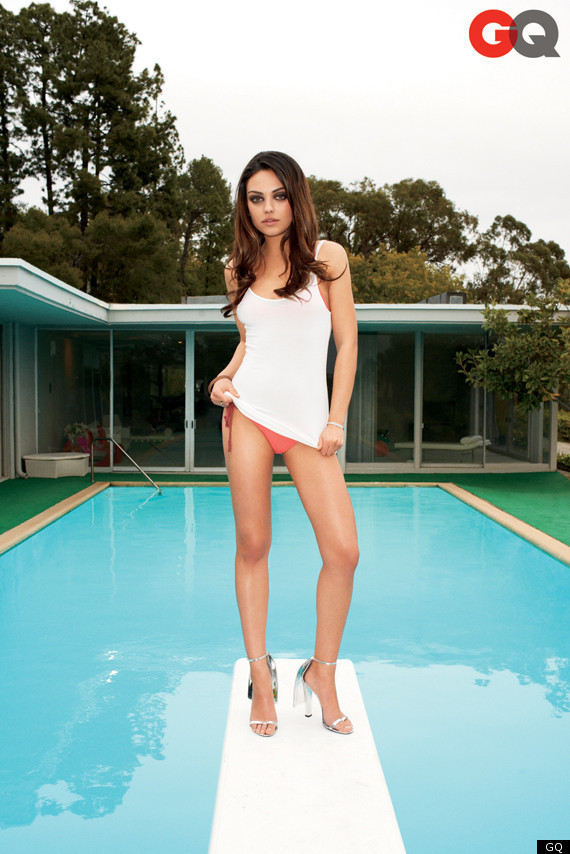 FOLLOW HUFFPOST