Detroit's Teach For America Recruits Stuck In Middle Of Broader Battle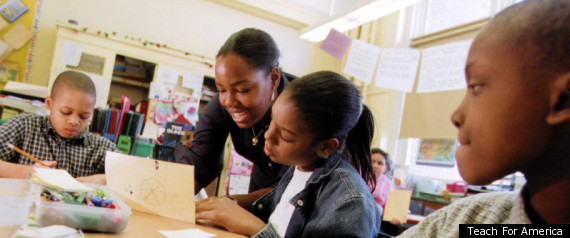 "I think TFA is here to stay," said Dan Varner, president of Excellent Schools Detroit and a member of the Michigan state board of education. "I expect their numbers to continue to grow."
Still, DFT is in the process of trying to organize charter schools, and Johnson, the DFT president, says he's lost patience with TFA. "Nothing's different this time. I didn't want them here then, and I don't want them here now."
Johnson says TFA's model "undermines the education profession. It marginalizes the profession by saying because someone is proficient in a subject matter, it means they can teach. If that's the case, we need to close down colleges of education."
In late September, Johnson filed a class action grievance on seniority violations on behalf of laid-off teachers "whose seniority may have been violated with recent layoffs and recalls," according to a note on the DFT website. The grievance targets TFA teachers who took over the positions of laid-off teachers, arguing the union's contract with the district requires laid-off DPS teachers take placement priority over TFA teachers.
Johnson says 136 DPS teachers are currently laid off. He wants those teachers' pay to be full and retroactive to the start of the school year.
"It will cost the district $14 million, but I don't care, because they ignored collective bargaining. If they're willing to ignore it, I don't care if it costs them."
Citing the emergency manager law, the district denied the grievance, and the case now lies in the hands of an arbitrator. Roberts, the emergency manager, declined to address the issue since it is in litigation. But he did say the district "could not hire as many Teach for America teachers as we wanted to this year because of our labor agreement."
DPS spokesperson Steven Wasko echoed the district's desire to recruit more TFA teachers. "We have to both recognize existing talent and develop a pipeline of new talent into the district," Wakso said.
And TFA is willing to fill that pipeline.
"The bottom line is, we are here to be great teachers for kids. The adults can play or squabble, but that is what we are," Brown said, the TFA Detroit director, said. "We are here to be great teachers for kids. We drown out the noise, we drown out the other distractions."
* * * * *
Still, some current TFA teachers feel uncomfortable about the layoff situation in DPS. And those fraught labor relations add another strain on what is an already challenging job for many TFA Detroit corps members.
"I assumed you get a job in a district that is struggling to find teachers," said Jestine MacDonald, a second-year TFA teacher in a DPS school. "I never thought I'd be taking anyone else's job. It's not right that you have people with an education degree losing their jobs to TFA members. But on the other hand, I don't want to be replaced, because I love my kids."
MacDonald moved to Detroit from Missoula, Mont., after graduating from the University of Montana with a major in biology. She heard of Teach for America from a social work professor.
"It's our generation's battle that has to be fought in terms of educational inequity," she said.
So she started with TFA Detroit in 2010 as a biology teacher at Western International High School, a public school.
MacDonald said she was "flabbergasted" to learn that DPS had no attendance policy. This year, about 62 percent of her students are present in school on any given day. "It makes it tough for a teacher when you have a group of kids that's regularly in school, and a group of kids that isn't," she said.
Gabe Doss, a native Detroiter who attended elementary school in DPS before graduating from Brown University, was similarly struck by the difficulty of the job. He had some experience in teaching, but when he started at Timbuktu Academy of Science and Technology, he said, "it was challenging. Teaching is an under-resourced profession."
Doss found himself mostly challenged by things beyond his control. Last year, a student with low reading scores was acting up in class and missing school -- largely due to his home life. When Doss spoke to the student's mother, she said one of his siblings had left home, and there was no one to walk the student to school.
"There were wild dogs in the neighborhood. For him to walk to school on his own was tough," Doss said. "As a teacher, that's not what I want to hear. But for a parent, it's a reasonable concern."
Doss solved the problem by offering to drive the student to school himself.
"The leadership of our teachers has been astounding," Brown said. She cited Tim Harris, a TFA teacher at Winans Middle School. "The kids had no textbooks. They'd never had an AP class before. He raised thousands of dollars for textbooks and AP classes."
But other challenges have proved insurmountable. 2010 corps member Ashlee Stratakis, who grew up in Roseville and attended the University of Michigan, said that while she felt supported by TFA, as a charter school teacher she was "kind of oblivious to the whole scene as far as the teachers' union." She added that she was disheartened to see some of her TFA colleagues moving to the suburbs. "Part of the point is to live in the city, to understand the kids and their lives," she said.
Stratakis was initially slated to teach middle-school math in Charlotte, N.C. When she switched to Detroit, she was assigned to teach elementary-school Spanish, K-5. "It was very intense -- I got four to five hours of sleep," she said. "Even though I was going to be certified for high school, I was placed in this elementary position. I found out two days before the year started."
After her first year, the charter school where she taught eliminated her position, replacing Spanish with Mandarin in the lower grades. Over the summer, her husband moved to California, but Stratakis wanted to give TFA another shot, so she sought a first-grade position -- only to be derailed by certification rules. She says TFA was understanding, but she left, and is now working in a research job in California.
Another 2010 corps member, Matt Robb, also had trouble in a Detroit charter school. "I did not have a good experience," he said. "Our superintendent told us, 'Every teacher has their flair. That's not the way it works here. You teach how we tell you to teach.' It was really constricting."
At the end of the year, he and three other TFA members at the school did not have their contracts renewed.
"They stopped paying us through the summer," Robb said. "They were trying to cut corners to save money." He said TFA played a supportive role throughout.
Robb, who is currently taking a leave of absence to work on a book, offered his own analysis of the conflicts inside education in Detroit.
"You have two crises in the city, between the entrenched teachers' union in Detroit Public Schools and overconsolidated power in the charter movement that is denigrating the teaching profession," Robb said. "It's adults fighting over a bunch of stuff that's hurting kids."