PepsiCo will bring its new line of mid-calorie soda, Pepsi Next, nationwide at the beginning of 2012. The soft drink, which has 60 calories per serving, less than half that of normal Pepsi, debuted in trial run in Iowa and Wisconsin in July. Pepsi spokespeople were saying they were hearing positive anecdotal reports from test markets as early as October, and fuller data must have borne out those anecdotes.
Pepsi Next is sweetened by a combination of caloric sweeteners, like high-fructose corn syrup, and artificial sweeteners. It represents Pepsi's third attempt at a cola with fewer calories than Pepsi and more calories than Diet Pepsi; the first two, notably Pepsi XL, were not successful. But the company has found success with its mid-calorie orange juice, Trop50, so it's possible that it will apply lessons learned from that product to the launch of Pepsi Next.
Here's the new soda's can design: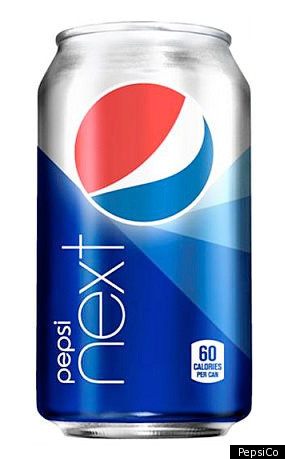 Pepsi, headed by charismatic CEO Indra Nooyi, is at something of a crossroads. Its namesake item, Pepsi, slipped behind Diet Coke to become the number three soda in the country this year. But the company has invested as much money in developing healthier offerings as any other company, in a bet that customers will ask for more and more such products in coming years.
Pepsi Next, then, can be seen as part of a larger gambit on the company's part. But it remains to be seen whether customers will buy the idea that any soda, even one with half as many calories as normal soda, is really a healthy alternative to something like water.
YOU MAY LIKE
CONVERSATIONS
FOLLOW HUFFPOST